As a love story propelled by police brutality, Queen & Slim could have been a pandering mess.
Lean too far into the romance, and you trivialize an important message of social injustice. Go heavy-handed in the other direction, and you're navigating the murky waters of exploiting black trauma. It's a tricky balance of tone and genre, artful storytelling, and topical discourse—and Queen & Slim (which opens today) glides along those lines effortlessly.
After the worst first date imaginable with no prospect of a second one, "Queen" (Jodie Turner-Smith) and "Slim" (Daniel Kaluuya) are pulled over by a cop who has a clear agenda. The traffic stop escalates to a scuffle, and Slim shoots the cop dead with his own gun in panicked self-defense. Faced with the choice of turning themselves in with a plea of racial bias or going on the lamb, Queen and Slim choose to run, heading south to hide out. As the incident gains the nation's attention, and with the cops on their trail, Queen and Slim become icons of resistance—and in the process, the two people who most definitely weren't going to see each other again after the first night find true love.
It's a romance writ large against the looming backdrop of systemic oppression. Lena Waithe penned a remarkably nuanced script and needed an equally nuanced visionary to direct. She found that in Melina Matsoukas.
"That's one of the things I loved about the script, is that it really did straddle the line of genre. It redefines cinema in a way," Matsoukas says. "That's a really big undertaking, but it definitely lives in its own space."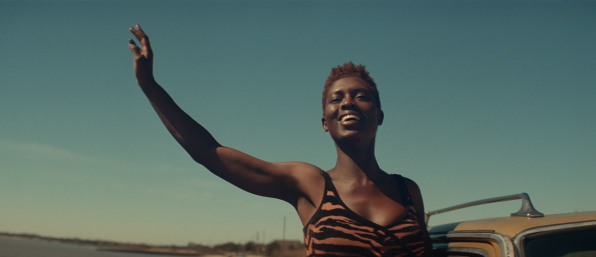 Matsoukas cut her teeth as a music video director for the likes of Lady Gaga, Whitney Houston, Rihanna, Snoop Dogg, and, of course, Beyoncé. She has directed numerous videos for Beyoncé, including "Upgrade U," "Green Light," and "Pretty Hurts." But it wasn't until "Formation" arrived as a cultural moment that Matsoukas's career shifted significantly. She segued into TV, directing episodes of Insecure and Waithe's Emmy-winning "Thanksgiving" episode from season two of Master of None. With a stacked and varied résumé, Matsoukas had a clear path toward feature films—but it was a path she was questioning.
"In my past work, I've always been forwarding someone else's narrative or someone else's story. And I'm not necessarily doubting myself, but I'm not trusting my own instincts," she says. "Lena has this immense trust in my talent. She taught me to trust my gut. I was able to put myself in the forefront, and I feel that you see that filtered into every frame of this film."
The newfound freedom helped Matsoukas open herself up to a unique visual style.
"We were sometimes like a documentary, shooting things very, like, realistically. And then sometimes it's really fantastical, and [Queen and Slim] become like this allegory," she says. "I wanted also to visually straddle the lines of genre. I wanted to create that tension that comes in a suspense thriller but also that beautiful freedom and richness that exists in a dramatic love story."
For example, there's a scene where the stories of love and racial division collide. After dash cam footage of the incident with the cop makes its way online, Queen and Slim become symbols of the resistance against police brutality as they evade the law at every turn. Protests spill into the streets as tensions rise between law enforcement and the black community. Images of one particularly deadly protest are interspersed with Queen and Slim making love in their getaway car for the first time. Emotional highs from both ends of the spectrum put each scene into relief: the frenetic violence of the protest gives way to frenetic passion. Then, by contrast, Queen and Slim's solitude on a quiet street gives way to crowded chaos in the streets.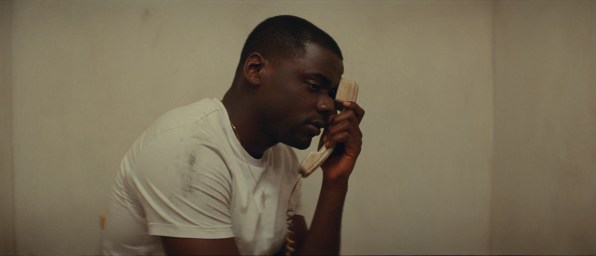 There are also several moments in the film where Queen and Slim aren't speaking directly to each other—it's more like they're reading each others' minds. Time seems to stretch around them as they work through their deepest fears about their circumstance and navigate the budding romance between them through voiceovers. The subtle message is that emotions don't need to be expressed out loud when they're so perfectly felt between two people.
"That was something that came up in the edit," Matsoukas says. "I knew that I didn't want to tell this story traditionally. I want it to be somewhat experimental at times."
Queen & Slim is a poetic mediation on love without stripping away the grit of racially charged violence at its core. And Matsoukas attributes that successful marriage in storytelling to knowing her lane.
"What's beautiful about [Lena's and my] collaboration is we both have immense trust and respect for what each other does," Matsoukas says. "I'm very much not a writer and she's very much not a director, and so we respect each other and our talents and what we bring to a script. Once she writes something, she really is able to hand it over, and that's unlike anything I've experienced before."
Moreover, Matsoukas was able to see her point of view through without losing sight of the team who helped her do so.
"It's definitely my vision, but I also like to empower amazing, talented creators that I'm surrounded by too and give them that freedom and that creative space to do what they do best," Matsoukas says. "I don't really believe in the idea of the individual. I like to share in the love. When creating a project, it sometimes feels like a war. And you need your army around you, and you need to support each other because that's the only way you'll survive."
Watch a behind-the-scenes clip of the making of Queen & Slim: