Squarespace's ethos has been turning dreams into realities with its web design tools.
But what happens when that dream turns into a nightmare?
So goes the premise of Squarespace's latest campaign, A Cautionary Tale, starring Sesame Street's resident curmudgeon, Oscar the Grouch.
When a passerby takes note of Oscar's well stacked pile of garbage, she excitedly declares that it has artistic value, and much to the chagrin of Oscar, takes it upon herself to create a website for him using Squarespace. Soon everyone catches wind of Oscar's creative genius, and he's boosted to celebrity status. The higher his profile rises, the more miserable he becomes.
Until he remembers that misery is his thing and he's happy (miserable?) once more.
"We all grew up with Sesame. We learned to count with Sesame, we learned how to read and, in some ways, it actually taught us how to dream when we were kids," says David Lee, Squarespace's chief creative officer. "We've been talking about turning your dreams into something real as our main messaging throughout the year. And we thought that this was a nice way to lead into the holiday season with something that has that little bit of nostalgia."
And that nostalgia apparently had a singular focus.
"It absolutely had to be Oscar. We had the ability to choose from a lot of the other characters from the show, but for some odd reason, Oscar just felt like Squarespace," Lee says. "This is equally a story about New York City: Sesame is a New York City organization. Squarespace is a New York City born-and-bred company. In some ways Oscar, for me at least, represents this cynical, misunderstood New Yorker."
Squarespace's campaign purposefully coincides with Sesame Street's 50th anniversary, so Lee says Squarespace wanted not just to tap into nostalgia but also to give back as well.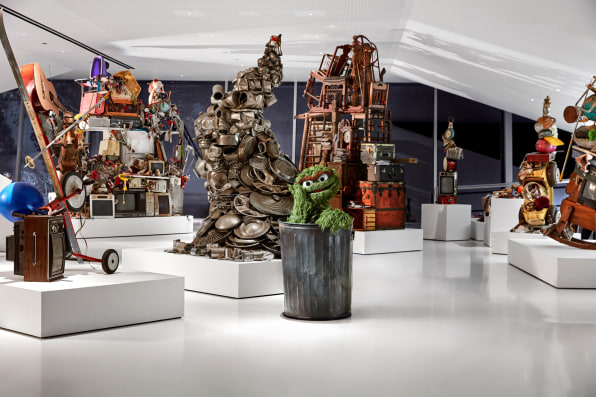 As part of the campaign, 25 limited-edition art capsules will be sold via the Squarespace powered site OscarTrashArt.com—with all proceeds going to Sesame Workshop. The capsules, created by artist Justin Gignac, will feature discarded and found items around Sesame Street, including Big Bird's feathers, Cookie Monster's half-eaten cookies, pages from the writer's room, and so forth—all arranged in glass cubes. The concept stems from an art project Gignac had several years ago where he reimagined trash as art.
"We've done things with a lot of celebrities before—just never a Muppet," Lee says. "We wanted to tip our hat to that organization that we grew up with and have a lot of respect for. [A Cautionary Tale is] a little bit different than a lot of the work that we've done in the past. But I think it has the creative and the craft excellence that we want to make sure that we put out into the world."