At the Adult Swim Festival's Rick and Morty experience, you start by walking into something called a volumetric capture rig. It sounds like something mad scientist and badass granddad Rick Sanchez would have on tap for emergencies.
But it's a real technology that finally gives fans the chance to step into Rick and Morty's fantastic world.
The Rick and Morty: Show Us What You Got! Volumetric Reality activation is just one of many Rick and Morty delights awaiting devotees at this weekend's Adult Swim Festival at the Banc of California Stadium in Los Angeles. In addition to live music, stand-up comedy, premieres, screenings, and the once-in-a-lifetime chance to climb into and slide out of an inflatable Morty is the chance to star in a personalized short Rick and Morty animation.
As Adult Swim executive Jason DeMarco told the Los Angeles Daily News, "Sliding down a giant Morty barfing slide and then riding a hot dog like a riding bull are not things every festival can offer."
Not every festival can offer a volumetric capture rig, either. The partnership between the Cartoon Network, WarnerMedia InnovationLab, and parent company AT&T is what makes this kind of superfan experience possible.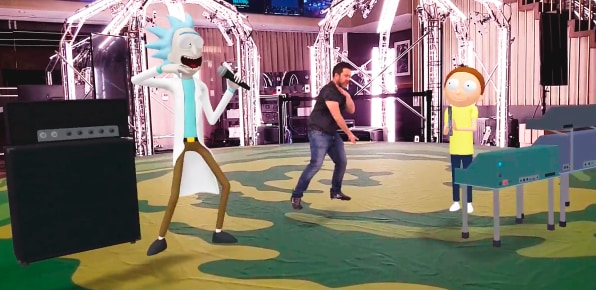 Going inside Rick and Morty
Fans signed up for a time slot via the Adult Swim Festival app or in person with a brand ambassador for a chance to put themselves into a short AR scene with Rick and Morty. Once inside, they'll record themselves movin' and groovin' to that Rick and Morty season 2 classic, "Get Schwifty." The rig will capture the action and render the fan into an animated 3D image. With the help of AT&T's 5G technology and 5G-enabled devices, what would usually take hours to process takes just a few minutes. Fans can then insert their dancing avatars into the "Get Schwifty" video and save the image to their own devices.
What they do with it from there is up to them: share it to social media, send it to friends, or watch it over and over when things get a little dull at the office.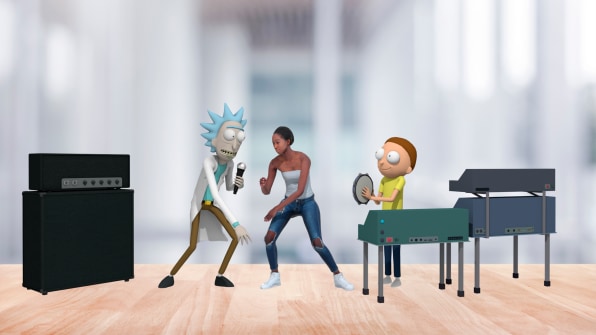 The goal of Rick and Morty Show Us What You've Got! is nothing less than world domination, says Jill King, SVP marketing and partnerships, Cartoon Network, Adult Swim, and Boomerang. "Our fans are rabid," she says. "We want to convert our casual fans into rabid fans, and we want to convert everyone into hardcore fans."
The network sees its partnership with the InnovationLab and AT&T as a way to attract new fans, provide longtime ones with new experiences, and merge technology and storytelling for a new generation. "When you think about it, we are the only one of the major media companies who have the ability in-house to do this," says Jesse Redniss, EVP of data strategy at WarnerMedia and the GM of WarnerMedia InnovationLab. "We have a ton of experiential events that we do—with the NBA, with March Madness, Batman, Wonder Woman," he says. "The future of engagement is moving beyond the screen. The great brands, like those on Adult Swim, are getting into new consumer touchpoints."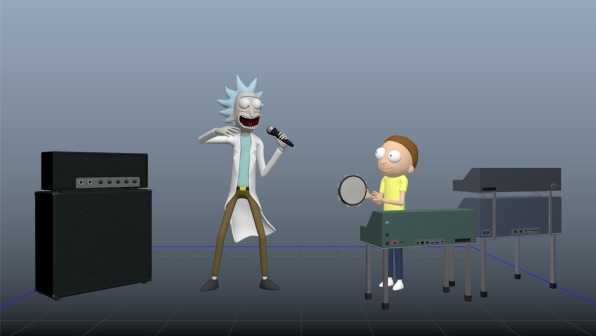 Our future in 5G
The Rick and Morty experience at the Adult Swim Festival is another in a series of 5G-powered experiences AT&T has been creating for entertainment properties and sporting events around the country. Kevin Petersen, SVP of AT&T Mobility, says theirs is the largest collection of known 5G experiences. The Dallas Cowboys' Pose with the Pros event engaged delighted fans and went viral, while the Friends 25th Anniversary in Las Vegas allowed superfans to capture video of themselves doing Chandler's happy dance or hanging out in a replica of Monica and Rachel's iconic apartment.
"We're at the beginning of these advanced immersive experiences," AT&T's Christensen adds. "As 5G network performance continues to improve, it will create the abilities and incentives for further advancement."
As for Adult Swim, it is betting on its festival as a key area of growth. King says that last year's event was small by design, but now they've decided to go all out. "We want to scale quite dramatically." They've relocated to the new state-of-the-art Banc of California stadium (home of Los Angeles's Major League Soccer club) specifically to take advantage of its video and technology capabilities.
"It's a crowded marketplace," King says. "We really want to bring a level of fan experience that others aren't able to in a festival format."
As of Thursday afternoon, all 370 slots for Show Us What You've Got were booked.