Earlier this decade, diversity advocates pressured the nation's tech giants to publicly share their employee diversity statistics—and won. Many of Silicon Valley's tech companies now publish annual diversity reports.
But for many underrepresented groups, transparency hasn't brought about meaningful improvement. Half of the millennials entering the workforce seek to work within diverse teams, but an analysis of employee diversity data shows Big Tech consistently failing to meet that demand. Over the past five years of sharing the numbers, remarkably little progress has been made, even as these companies' role in shaping our lives and our democracies has become all the more apparent.
Back in 2014, I made my own Google Doodle. It used Google's logo as a canvas to portray the company's startlingly white and startlingly male employee demographics. Now, five years later, I've updated it. Google's logo has changed, but its workforce remains overwhelmingly white (and overwhelmingly male):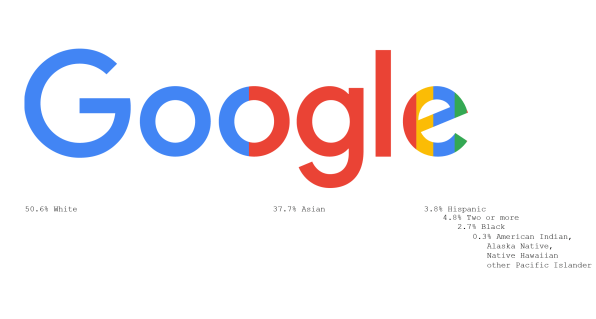 It's not just Google. I've created diversity visualizations with the logos of Apple, Amazon, Facebook, and Microsoft as well, based on data supplied by the companies themselves. U.S. companies with over 100 employees (or 50 employees and a large federal contract) are required to report diversity data to the U.S. government, but not to the public. Called the Equal Employment Opportunity survey (or EEO-1), the one-page report covers gender, racial and, in the case of Hispanics, ethnic employee identity, though it does not ask about other identities such as disability, age, and veteran or LGBTQ status.
In the early 2010s, diversity advocates pressured tech companies to voluntarily publish that information each year. Activists saw transparency as a critical first step to forming a baseline understanding that they could then use to track tech companies' diversity progress (or lack thereof) year over year. They argued that the industry desperately needed a more representative workforce to build, design, and run the tech platforms that increasingly mediate our society.
Advocates won the battle, but not yet the war. Beginning in 2014, nearly 30 tech companies responded to the campaign (not to mention peer pressure) and began sharing their EEO-1 data publicly.
It wasn't long before a whole new genre of corporate diversity webpage emerged online, though the actual statistics are buried a little deeper each year. They're below vibrant photos of diverse staff, who are far better represented on these pages than they are in, say, leadership ranks. Finding the cold, hard data may now require clicking through several screens of corporate diversity programs, identity-based employee groups, and grants to diversity-in-STEM nonprofits.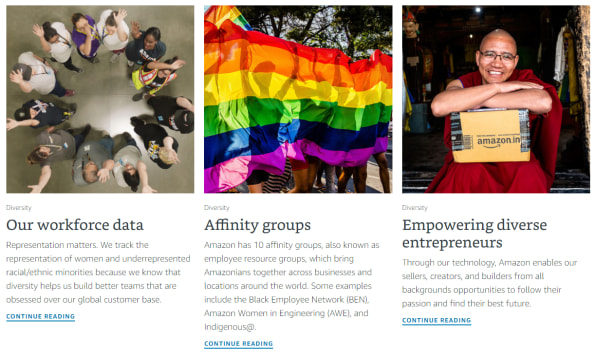 What hasn't changed so dramatically is the data itself. The makeup of employees at the tech giants, particularly at the management level, remains predominantly white and male. The failure to significantly improve triggered the ire of the Congressional Black Caucus in a visit to Silicon Valley last year.
Asian Americans are often well represented in engineering roles, but not as frequently in management. African Americans are woefully underrepresented, except at Amazon, the company offering warehouse jobs and paying the lowest of all the companies compared here.
Google has altered its internal counting methodology in a way that effectively double-counts multiracial employees as belonging to multiple categories, or "Black+" and "Latinx+": a Googler who is Black and Latinx now gets counted toward both minority hiring goals. This shift in methodology confuses efforts to compare the company's diversity statistics year over year since they started sharing this data in 2014. (The company does deserve credit for expanding beyond the federally defined diversity categories, to make employees with LGBQ, trans, and nonbinary identities more visible.)
Diversity advocates have been vindicated in their belief that the tech giants would grow only more relevant, and that an internal monoculture would distort their impact on the world. From biased facial recognition to disparate severity of online harassment, the tech platforms have failed to support their users in an equitable way. Tech employees themselves have taken to the streets to protest leadership decisions, including huge bonuses for sexual harassers and retaliation tactics against employee-organizers.
Here are the five platform giants, with their U.S. employee diversity visualized on their logos with their brand colors. The data visualizations are based on the 2018 EEO-1 reports, the most recently available data. They represent all U.S. employees. If we were to include only management, the results would skew far more white and far more male. None of these companies share comparable data at the global level, where they aren't required to collect the information. You can view a wider comparison of tech industry diversity data, including some historical data, in this spreadsheet.
Facebook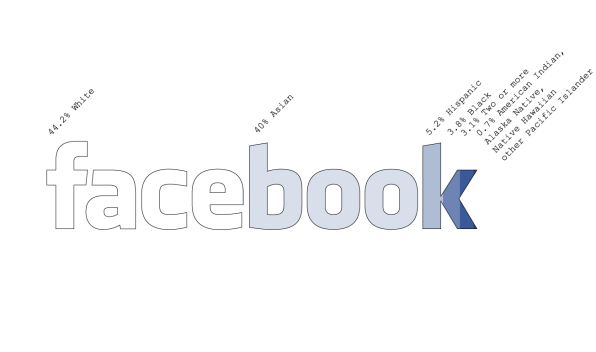 Facebook has the highest proportion of Asian employees at 43%, but the number drops over 19 points at the leadership level. Like Google and Microsoft, the company is seriously underrepresented in Latino and African American employees compared to the U.S. workforce and population.
Google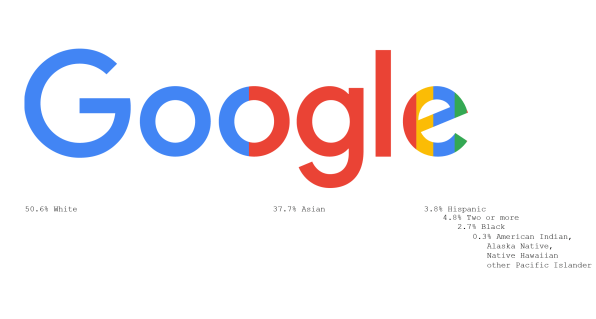 Relative to the rest of the U.S. workforce, Google struggles to recruit and retain workers who are African American (2.7% of Google employees versus 13% of the U.S. workforce) or Latino (3.8% of Google versus 18% of the U.S. workforce).
Five years of reporting coupled with internal and external pressure for change has amounted to a single percentage point improvement in Google's gender imbalance. The company remains 68.4% male as of its 2018 report.
Microsoft


At 55.1% white, Microsoft is the whitest of the already quite white tech giants. Its leadership is the most white (65.9%) and male (80.2%) leadership of all the companies here.
Apple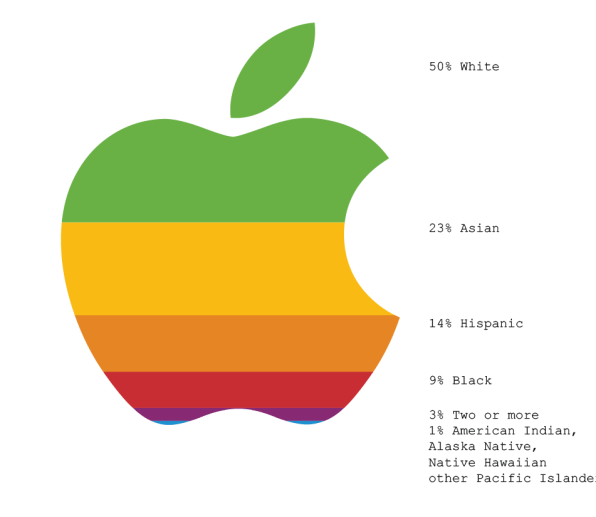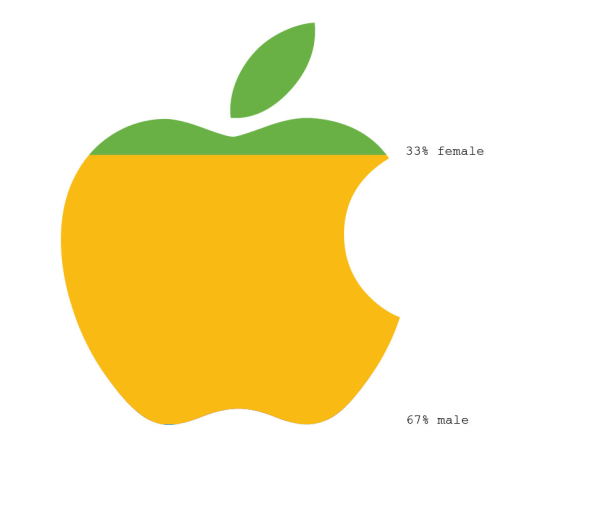 At 67% male, Apple has one of the most lopsided gender balances of all the tech giants (compared to 49% of the U.S. workforce).
Amazon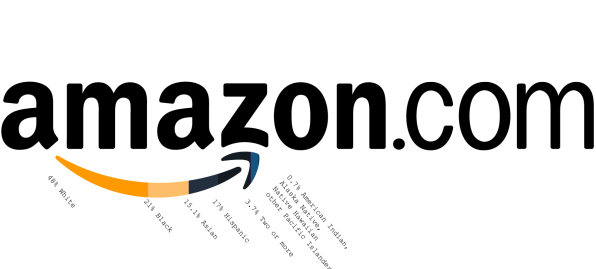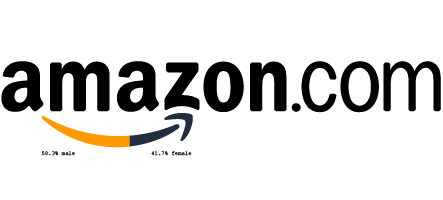 Amazon is the closest to striking a realistic gender balance and is actually over-represented in African Americans, a miracle by tech company standards. But Amazon doesn't share information about diversity between technical and non-technical roles on its diversity page. When it did offer this information in 2014, The Seattle Times identified that most of the company's diversity gains were made in its warehouses. Those jobs offer hard working conditions and below-average pay: Amazon's median salary is just $28,836 (compared to Facebook's 2018 median salary of $228,651).
Unbalanced employee diversity inside these incredibly powerful tech companies isn't a responsible strategy. It's become painfully clear in the past few years how naive these companies have been in preventing misuse of their products that harms us, their users. We need people with a wider range of experiences informing these companies from inside. And we need them making decisions in leadership roles. Transparency alone clearly isn't cutting it.
---
Matt Stempeck is a creative technologist based in Berlin and the inventor of Tally, an app that helps you count how women, trans women, and women of color are represented (or not) in the public sphere. He worked for Microsoft from 2014 to 2017.