In a demo of Adobe's new AI-powered camera app, I saw daytime photos made to look like they were shot at night, portrait photos turned into Andy Warhol-style pop art, and faces smeared with virtual paint to show team pride at sporting events.
Yet the most impressive demo was much subtler: Abhay Parasnis, Adobe's CTO, was showing a portrait photo he'd taken on a recent trip to India. Each time he selected a new lighting effect, it would cast a different pattern of shadows, highlights, and colors across the subject's face, as if someone was rearranging the room's lighting around him.
The Adobe Photoshop Camera app, which is launching though an invite-based preview program today, is the culmination of Adobe's efforts to bring its Sensei AI services to a consumer product, and it's part of a broader attempt to expand the company's software beyond the realm of creative professionals. It's also just a pretty neat-looking tool for both serious photo editing and silly visual gimmickry.
"For the engineer in me, this is super, super cool," Parasnis says. "Consumers can now express themselves in ways that were just impossible before."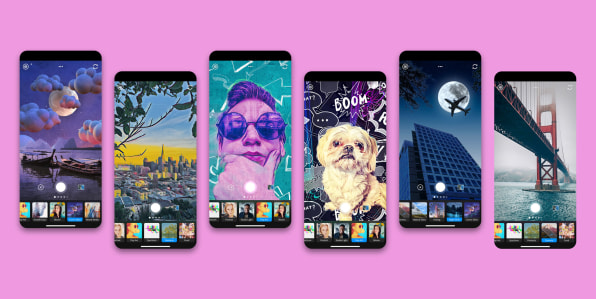 New camera tricks
Adobe is hardly the only one pushing AI as the next big thing for camera software. Over the past few years, smartphone makers been leaning more into computer vision to improve photos, like by blurring the background behind faces, enhancing portrait lighting, and teasing out sharper details. AI has even become an overt selling point in new phones, with the iPhone 11's "Deep Fusion" feature promising to blend multiple exposures into one superior image, and the Google Pixel 4's "Super Res Zoom" improving the quality of digital zoom.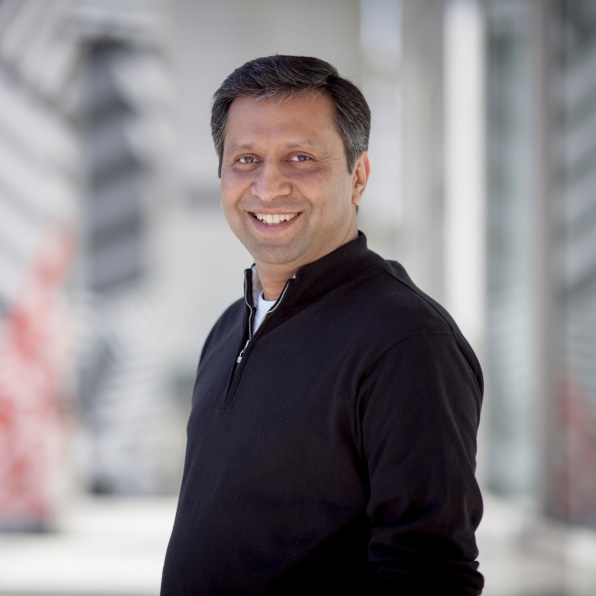 Adobe's tools, however, seem more extreme than what standard camera apps offer. While looking through the viewfinder, Photoshop Camera will recognize what's happening in the scene and highlight appropriate effects in a menu below the shutter button. A landscape shot, for instance, may highlight tools that turn a bland sky into a sunny blue one, or that make the whole image look like an oil painting. Training the camera on food might bring up some tasteful filters that make the ingredients pop.
These aren't just dumb filters, though. Because Adobe's AI can recognize what's going on in the photo, it can apply separate lighting and color effects to different parts of the frame. Parasnis showed me how he could brighten an interior shot of a church in one step without blowing out the outdoor scenery in a distant window, and how changing a city skyline photo from day to night would also affect the lighting on buildings in the forefront.
The goal, Parasnis says, is to automate the kind of effects that used to require pixel-by-pixel editing in Photoshop.
"It's not that it couldn't be done, but it was very labor intensive, and required super high-end hardware with super high-end skills," he says.
It's worth noting that all of this image processing occurs offline. The company isn't uploading any images to its servers or collecting data on what users are capturing. That's comforting from a privacy standpoint, though Parasnis suggested that older phones won't have enough power to use the app. (Adobe isn't yet announcing specifics on this front, but says the app will require at least iOS 12 or Android 9.)
Adobe's consumer push
Although Adobe says it's still committed to creative professionals—and will have lots of announcements for them at its Max conference this week—it's also making a bigger push into consumer software. The company has made some gestures in that direction before, most notably with its Adobe Spark presentation software, but Photoshop Camera is its most ambitious effort yet. Parasnis says Adobe's been working on it for about three years.
"The core genesis was: Can we unleash creativity for everyone, not just professionals?" he says. "If we're going to do it, the camera is the perfect app, because capture is the new creative tool."
Still, the business model for this endeavor is murky. Adobe Photoshop Camera will be free, and at least at the moment, it doesn't use Adobe's Creative Cloud storage service, which costs money.
Parasnis says the main goal with Photoshop Camera is to strengthen the company's overall ecosystem. With the app, users can export images in Photoshop's .PSD format for further editing, so there's a chance some users may graduate to paid Photoshop subscribers.
Along the same line, Adobe is allowing Photoshop users to create their own "lenses" for Photoshop Camera, which the company will then curate for users. (It's working with the musician Billie Eilish to provide some "limited-edition" lenses at launch.) Adobe doesn't have any immediate plans to sell lenses, but believes artists will be drawn to making lenses as a way to enhance their portfolios.
"These free apps do make the core ecosystem that much more valuable and sticky, and drive more users to it," Parasnis says.
For now, Adobe is offering Photoshop Camera through a limited preview program. Parasnis says Adobe wants to gather more feedback from users on how they're using the app before releasing it publicly in 2020. Still, he didn't rule out the possibility of a faster rollout if everything goes well.
"If the feedback from the first two weeks is, 'Look, everything is perfect. Go,' we have nothing to prevent us from going more aggressive," he says.