This weekend, sneaker fiends, hypebeasts, hypebaes, and everyone in pursuit of unique Instagrammable moments and the most exclusive street wear they can find will descend upon the Long Beach Convention and Entertainment Center in California for the fourth consecutive year.
ComplexCon may be one of the newer ventures under the Complex Networks media umbrella, but it's a fascinating case study for how to effectively execute a consumer experience.
Complex Networks is a digital conglomerate—spawned from the now defunct Complex print magazine—that consists of multiple businesses, as current president Christian Baesler puts it. It's a world of interconnected websites and TV shows appealing to millennials and Gen Z'ers such as Everyday Struggle, a talk show where three hosts discuss hip-hop current events; Complex News, where reporters explore where the culture is heading via celebrity-driven interviews and palatable news packages; First We Feast, its foodie-centric dive into some of the best eats in America; and Sole Collector, for the latest in sneaker news. Fans flock to comments sections for a variety of reasons, whether it's to discuss social issues, stay up on what's new in entertainment and fashion, or to make fun of the latest celebrity victim on Hot Ones. The ComplexCon wonderland is an extension of all the above, but in the flesh. It has grown from 30,000 attendees in 2016 (its inaugural year) to 60,000 last year.
But don't call it a festival.
"In the beginning of ComplexCon, we understood that we obviously have really fervent audiences that are reading our content. They're watching our shows. They know their passion points, and we know where they live, and we wanted to really create an experience, because we knew that was something that people would speak to," says executive producer Isis Arias Clermont. "We obviously understood that there were other events out there that were more music focused or were just traditional fan events, and that's not exactly what we wanted to put together. That's why we say we're more than a festival, because we don't just focus on one passion point. We focus on all passion points, and we try to optimize them all."
The ComplexCon multiverse is a world where even the food vendors collaborate with artists—take the Murakami Burger, for example, a Wagyu beef burger seasoned with a flavor bomb of truffles and tempura—where attendees (who are 48% female at this point) can not only watch their favorite celebrities perform or speak, they can also meet them, participate in brand activations that provide interactive experiences, and enjoy live tapings of TV shows like Hot Ones and Full Size Run.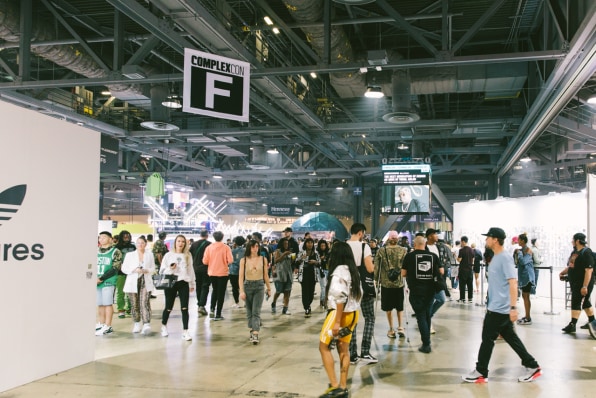 ComplexCon experimented with expansion earlier this year by venturing into Chicago. Curating Chicago's ComplexCon required some different ideas because with a different market comes different guidelines for what may or may not work. In Chicago, several local vendors like Portillo's, Sheila Rashid, Rello, and Kites joined the ranks of major brands Champion, Puma, and Bait in the marketplace, while hometown heroes Lena Waithe, Juice WRLD, and Dreezy were in the mix with the crowd.
"Listening to our audience and understanding what people want is something that we do well. Our teams are not just reading comments but on the ground. We actually ask a lot of questions. We're engaging with the attendees and asking what they liked or didn't like," says Arias Clermont. "I think creating something that's special is always something that we're asking for with everyone that participates. What is something that hasn't been done before?"
ComplexCon Chicago launched the brand's first ever Community Week, a new tradition that begins the week before the main event. It's where Complex staff, celebrities, and locals participate in various events from sneaker drives to soup kitchens.
"We have a full smooth programming where we work with a lot of local organizations. We're actually doing things in LA and Long Beach throughout the week," says Arias Clermont. "We launched in Chicago because we felt if we were going to move ComplexCon again—we're only thinking about how can we do better. How can we do more? How can we service this audience? How can we talk to our communities in a different way?"
This year, participants can look forward to appearances from the likes of Kid Cudi, Yara Shahidi, and Anderson.Paak, just to name a few, in addition exclusive drops from such brands as Atmos, the LA Lakers, Boiler Room, and more.
Expansion for ComplexCon is contingent upon cultural necessity. At the moment, market trends point toward global expansion, but don't expect the arbiters of cool to make a move without a carefully thought out master plan.
"It's a very magical format that is not easy to scale to too many places at once because it's not just a music festival where you need to book talent, but you rely on so many moving pieces, and we don't just want to become one of those other kind of competitive events that are more verticalized. We're in the process of working out how we reinvent it with our five-year anniversary next year," Baesler tells Fast Company. "So far, we've only been focusing on domestic, and we do think there's a big international opportunity there. If you think about hip-hop in the music category, streetwear, and sneakers and fashion—those are the biggest in their categories and now globally as well. They're the big culture as it is in the U.S., in Asia and Europe, so you'll see us go global in the next few years."