When Glossier founder and CEO Emily Weiss pitched her then-burgeoning skincare brand to investors, the number one question she was asked was, "Why start a skincare brand in such a crowded market?" Her answer? She wanted to change the way customers behave. 
During a panel at the Fast Company Innovation Festival last week, Weiss and Robert Reffkin, founder and CEO of Compass, which bills itself as "the first modern real estate platform," discussed how their companies are using technology to serve their customers.
"I grew up going to the beauty counter to have people tell me how I should look, but I wanted the customers to be the beauty experts," Weiss said, adding that people often consult social media or reddit to inform their skincare purchases. Weiss says that technology—primarily social media—allowed her to connect directly with customers as she built her brand.
To date, Glossier has raised $186.4 million from the likes of Forerunner Ventures and joined the unicorn club with a valuation north of a billion dollars. Compass has raised $1.6 billion from investors including SoftBank at a valuation of $6.4 billion.
Reffkin says that in founding Compass in 2012, he and his cofounders "wanted to find an industry that is really big, that touches almost everyone, and that nobody likes. We were also looking for something Google, Facebook, Amazon, and Apple were not entering, because we didn't want to compete against them," Reffkin said, adding that he also considered starting a company in the healthcare space. "I learned that the key is to listen to the agents. There are certain underserved communities in the world, and real estate agents are one of them."
Citing his experience founding nonprofit America Needs You, Reffkin says he tells his employees to love their customers as much as nonprofits love the people they serve. "A lot of nonprofits will bring in one of the people they serve to create a connection—the people who do best at Compass are the people who get closest to their agents," he says. He asks for his team to put together customer quotes about their experience with the company every two weeks. "I want at least 10 to be about things we can improve," he says.
Weiss describes Glossier, which launched a new liquid eyeliner this week, as a company focused on listening to its customers. "Every single number is a person," she says. "Our team receives about five Instagram direct messages per minute, and we reply to them all."
Through Into the Gloss, the blog she started before creating her skincare and cosmetics line, Weiss and her team were able to crowdsource information and ask consumers what they wanted directly, though she says that having so much dialogue with customers can be a double-edged sword, as too much feedback can be paralyzing. On cultivating customer loyalty, she adds, "There wasn't really a beauty brand whose sweatshirt you want to wear."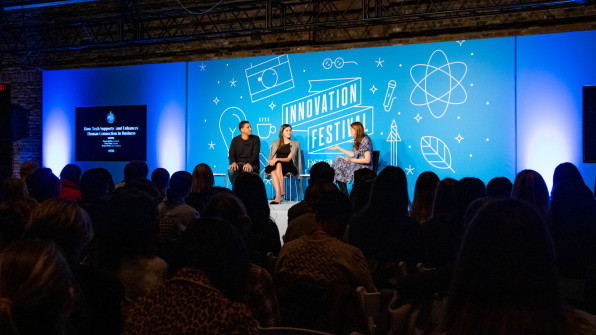 Both see technology as a way to improve the customer experience but not necessarily replace physical interactions. "A lot of software is created to replace people; we want to create software to help people," Reffkin says. Weiss says that most beauty sales still happen offline. "Technology can held build a relationship with customers, but we don't have to make every sale through our website. We have physical stores, and we focus on that experience, too," she says.
Addressing the recent scrutiny his primary backer SoftBank has received over their investment in WeWork, Reffkin compared himself to former CEO Adam Neumann, who famously spent $60 million on a private jet he often used to make personal trips. "I tell investors don't worry, I'm not going to buy a plane," he said.  "Just like every person is different, every company is different, and we're in completely different industries."