"It's pretty sad in 2019 that we even need a film like this that explains to people that it was bad to be a Nazi," says Taika Waititi of his new dark comedy Jojo Rabbit, which is nothing short of a high-wire act of tone and taboo.
Set amid World War II, Jojo Rabbit follows Jojo Betzler (Roman Griffin Davis), a 10-year-old Nazi fanatic whose imaginary friend is Adolf Hitler (Waititi). Jojo is so sure of the Nazi cause until he discovers that his mom (Scarlett Johansson), an underground Nazi resistance fighter, has been safekeeping a young Jewish girl in their home. Suddenly, Jojo is torn between not wanting to out his mother and his abject disdain for Jews.
At its core, Jojo Rabbit is a coming-of-age story but one that narrowly skirts the line between offbeat and offensive. Waititi certainly isn't the first filmmaker to satirize Nazis and Hitler. Alan Johnson's To Be or Not To Be gave us Mel Brooks as a rapping Hitler. Charlie Chaplin's The Great Dictator became one of his most commercially successful films of all time. David Wnendt depicted Hitler waking up in the 21st century in Look Who's Back.
However, a comedy about Nazis hits a little differently in Trump's America.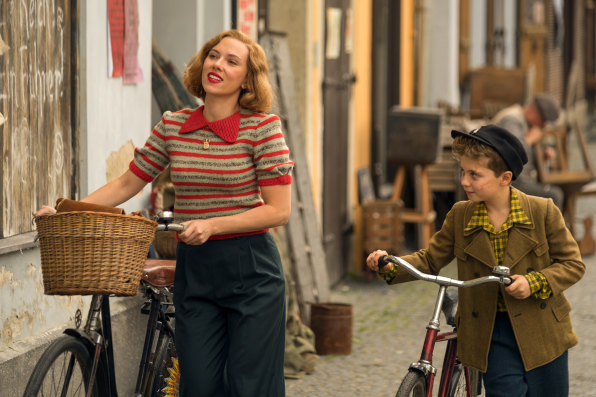 Emboldened by Trump's words and actions, there's been a surge in attacks by neo-Nazis. From the Christchurch attacks in Waititi's homeland of New Zealand to the shooting in a Quebec mosque, white extremism is a global threat and one that Waititi isn't aiming to add to with a film like Jojo Rabbit.
"You've got to be careful, because you don't want to be sympathizing too much or trying to redeem all of these characters. What's the quote? 'Very fine people on both sides,'—you don't want to be like creeping into that territory," Waititi says. "That's not really what this was about."
Jojo Rabbit is based on Christine Leunens's 2008 novel Caging Skies. Leunens's original story has a far more serious tone, but Waititi wasn't interested in a heavy period drama. Through several rewrites, Waititi leaned into his background and expertise in comedy and landed on a more absurdist reading of Leunens's work, mainly in Hitler being Jojo's imaginary friend.
"The villain isn't really the villain. He's part of this kid's conscience," Waititi says. "It's part of himself that he's wrestling with. And so it's interesting that the villain in the film is himself."
It's those nuances that Waititi is hoping will resonate—and that he exhaustively fine-tuned through at least 15 test audience screenings. In case there's any confusion, Jojo Rabbit's subtitle is "an anti-hate satire." That said, it's entirely possible for the film's message to misconstrued or purposefully distorted. However, Waititi doesn't seem too concerned about it—sort of.
"I doubt any of those dummies are going to watch this movie. I think you'd have to be particularly stupid to misconstrue the message of the film, but I wouldn't put it past them," Waititi says. "I don't want to be too quick to judge and say that no one is that stupid. I've been proven wrong before."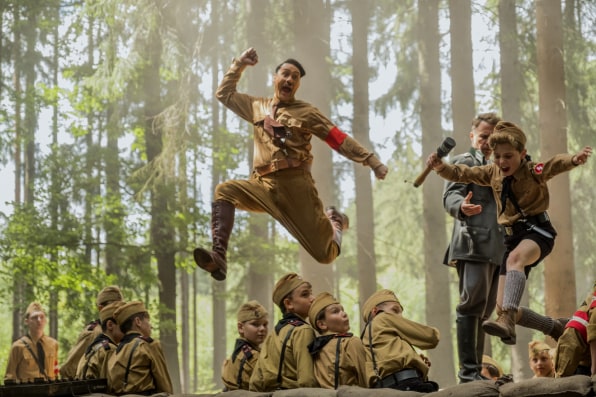 "At the end of the war, there was a very simple law which was if you're a Nazi, you go to jail," he continues. "Now, it's more like if you're a Nazi, feel free to have a rally down in the local town square in America—and freedom of speech protects you. And there's a lot of young people who have never heard of infamous concentration camps: 66% of American millennials have never heard of the word Auschwitz. It feels like now more than ever we need more of these films and more of these messages hammered into us and definitely into the young people."
But is that message best conveyed through comedy?
"Part of our responsibility sometimes is actually to help people develop their sense of humor. One day they will learn why it's funny, and we're not going to explain the joke to them. But we're going to let them work it out for themselves," Waititi says. "So people say, is the world ready for mixing humor with the subject matter? Well, the people who aren't ready for it and who don't quite get it, I'm not gonna try and convince them. Eventually they will get it—and then they're going to feel really smart."