Underneath the bold headlines and damning statistics highlighting the lack of parity for women and people of color in entertainment, there's a more nuanced conversation that shouldn't be ignored. As actor and producer Viola Davis explained at Variety's Inclusion Summit back in May, "I do not want to be a part of a rider," referring to inclusion riders, the legal language actors can bake into their contracts to ensure more diverse representation on their projects. Actor Frances McDormand first put the practice in the spotlight during her 2018 Oscars acceptance speech. "No, seriously," Davis said. "I don't want to be a part of any piece of paper that has to force people to see me."
It's a delicate argument: On the one hand, inclusion by any means necessary does yield the desired result of having a wider range of representation both in front of and behind the camera. On the other, being just another checked box can swiftly lead to tokenism or feeling like actual talent is eclipsed by gender or ethnicity.
"There's a lot to be said about the inclusion rider and a lot of things that exist in the industry that are suggesting a punitive approach to hiring," says filmmaker Alma Har'el. "The punitive part is what I think is problematic."
Har'el's solution is Free the Work, a searchable database of underrepresented creators that Har'el calls "a sexy version of Spotify meets IMDb."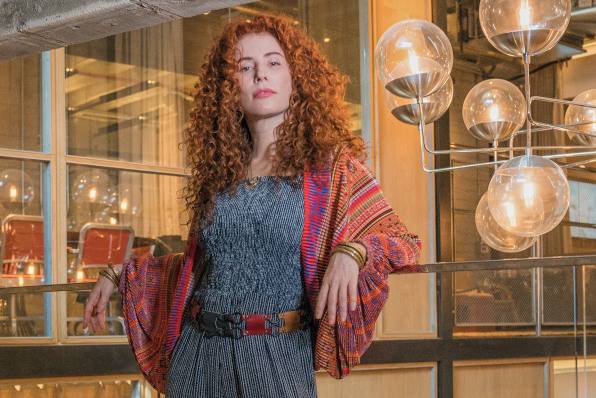 "There's this feeling that hiring women directors or people of color is something that [you] have to do as part of woke culture," Har'el says. "We really want to move the discussion away from ticking the box of diversity and inclusion, to making people understand that they're missing out on the best talent out there."
In addition to being a database for emerging directors, writers, cinematographers, and other creatives, Free the Work also features such notable professionals as Lena Waithe, Lucas Hedges, Tracee Ellis Ross, Jill Soloway, and Natasha Lyonne, who are able to curate lists recommending everything from music directors they love to women in comedy to noteworthy nonbinary voices.
But Har'el didn't want Free the Work to rely solely on knowing who you're searching for or curated recommendations, so the platform also uses machine-learning algorithms to surface new suggestions based on previous searches. The platform will also roll out content for emerging talent covering the basics like how to create a pitch deck, what to put on your reel, and so forth. The goal of Free the Work is to be a resource for up-and-coming creators as well as making finding those creators as intuitive as finding your next favorite band or lunch spot.
"It's incredible when you find out how many talent agencies, and I mean [the] top five agencies, scramble through Excel sheets when they need new talent," Har'el says. "There's so much tech that is serving every aspect of our needs. And I wanted to bring that kind of urgency and [the] capabilities that exist today in tech into talent discovery."
Free the Work is an extension of Har'el's sister platform Free the Bid. Before transitioning into film with her upcoming feature debut Honey Boy, Har'el gained accolades in the advertising world for directing acclaimed spots such as P&G's "Thank You, Mom" and becoming the first woman to direct a Stella Artois ad. But, as with pretty much every industry, she became acutely aware of the ad world's woeful lack of representation. Har'el developed Free the Bid in 2016 to push agencies to include at least one woman in the triple bidding process. To eliminate any excuses, she also created a platform of female directors. At launch, Free the Bid had around 70 filmmakers. Today, it has more than 1,200 and is working with 160 ad agencies worldwide and more than 122 brands. Free the Bid's impact was undeniable. Hewlett-Packard, for example, went from having no women directors leading their campaigns to 59% in under two years.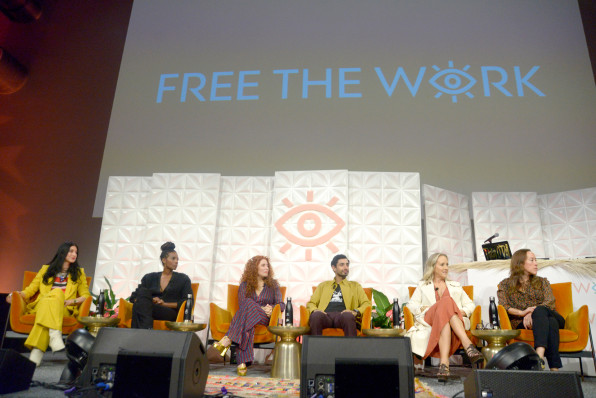 Har'el is now hoping Free the Work will see similar success.
"Everything started out of a feeling that I'm suddenly in a position that I can let other women in, because I was directing campaigns with Facebook and Airbnb and Stella Artois and realizing I'm always bidding, always, against two white men," Har'el says. "Now that I've directed a feature, I feel like I'm in a position to usher a lot of people into film and television for the first time."
For Free the Work, Har'el says she wanted to open the aperture to include not just women and people of color, but also LGBTQ creators, disabled creators—basically anyone outside the intersection of white, straight, cisgendered, able-bodied men. But the mission is still the same: to make it impossible for the powers that be to overlook diverse talent with the excuse that all the best options are already working. The talent pool is deeper than the few exceptions who've already managed to break through—and Har'el is making it her mission to surface as many as possible.
"The only way to bring change sometimes is to find what's your strength," Har'el says. "Some people are really powerful on social media and some people are really powerful in creating a cultural moment. I've found [that] my best asset is, when I get into the room, figuring out who's running the show and getting them to realize how many people are waiting outside to get in."
Free the Work is a nonprofit backed by founding partners Ford, Procter and Gamble, Facebook, AT&T, Verizon, and Amazon Studios. The platform, developed by the women-led creative and technology studio Heat Waves, also has features for studios and agencies to track their inclusion efforts.