It turns out that a lot of people will avoid picking up the phone to reschedule things, even if it means being a no-show for an upcoming haircut or nail appointment.
For that reason, Square is now letting business owners automate the rescheduling process with a chatbot called Square Assistant. Business owners that are using Square's existing Appointments service can now confirm appointments with customers—or let them cancel or reschedule them—via text message, without any human involvement. It's the first product to come from Square's acquisition of conversational AI startup Eloquent Labs earlier this year.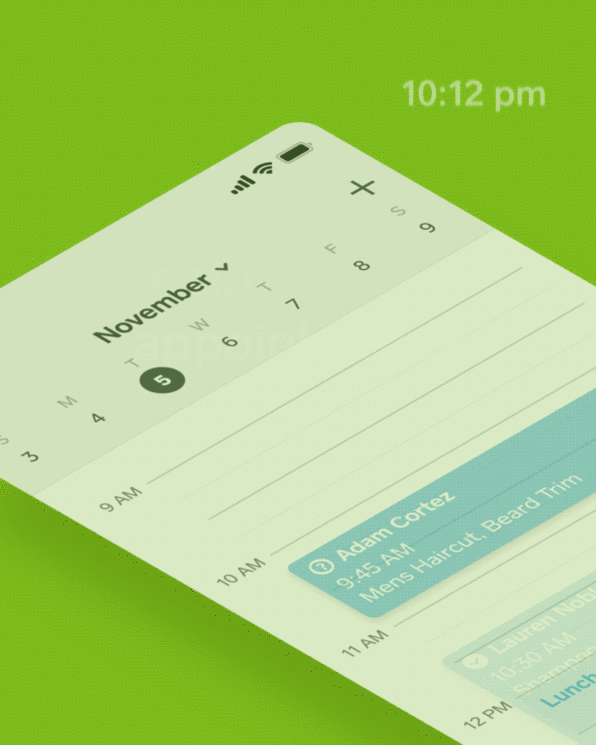 Square says that in early testing of the service, sellers saw a 10% drop in no-shows, which might seem surprising until you learn that Square sellers engage more with customers via text messaging than they do by phone or email.
"For some of our customers, SMS is just a more efficient way to interact," says Ellen Blaine, a former Eloquent Labs engineer who is now a product manager at Square. "With Square Assistant, you can reschedule or confirm an appointment just by texting a couple of words."
To be clear, the rescheduling part doesn't happen entirely over text. Once Square Assistant figures out that customers want to change an appointment, it still links them to a web-based calendar, similar to what Square Appointments uses for its initial scheduling.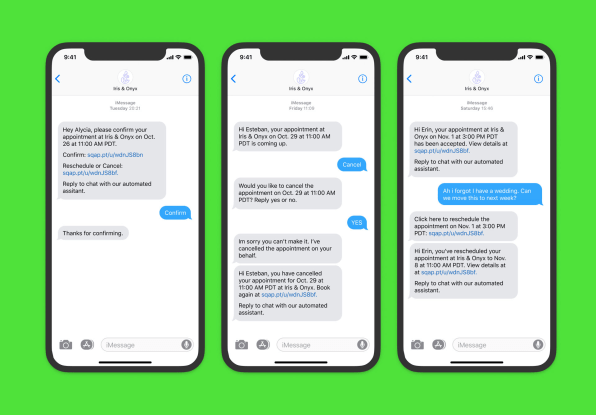 The AI component, Blaine says, comes from trying to determine what users are trying to accomplish in the first place when they send a text message to the business. Square uses Amazon Mechanical Turk—that is, inexpensive human labor—to train its AI models by annotating different kinds of requests. But the company says the Assistant itself doesn't involve any human intervention. (Customers are also told up front that they're interacting with a chatbot, so as not to let them feel tricked.)
"There are a whole lot of ways to ask, 'Can you reschedule my appointment?' or 'Can you confirm my appointment?' and it would be pretty impossible to enumerate all of them," Blaine says. "With AI, we're able to extrapolate from a few examples."
A less ambitious chatbot (for now)
Just a few years ago, chatbots were all the rage in the tech business, with major companies such as Facebook and Microsoft pushing them as a replacement for apps. The idea was that interacting with a service over text—or at least in a conversation view akin to text messaging—would be much simpler than downloading an app and figuring out how to use it.
Most of those companies have since scaled back their chatbot plans or acknowledged that simulating the back-and-forth exchange of a text message isn't all that useful. Less ambitious chatbots have stuck around, though, especially in the area of customer service, where automating answers to common questions can save precious time and resources.
Square Assistant falls into that low-key category. Instead of promising to solve all kinds of customer service issues, it's focused on one particular issue that can sap a small business's resources. And because of that narrow focus, it only has a few potential actions—confirm, cancel, reschedule—so there aren't many things that could derail the conversation.
Blaine says that Square listened closely to feedback from its customers as it created its purpose-built bot. "There are plenty of chatbots out there, and a lot of them promise a magic AI hammer that solves every problem. A couple of years ago, there was all that hype," she notes. "But in general it's so important to work with real sellers as we build these conversational AI solutions for them and their customers."
That's not to say Square Assistant won't become more ambitious over time. In a way, it's like the inverse of Google Duplex, the AI that Google rolled out last year for booking reservations over the phone. Duplex's big idea was to let users make electronic reservations even if the restaurant or salon only booked over the phone, with a humanlike voice assistant making the call to bridge the gap. Square Assistant, by contrast, is working backwards, by putting the automation in the hands of small businesses, which can then extend it to customers.
Square won't say where that idea might go from here but says it looks forward to exploring how AI can solve the problems of the customer base, which is heavy on local service providers, retailers, and other independent outfits without major technology resources of their own.
"Many of our sellers are smaller businesses, and that's really exciting to us, because small businesses traditionally haven't had access to enterprise-quality conversational AI," Blaine says.