Good things come in fives: Olympic rings, Great Lakes, Backstreet Boys—and the fifth annual Fast Company Innovation Festival is no exception, with an incredible five-day lineup. Thousands of attendees and more than 300 trailblazers in business, culture, social impact, and beyond will converge at the historical Caldwell Factory in West Chelsea, which once housed the workshop of celebrity photographer Annie Leibovitz. This year's festival is dedicated to exploring the power and potential of a connected world.
Attendees will see more than a dozen captivating keynotes on the Main Stage and numerous panels and fireside chats on tech, politics, and innovation at the Forum. The festival hub at Union West will host a number of fascinating workshops and dynamic discussions to help forge deeper connections with the people and ideas that are changing our world. More than 85 Fast Track immersive field trips will also take place at creative spaces across the city.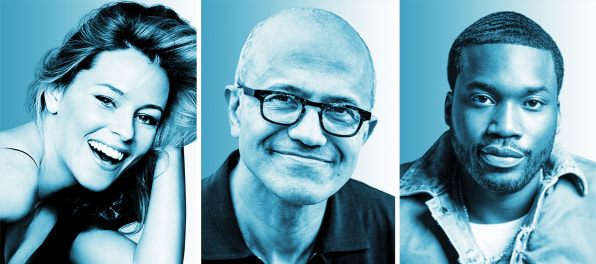 While there's plenty to see and do at the festival, here are 25 events you won't want to miss at this year's #FCFestival.
Hear how Elizabeth Banks is helping change Hollywood for women (and everyone else) before her big-budget studio movie Charlie's Angels premieres November 14.
Microsoft CEO Satya Nadella talks about the lessons he learned about taking his company from geek to chic over the past decade.
After being caught in a decade-long legal quagmire, multiplatinum hip-hop musician Meek Mill will share his plans on reforming the American justice system.
Walk the famous High Line elevated park outside the Caldwell Factory and get lost in an urban art oasis.
Academy Award–winning writer and director Jordan Peele will talk about how risk-taking and diversity turned Get Out into a massive success.
Learn great storytelling from Hamilton composer and star Lin-Manuel Miranda, who bridged the gaps between Broadway, hip-hop, and American history.
Spend a happy hour with Ustwo, a digital studio building immersive AR and VR products, and learn more about how the digital and virtual worlds are merging with immersive entertainment from Framestore, an award-winning creative studio.
Hear Snap CTO Bobby Murphy explain how Snapchat became a Gen Z juggernaut.
Get a crash course in business survival skills and avoiding disruption from Co:Collective.
Sip on some suds at a "gamified beer training experience" from Anheuser-Busch.
Haven't got your fill of American politics yet? Then learn about the evolution of campaign design and the future of political branding from Susan Merriam and Jennifer Kinon.
Several speakers will address the uncertain future of online media, including former Hearst chief content officer Joanna Coles, Dotdash CEO Neil Vogel, and Vice Media CEO Nancy Dubuc.
Hungry? Grab some healthy hors d'oeuvres with Noom, which is using AI and personal coaching to deliver lasting healthy diet changes to more than 50 million users.
Hack your bad habits by checking out Quip, the electric toothbrush maker that's taking on the dental services industry by focusing on simplicity and habit.
Get a lesson in teamwork from the unlikely partnership between AccuWeather, Bose, and creative agency Huge. They're building an AR weather experience driven by live data, gestures, and contextual events.
Head north from Chelsea to explore Hudson Yards, the controversial multibillion-dollar development project with ultra-high-end shopping and a 150-foot climbable structure called the Vessel.
Hear from PayPal president and CEO Dan Schulman and Girls Who Code founder and CEO Reshma Saujani about leadership and the skills revolution.
Take part in any of the three workshops on AI-powered voice control, one of the most exciting emerging technologies in human-computer interaction, with Skilled Creative CEO Brandon Kaplan.
In a world of startups and tech innovators, what are legacy brands to do? Hear from the heads of MTV and WW International (formerly Weight Watchers) on remaking their brands in a time of digital disruption.
Get a sweat on with Barre3 CEO Sadie Lincoln in a session about empowerment that also includes a ballet-informed workout.
Keep it moving with Orangetheory's Ellen Latham and Dave Long as they explain their technology-enabled HIIT workouts. End the session with 60 minutes of training.
Movie producer Will Packer talks about turning small budgets, creativity, and diversity into huge successes with films like Ride Along and Girls Night.
Go beyond table scraps and kibble with executives from JustFoodForDogs as they show off their fresh-food recipes for our canine pals.
Data breaches are everywhere these days. Find out how to protect yourself from White Ops CEO Tamer Hassan and Recorded Future CEO Christopher Ahlberg, two of the people whose job it is to stop the bad guys.
Take a walk along the waterfront and stop in for a tipple with City Winery, which is showing off its new vision for the Pier 57 complex on the Hudson River.