Things are getting ugly in the sneaker world. Last month, I reported how Allbirds is constantly swatting off other brands copying its distinctive Wool Runner, including most recently Amazon, which created a similar sneaker through its in-house shoe brand 206 Collective.
Now, the ongoing legal battle between Nike and Skechers is escalating. Nike recently filed a patent infringement lawsuit against Skechers, alleging the company has created sneakers that are very similar to Nike's VaporMax and Air Max 270 shoes. You don't need to be a copyright expert to see the similarities between the sneakers. Take the pink Air Max 270, which features a pink knit exterior along with a red, clear transparent sole. The Skechers has all of those elements, except instead of the Nike "swoosh" there's a Skechers "S" logo.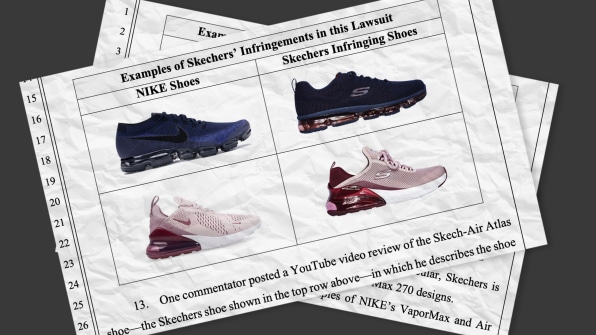 According to Julie Zerbo, a lawyer who provides legal and business analysis on her blog The Fashion Law, this latest lawsuit doesn't just highlight the similarities of these sneakers: She writes that Nike is accusing Skechers of building its entire business model on stealing other brands' designs. In the lawsuit, Nike also points the finger directly at Skechers CEO Robert Greenberg, who is spearheading this strategy. Indeed, other sneaker brands have sued Skechers in the past, including Adidas.
This is just the most recent legal tussle Nike has brought to Skechers. Matthew Kish, a reporter at Portland Business Journal, has been carefully tracking these lawsuits. In 2014, for instance, Nike's subsidiary brand Converse claimed Skechers had created a knockoff of the classic Chuck Taylor sneaker, and in 2016, Nike alleged Skechers had copied its Flyknit sneaker, infringing on eight Nike design patents. Skechers, for its part, told Kish it denied these latest allegations and has previously said it would not comment on ongoing litigation.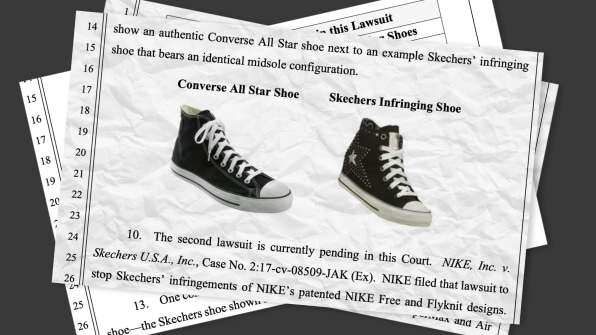 But Skechers is far from the only shoe brand being sued for alleged design plagiarism. Joey Zwillinger, Allbirds' co-CEO, says that there are upwards of 20 competitors that have created sneakers that are so similar to the Allbirds Wool Runner that they arguably infringe the Allbirds copyright. Allbirds has already sued Steve Madden and an Austrian footwear brand called Giesswein Walkwaren. (Steve Madden has been sued by everyone from large fashion labels like Balenciaga to indie brands like Lucky Horse.)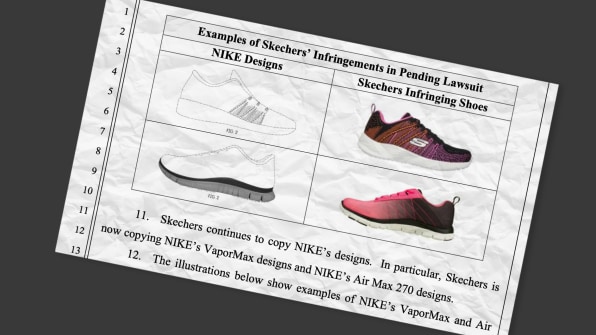 Zwillinger says that filing a copyright suit isn't always the best path forward, largely because it doesn't often result in a positive outcome. "In general, the way this goes down is typically that even when you bring a lawsuit, the other company will just drag it out to get as much sales as they can, then stop selling it after a while anyway," Zwillinger told me. "The legal system doesn't protect brands like ours too comprehensively."
Legality aside, why does stealing keep happening in the sneaker industry?
In some ways, the sneaker world is a microcosm of the broader fashion industry. For the last century, fashion has been built on short-term trends. Designers would make new collections every season, which would influence what looks would be fashionable (and by extension, what looks were no longer in style). Fast-fashion brands only deepened the industry's tendency to create products that play into rapidly evolving trends. Companies like H&M and Inditex (which owns Zara) developed supply chains that would allow them to recreate the latest runway looks for a small fraction of the price. Designers have sometimes sued these fast-fashion brands for copyright infringement, but often, it's a losing battle.
Shoe brands like Steve Madden and Skechers pursue a similar model when it comes to shoes, building their businesses on creating trend-driven collections. Fast-fashion brands often make visible tweaks to a design that they are mimicking to make it clear that they are not just making a carbon copy of another brand's product. But shoe brands looking to do the same thing seem to have a harder time with this, partly because they have less physical space on a shoe to play with. They seem more prone to make shoes that are recognizably similar to an original shoe design.
This trend-driven model is problematic for many reasons, not just because of the widespread copying. The real tragedy is that it generates so much waste. The global footwear industry produced 24.2 billion pairs of shoes in 2018, for a population of 7.5 billion humans. Many of these shoes will end up in landfills after a few months, or years, when they are no longer in vogue. This is hugely polluting to the planet, not to mention a waste of all the resources, human labor, and greenhouse gases necessary to make the shoes in the first place.
If brands focused on making classic shoes that will last a long time, instead of trying to keep up with the latest trends, there would be far fewer copyright violations, and perhaps more importantly, there would be a lot less waste.