When Amazon CEO Jeff Bezos asked the Washington Post's product team several months ago to consider what a news reading app might look like on televisions, it wasn't exactly a mandate.
It was, however, an intriguing idea, even if it came from the big boss. (Bezos personally acquired the Post for $250 million in 2013.) The Post ran with it, and has now come out with a new app for Amazon Fire TV and Apple TV that leans into the Post's print roots.
"It was more like the spark that sort of got us imagining what we could do in this growing space," Kat Downs Mulder, the Post's VP of product and design, says of Bezos's involvement.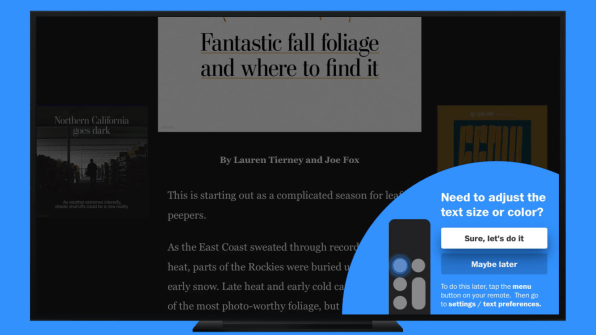 Instead of emphasizing video, the new app is all about reading on your television. Scroll left or right, and you can cycle through a carousel of headlines with images, chosen by human editors. Select any one, and you can scroll through the article text with your remote. The app also offers adjustable fonts, text sizes, and color schemes so you can read more comfortably on the big screen. Mulder says that as streaming devices become more popular and more sophisticated, there's room to use them as news readers.
"Reading is really core to the Washington Post experience in many ways, and we wanted to try having that reading experience front and center," she says.
Pivoting away from video
After taking up Bezos's idea, Mulder and her team started researching and found, perhaps unsurprisingly, that not many apps exist for reading on televisions, let alone ones that really thought through what the experience should be like. (On Apple TV, for instance, I could only find a couple of unappealing RSS readers.)
Without much in the way of existing inspirations to draw on, the Post turned to focus testing, working with SAP's Qualtrics subsidiary to figure out what TV users wanted. That research helped the team figure out that it needed adjustable color schemes and fonts, similar to how reading apps work on mobile devices.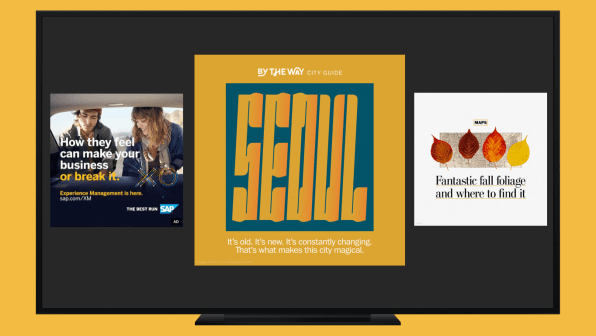 "[Users] needed those fine-grained controls in order to make it comfortable for them to read on a TV, which is something people aren't really used to doing at all," Mulder says.
Unlike the Washington Post website and mobile apps, the Fire TV app doesn't have a paywall. Instead, it has a sponsorship deal with SAP. Mulder says that a fuller monetization picture will come into view over time.
"We're always thinking about growing subscriptions over the long term, but our first goal with this product is to build loyalty, to build habits, and to focus on a really great user experience," she says.
A place for focus
While the Washington Post News Reader app is available on both Amazon's Fire TV and Apple TV, it really shines on the latter. Using the touchpad on Apple's Siri remote, you can swipe left or right through a carousel of stories, then click on any of them to start reading. Because the article text tracks along with your thumb as you scroll on the touchpad, it doesn't feel too far removed from reading on a phone or tablet. (On Fire TV, you have to click the remote's directional pad repeatedly to scroll in small increments, which is more laborious.)
Although you might expect bite-sized stories in an app like this, the Post's curators haven't shied from long reads. Among the current assortment of pieces is a 2,000-word profile of investigative reporter Ronan Farrow and a 1,700-word exploration of whether ethnic food aisles are racist. When video does appear, it's often in a supporting role as you scroll through a print story.
Unusual as it is, there's something alluring about reading the news this way. Unlike on a phone or computer, where you're constantly bombarded by notifications and other distractions, the TV can be a place of focus. And while a news reader app on your phone might offer endless story possibilities, the constraints of TV navigation keep the app from trying to do too much. The experience of scrolling through headlines until something strikes your interest is almost newspaper-like.
Already, the Post has found that people are using the app in unexpected ways. Some users read the news together with their families, and some use the app as a change of pace after spending a few hours watching football.
For now, the Post's app remains an outlier. But Mulder is hoping the idea of reading on your TV catches on.
"I do believe that having a huge screen in your living room, it can do more than play movies and shows," she says.