Look, I don't want to be a killjoy, but let's face it: Halloween is an ecological disaster.
Don't get me wrong. I love the holiday as much as the next person. There's nothing more fun than opening your front door to a herd of toddlers dressed as ducks and pumpkins. Or attending parties where apple cider is served in a cauldron. The problem is that a lot of Halloween-related products are designed to be disposable, which creates a lot of waste. Take costumes, for instance. "We've become used to spending $60 on costumes for our kids that will fall apart after one day," says Galyn Bernard, a mother of two and cofounder of kids' clothing brand Primary. "And often, they're so uncomfortable our kids can't wait to get out of them after two hours of trick-or-treating."
And yet, every year, we spend tons of money on these items. This year, for instance, the National Retail Federation expects Americans to spend $8.8 billion. That's a lot of costumes, masks, fake cobwebs, candy wrappers, and plastic treat bags, much of which will end up in the trash on November 1.
But I have some good news for you: You can still enjoy Halloween and not feel guilty. There are many things you can do to celebrate in a more sustainable way. Here's how.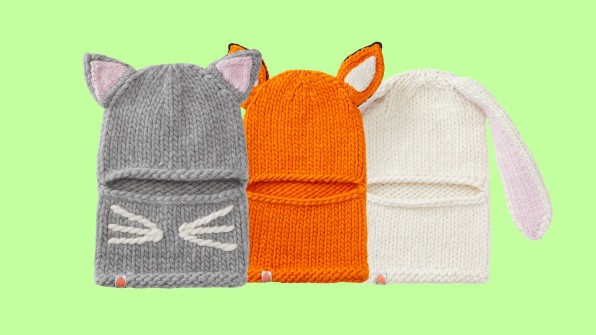 Clever kid costumes that will last the season
Halloween costumes are the worst form of fast fashion. Retailers like Spirit, Target, and Walmart stock up on the most trendy costumes of the year, which are made from cheap synthetic materials so that they're affordable and disposable. Since the expectation is that the customer will buy a different costume next year, they're not designed to be durable. But you don't have to buy these throwaway looks.
A cheeky hat startup called Shit That I Knit has made a name for itself by selling cozy winter hats made from 100% merino wool from Peru. The brand employs more than 170 women in Lima who make each of the products by hand, allowing the women to earn an income by working from home. This year, the brand has launched a set of four balaclavas that keep your whole head warm—while making you look like a kitten, bunny, fox, or llama. They were originally designed for kids, but the brand has found that many adults have bought them, just because they're cute.
For both adults and kids, the balaclava is a great foundation for a Halloween costume. You can just wear regular clothes in the appropriate color for each animal (white for the bunny, gray for the kitten, etc.). Once Halloween's done, wear it for the rest of the winter, and for winters to come. At $80, this headgear isn't cheap, but it's ethically made from high-quality materials and is designed to be worn for years.
A similar idea is getting your kid a hoodie from Cubcoats, which costs between $45 and $50. This startup makes stuffed toys that transform into hoodies, and vice versa, in a matter of seconds. The brand has many options, from pandas and cats to licensed characters like Spiderman and Minnie Mouse. They're also perfect for Halloween because the hoodies are designed to make the kid look like the character within it—and they'll keep them warm. The panda hoodie, for instance, has little ears that stick out, and the narwhal hoodie has a horn on top. The Spider-Man hoodie looks like the Spidey-suit, and the Minnie Mouse hoodie looks like Minnie's iconic polka-dot outfit. If you get one of these for Halloween, your kid could wear it all year long.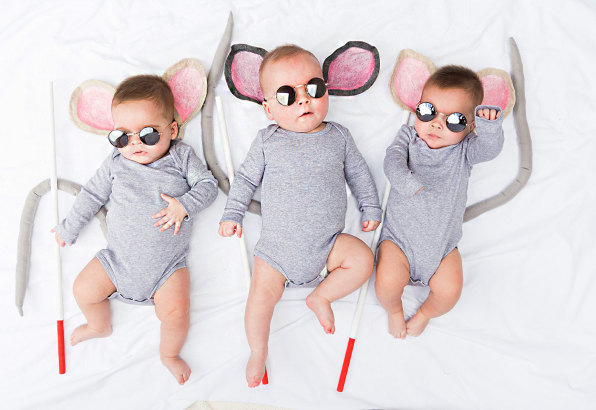 Skip the store and shop your closet
If you're an anxious parent with no craft skills trying to make a costume for your kid, don't worry—help has arrived. Primary has a free Halloween Helpline (call 800-DIYEASY or DIYEASY@primary.com), and a team of in-house designers will help you create the look your child is going for, using everyday basics. You can also search the brand's special Halloween website for lots of ideas for making a costume from clothes already in your child's closet. "We're trying to demystify the process of hand-making a costume, because it can feel very intimidating," says Bernard. "Most of the costumes can be turned back into regular clothes after the holiday."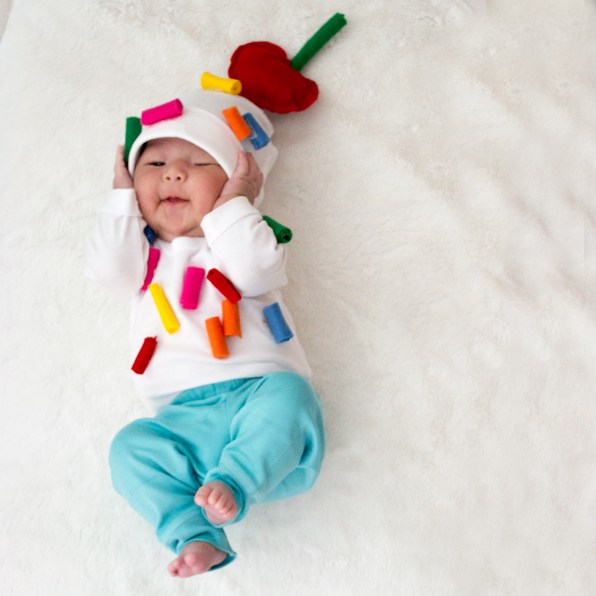 If you're an adult headed to a costume party, it's worth taking a second look in your closet. Some of my favorite costumes have been homemade. My suggestion is to have fun with puns (groan if you must). In college, I wore a slip dress with the words "ego," "superego," and "id" on it: I was a Freudian slip! Another year, my friends and I all dressed entirely in green (gangrene, get it?). For more inspiration, there are many blogs and websites with ideas for making a costume out of items you already own. Brit + Co has some great ones—including the living embodiment of "Netflix and chill."
Hold a costume swap
There's a good chance you already have a store-bought costume lying around your house. If any of these outfits are still wearable, you could hold a costume swap with friends, neighbors, or fellow parents at school. Getting as much utility out of a costume as possible means that you're keeping it out of a landfill longer.
Eco-friendly treats
Groceries and drugstores make it easy to buy bags of Halloween candy and chocolate so you're prepared for any trick-or-treaters who come by. But of course, this often means contributing to plastic pollution since these treats come individually wrapped. It's a tough situation, but there are a couple of solutions. You could seek out treats that come in little boxes, like Milk Duds or raisins. If you have more time, you could buy bulk candy from the grocery, then put it into individual paper bags.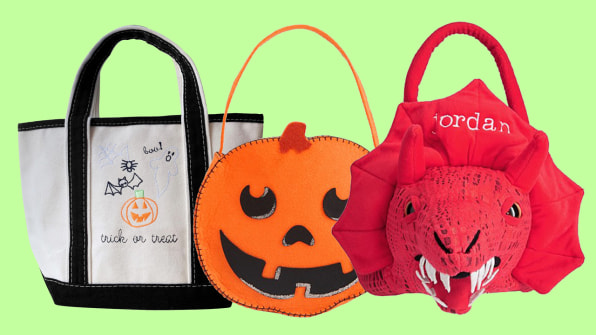 Rethink the treat bag
Many stores sell baskets and bags for trick-or-treaters, for as little as $1. They're not particularly good quality, so there's a good chance it will break under the weight of all the candy your child will collect while trick-or-treating. While it's tempting to get a thematic bag from the drugstore, you could always send your kid out with a regular reusable canvas tote (or go old school: a pillowcase).
If your family is really into Halloween and you want to get them something special, it might be worth investing in a high-quality treat bag. Maisonette has a solid canvas tote bag for $48 with cute glow-in-the-dark jack-o-lanterns embroidered on it. Pottery Barn Kids has some nice, durable options starting at $16.50, and you can even have them monogrammed with your child's name. This will reinforce to them that it's something for them to take out year after year. Tip: If you pick a neutral style, your child will also be able to use it for an Easter egg hunt, and you can feel smug about your do-gooding both spring and fall.