Rita McGrath is a Columbia Business School professor and a longtime observer of what she calls "high uncertainty situations." Her new book, Seeing Around Corners, offers insights on how to assess and handle these potentially volatile conditions in business—and beyond. McGrath spoke with Fast Company about spotting big changes and knowing how to react. This interview has been edited for clarity and concision.
Fast Company: Why is this book so timely?
Rita McGrath: When I first started working as a researcher, the field that particularly interested me was high-uncertainty situations, innovation in particular. What's happened over the intervening 25 years is the world has come rushing my way. What's now frightening people is that what they used to think of as fairly safe, secure, core businesses are going through the same kinds of uncertainty that we always used to associate with innovation.
FC: How did this book come about?
RM: I happened to be rereading Andy Grove's Only the Paranoid Survive, thinking about how we used to think about inflection points. And then came across this fabulous article; the title was something like, "Have you changed the world and nobody noticed?" The article describes how inventions that just totally transformed everything, like the invention of human flight, took a long, long time before anybody really paid attention and noticed their significance. And that really got me thinking: Inflection points are really like that. And so the [phrase] that captures it to me [comes from] Ernest Hemingway's The Sun Also Rises. One character says to another, "How did you go bankrupt? And the response was, "Well, gradually, and then suddenly." Inflection points bubble along without anybody really paying much attention to them until some pivotal event occurs.
FC: I think the general-interest reader might see the title of this book and think that they're going to learn how to predict the future; but this isn't a "how to" manual. What do you hope readers get out of it?
RM: I hope the reader walks away better prepared to see around corners. I'm not a huge believer in prediction, because the world is just so unpredictable and things can always happen. You can do everything right and end up with a bad result, and you can do everything wrong and still succeed. It is very hard to say, "This will lead you to the promised land!" What I do hope the reader takes away from the book is a real appreciation for weak signals, for experimentation, and being prepared for, I call it, "being at the edges."
FC: There's a chapter on Netflix that could easily have been titled, "Seeing the inflection point, but moving faster than the customer." How much of a problem is being faster than the market? It seems most corporations simply miss the inflection point altogether.
RM: Oh, they have a terrible time seeing the inflection points. Let me answer that in a slightly different way. I think it's problematic if you go too fast for your customers. And we've seen many examples over the years where companies have tried to do that. You know, they've sort of said, "Oh, you know, get ready for the next ionic-infused, radar-beaming thing." And customers are kind of going, "No, don't get it."And I think there are many categories right now that are in that space. Think about blockchain or autonomous vehicles. There's no customer alive today who is suffering grievously because they don't have blockchain or they don't have an autonomous vehicle. They're going faster than anybody's current needs and [a company] could spend a lot of money waiting for the world to be ready. I think being too fast is an issue.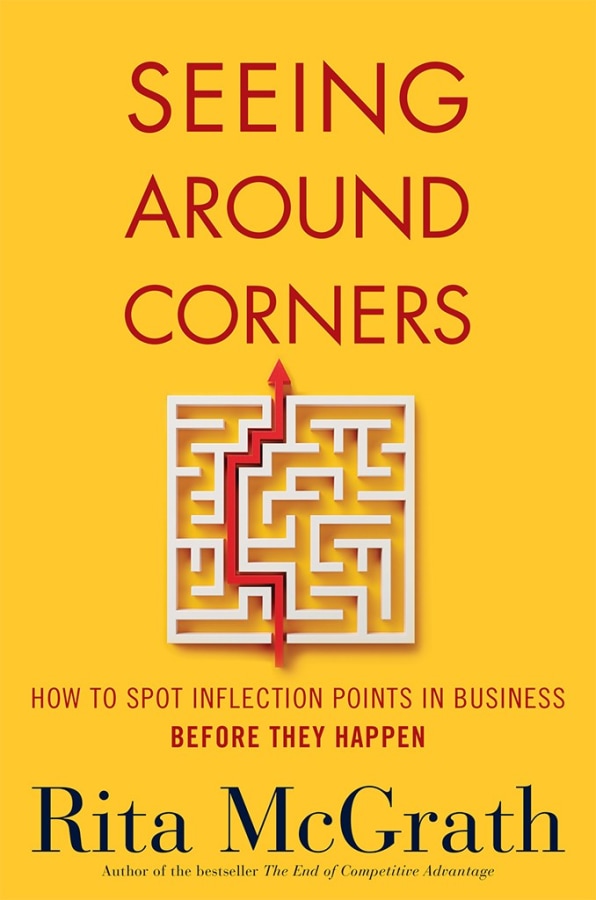 But the thing that keeps big organizations from seeing around corners is that their worldviews are shaped by the assumptions of the business as it is today. And when you look at the world only through that lens—something that isn't on that radar screen, something that isn't on that map—it doesn't compute. You literally do not see it. That's where people get trapped. People miss things that are really big. One of the real benefits of the book is it gives you some simple techniques for expanding your aperture, extending the lens that you look at the world through, so that you're less likely to get completely blindsided by something that should actually in retrospect have mattered to you a lot.
FC: You end the book by noting that recognizing inflection points early on can lead to positive personal outcomes. We've talked mostly about the benefits to corporations and organizations that come from seeing inflection points. Can you talk about the personal outcomes that can come from recognizing inflection points?
RM: Well, I think, an inflection point at a personal level is usually a little scary because it's an opportunity to grow, or it's an opportunity to stay as you are. If you take the chance, it can lead to much different, much better outcomes. They tend to be scary. They can also be incredibly energizing. Seeing an inflection point coming can give you some ideas about where you personally might want to spend your time or invest your career, or where you should not be. You don't want to be instrumental about it. I've seen so many people who said, "Computer programming is the wave of the future, and I need to be a computer programmer," then spend the next 10 years hating the fact that they decided to become a computer programmer just because they thought that was where the money was going to be.
But I think, I think there's a benefit to looking at the world and saying, "Here are places where opportunities are shifting and where we could possibly make a difference."