Bill Gates believes he can predict the future—at least when it comes to global health. And his vision is pretty impressive: No more malnutrition and fewer doctors working to save lives because more people are stable and healthy. And there's a nice ripple effect—without those problems, we can pour more resources into improving our quality of life instead.
Gates shared that outlook earlier this week while accepting the Professor Stephen Hawking Fellowship at Cambridge, a tribute to the late physicist. The honor traditionally goes to someone whose work in science and engineering has improved societal discourse. Gates qualifies because he and his wife cofounded his eponymous multibillion-dollar foundation, which has won plaudits for its focus on global health and poverty.
Upon accepting the award, Gates gave a lecture that doubled down on that theme by highlighting three key facts that are crucial to getting us to our bright future—that is, if humanity stays motivated enough to accomplish that goal. Gates, who also used a clever chart to illustrate his ideas, also just shared that speech on his personal blog GatesNotes.
Like his idealistic vision, his key points work together. Basically global health has improved radically over the past several years, a curve made possible by innovative approaches to vexing problems. And the more that happens, the more likely that learning and resources can enable even more impressive ideas. Here's a visual representation.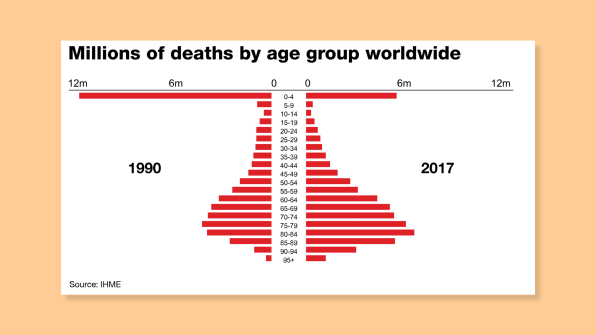 "The country with the worst health outcomes today is better off than the best country a century ago," Gates writes. "The world has seen remarkable drops in childhood mortality and amazing increases in life expectancy."
Indeed, the world's child mortality has decreased by more than 50% since 1990, thank in part to the spread of vaccines, fortified foods, and hygiene programs. Because of that, more people are experiencing the chance to live longer.
The problem now, as the Gates Foundation recently pointed out in its Global Goalkeepers Report about progress toward the UN's Sustainable Development Goals, is that even in places with substantial gains, there are still strong clusters of poverty and disease on a district level. So it's especially important for governments and NGOs to focus on these pockets of extreme inequity.
One tool that has proven effective is developing a better way to measure these problems, like the Global Burden of Disease index, seen below. It tracks not only deaths by common killers in the developing world like diarrhea but also what viruses are the main culprits.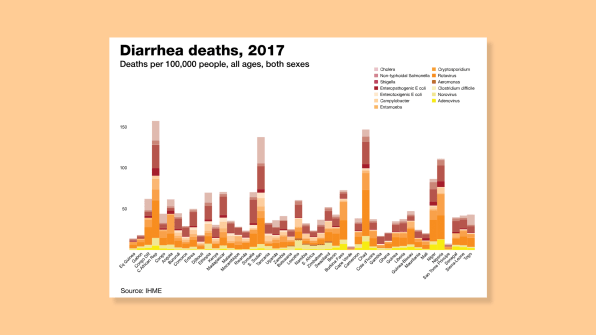 This helps global health workers figure out not only where their services are most needed but also which vaccines to deploy. Targeting rotavirus in Chad, for instance, makes more sense than inoculating people in Ethiopia.
"When most people picture health innovation, they think of big medical breakthroughs—like when Salk developed the first polio vaccine," Gates says. "But innovation isn't limited to new treatments. Sometimes the biggest impacts come from improved systems, which allow us to reach more people."
Once you've deployed your resources better, you can confidently assess other problematic variables. For instance, Gates references a world map that shows that the highest fatality rates are among children under 5. One of the hot spots is sub-Saharan Africa, where kids die or face future health problems due to malnutrition.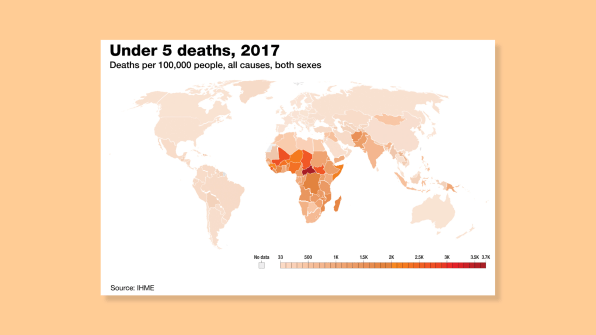 Aid workers are struggling to manage this crisis, but they've realized there's a new complication—people remaining sick or not recovering fast enough due to an imbalance in their microbiome or healthy gut bacteria that can be destroyed by stress and improper nutrition.
"Over the next 10 to 20 years, we're going to learn more about each individual microbial species and how they work with the food you eat to impact health," says Gates. "That knowledge will allow us to smartly engineer interventions that 'correct' the microbiome when it's out of whack."
This incremental approach—ramping up ever more advanced treatments while learning more about the full extent of the challenges—can be applied to all manner of next-generation innovations. Current work mapping outbreak of malaria in different hot zones, for instance, bleeds into research about the effectiveness of basic interventions and which mosquitos carry the disease—all of which are important for someone thinking about ways to engineer a knockout gene that could temporarily eradicate specific malaria-carrying species in an infected area.
It's a pretty simple lesson, but so long as people keep funding solutions and working together across community and governmental boundaries, the gains will eventually be enormous. Overall, that's pretty good for parts of society. As Gates puts it: "In other words, when people thrive physically, economies grow. Poverty goes down. The world gets better."