The Great Popeyes Chicken Sandwich Shortage of 2019 may go down in history, but now there are new details about who gobbled up the viral fast-food offering.
Data from Numerator, a market intelligence firm, shows that fans weren't largely starving young millennials and Gen-Zers.
In fact, 43% of buyers were Gen-Xers, followed by baby boomers at 32%, millennials at 20%, Gen Z at 3.3%, and seniors at 1.8%.
Numerator also found that 46% of the purchasers of the hallowed menu item earn more than $80,000 a year. The biggest chunk of the sandwich folks—24%—live alone.
Typical Popeyes customers tend to be boomers and people who live in two-person households, according to the data.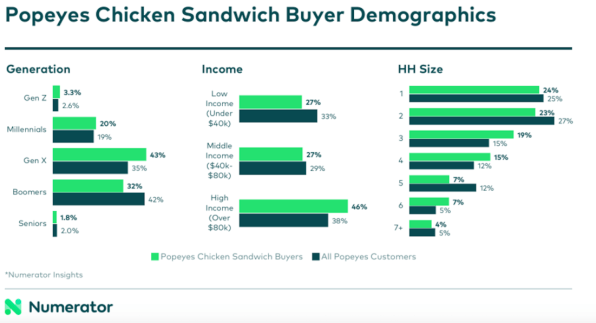 "Ninety-two percent of product buyers stated they were either 'extremely' or 'somewhat' likely to return to Popeyes to purchase the sandwich again in the future indicating the chicken sandwich could be critical to building sustained customer loyalty," Numerator said.
Miami-based Popeyes could not be immediately reached for comment.
The $3.99 sandwich—buttermilk-battered white meat on a brioche bun with pickles and mayonnaise or spicy Cajun spread—debuted on August 12, and before the month was over, there were none left.
What drove the mania was social media. Many point to a jab tweet from Chick-fil-A on August 19, in which that poultry-centric chain called its version the original, prompting a retort from Popeyes that simply said, "… y'all good?"
"The item launch not only brought new visitors to the chain, but also successfully pulled visitors away from competitors in the process," Numerator explained. "Over half (51%) of non-buyers during the 'shortage' period said they went to Popeyes with the intent to buy the sandwich, but it was sold out."
September saw the debut of the McDonald's Spicy BBQ Chicken Sandwich and KFC's test of a chicken-between-two-doughnuts sandwich.
And the month before, KFC sold out of the Beyond Meat plant-based chicken it was testing in Atlanta, and Wendy's answered fans demands to bring back Spicy Chicken Nuggets.
Popeyes Louisiana Kitchen is owned by Toronto-headquartered Restaurant Brands International, whose portfolio also includes Burger King and Tim Hortons.