Joe has a full-time job in Ithaca, New York. He also picks up freelance assignments, called "batches," for grocery-delivery service Instacart—where he makes money from fees the company pays, as well as customer tips. Now Joe wonders if he's getting the whole tip.
Joe, who asked that we use only his first name, got suspicious in September when a coworker at his day job placed an order with Instacart. She tells me that she added a $6.27 tip, which was 15% of the total (the default is 5%, or $2, whichever is higher). On his app for delivery workers, Joe could see her order go out to the pool of available Instacart drivers, known as "shoppers." The tip being offered them was just $4.18, or 10%.
Customers can add or change a tip in the app anytime from when they place an order till three days after delivery. But Joe's friend, who asked to remain anonymous, says she doesn't recall making any changes to the tip, or the items in her order. (Joe didn't end up fulfilling the order, so he can't confirm what was finally paid out.) When I asked Instacart what happened, the company said the opposite: The customer originally set a 10% tip, which is what Joe saw in his app; and she later updated it to 15% which shows in her app after the order was completed.
This isn't an isolated misunderstanding. Joe's case is one of several examples shoppers and customers have presented of tips going down for reasons they don't understand. What's not clear is why—whether it is tip "skimming," as some shoppers allege, a technical glitch, or just confusion over how the customer and shopper apps work. Instacart says that there are no glitches and that any discrepancy is due to customers changing their orders or their tips.
The $2.09 decrease in tip that Joe noticed, for instance, happens to equal the service fee that appears on his friend's bill. "It just seems like a really odd coincidence," he says. But according to Instacart, it is just coincidence.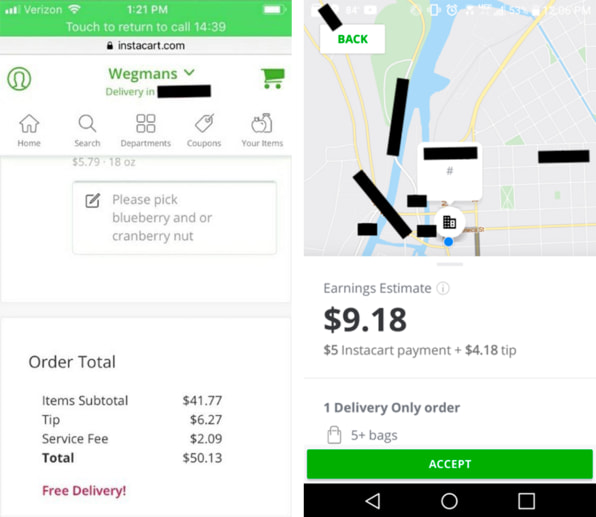 The multifaceted Instacart tip controversy (which includes claims of an overall decline in gratuities I reported on recently) is part of long-running complaints by Instacart shoppers who say that the algorithms that determine their pay and work conditions are opaque and unfair.
The decreases in tips are often quite small, making them hard to notice, although they could add up across Instacart's national force of more than 130,000 shoppers. Furthermore, the discrepancies feed mistrust between the company, which is valued at $7.87 billion according to research firm PitchBook, and its gig workers.
In May, for instance, another Instacart shopper, who asked that we not name her, placed an order for herself and set a tip of $7.07 (5%) in the customer interface. As she was still on shift, she saw the assignment offer come in—this time with a $6.66 tip (4.71%). She claims she did not make any changes to affect the amount.
A history of mistrust
Shoppers are prone to be suspicious, given a history of bad blood between them and Instacart over tips. The pre-IPO unicorn once counted tips toward its guaranteed minimum payment of $10 per batch and its claim that national pay for shoppers averages "above $15 per hour of work." After protests by labor advocates, an outcry from politicians, negative press coverage, and lawsuits, Instacart changed the practice. In February, it introduced minimum fees of $5 to $10, depending on the assignment and city, regardless of tip amount.
But shoppers accuse Instacart of finding other ways to shortchange them, such as offering just the new minimum fees on assignments that would have paid more in the past. They also report a decline in tips that could have made up for Instacart's lower payments, as well as customers dangling big tips that entice a shopper to make the delivery, then removing the tip afterward.
Now, some suspect the company of snagging parts of tips, though clear-cut examples of irregularities are difficult to come by. Customers and shoppers aren't usually one and the same, or coworkers sitting side by side. "Normally I wouldn't ever ask a customer [about a tip], 'cause that's pretty inappropriate," says Joe.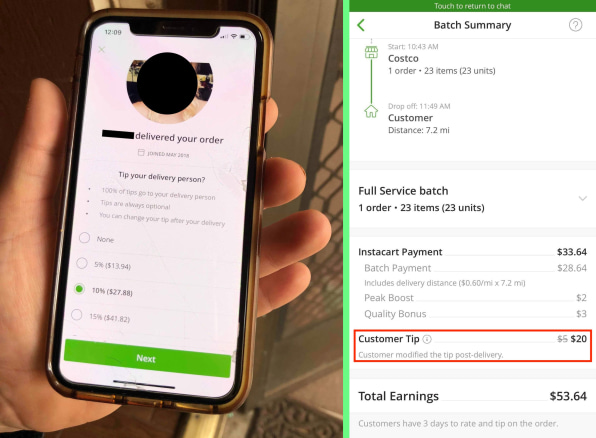 But customers can volunteer the information, as happened with another shopper, who asked to remain anonymous. After a delivery, the customer showed the shopper that she had increased the tip in the customer app from the default 5% to 10%—for a total of $27.88.
The shopper snapped a photo of the customer's screen and was surprised to later see that the tip had fallen to $20. The shopper contacted Instacart's support line, which said that the customer must have changed the tip again. It's possible that the customer had regrets about how much she'd spent, although it's curious that she would reduce a tip right after raising it, and deliberately telling the shopper about it. But Instacart claims its records show that is what happened. Shoppers have complained about cases of customers cutting tips after delivery, and for a tip to be an exact dollar amount, a customer would have to enter it manually.
In other cases, tips change by small, seemingly random amounts of less than a dollar. When shoppers inquire about this with Instacart, the help line sometimes tells them that tips fell because of changes to the order that lowered the total amount (since tips are calculated as a percentage).
But a Denver, Colorado-based shopper who goes by "Adam" shared images of an order with multiple changes that he says ultimately increased the total by $2.60. Yet his tip dropped from $25.17 to $25.05. When he asked Instacart's support line what happened, they said that the customer must have deliberately lowered the tip—by 12 cents. Adam received a perfect 5-star customer rating for that delivery.
A shopper based in Denton, Texas, who asked to remain anonymous, showed me three examples of decreasing tips, ranging from three cents to 75 cents. "Not a big amount taken, but I doubt the customer removed that small amount from the tip," said the shopper.
I showed one of the cases to Instacart. They say that the order amount did change, and the shopper must not have seen the note that explained this. If so, it wasn't a rookie mistake: She's been driving for Instacart since October 2017 and has an overall customer rating of 4.95 stars. So even veterans are confused. "It used to have wording right under the tip that said an adjustment changed the amount. [I] just noticed it is no longer there," the driver says. "They change stuff weekly."
It's not entirely clear what's changing Instacart workers' tips—whether it's software glitches, company manipulation, or just user confusion. But given the history of misunderstanding and distrust over pay, tips, procedure, and working conditions, shoppers often believe the worst.
This article has been updated with additional input from Instacart.