It's little wonder why 2015's The Witch caught fire.
The brooding folklore contained masterful performances from veteran Ralph Ineson and newcomer Anya Taylor-Joy. Director Robert Eggers, in his debut feature no less, showed exquisite attention to detail both visually and in a thoroughly researched script.
But for all the merits of The Witch and the new wave of stylized and subtle horror that the studio A24 ushered in, it was a goat that stole the show.
Black Phillip, a 210-pound billy goat whose real name is Charlie, was never intended to be the film's breakout star. While he does play a key role in the film's plot, he was, after all, just a goat. However, fans latched onto Black Phillip, turning him into an cult icon of modern cinema. There was a torrent of Black Phillip Tattoos popping up online. His phrase "Wouldst thou like to live deliciously?" was plastered on unofficial merch. The fever pitch for Black Phillip was so high that A24 began incorporating him into the marketing for the film with his own 30-second trailer and character poster.
Despite the added publicity that Black Phillip drummed up for The Witch, it's almost impossible for Eggers to think fondly on the experience. Black Phillip was an ornery untrained beast that actually maimed Ineson during a take. His unruly behavior undoubtedly added fuel to his already ardent fanbase, but it made Eggers wary of ever dealing with animals in his films again.
Cut to the colony of seagulls in Eggers' second feature film The Lighthouse.
"Having had such a terrible experience with Black Phillip, I didn't want to go as far as we did," Eggers says. "But my brother [Max Eggers, who co-wrote The Lighthouse] was like, 'look, I have these ideas about these scenes, please read what I'm thinking about doing.' And I was like, 'No! I don't want to deal with this! But they were very good and he convinced me."
The Lighthouse is a claustrophobic psychological thriller starring Willem Dafoe and Robert Pattinson as Thomas Wake and Ephraim Winslow, two seamen who are charged with looking after a lighthouse in New England during the 1809s. Tensions are at a simmer from standard cabin fever, but everything boils over once Winslow violently beats a one-eyed seagull to death that had been taunting him for days.
According to the law of the sea, it's terrible luck to kill a seabird, and that warning holds true when an unrelenting storm sweeps in and traps Thomas and Winslow on the island. Like Black Phillip, this one-eye seagull plays a vital role in the film and will surely catch on with audiences. But unlike Black Phillip, he was trained.
"Now every time I write an animal into a script, I make sure 'are they in the country we're going to shoot in? Are they legal to work with? Can they be kept in captivity? Are they trainable?' " Eggers says. "The seagull, we just kind of went for it. And it ended up being really scary but it took a long time to find our birds."
Director Chris Columbus, who served as an executive producer on The Witch, got the owl specialists he worked with on his Harry Potter films to find three trained seagulls: Lady, Tramp and, Johnny. Note: Johnny, the one-eyed gull, didn't actually have one eye.
"I don't wanna give away my secrets, but no gull eyes were harmed while making this movie," Eggers says. "Aside from the puppet gull that gets killed."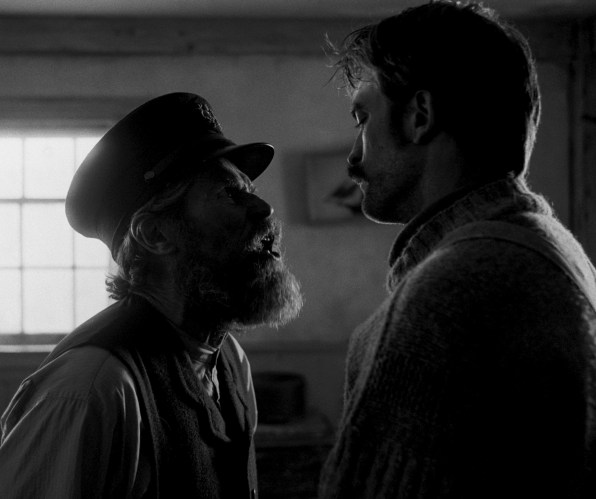 But given the location of the film—Nova Scotia—those three seagulls obviously weren't the only ones on set. Eggers says that once local birds spotted his crew as a food source, they were awash with gulls.
"In the beginning I was like, Oh, this is great!" Eggers says. "But after awhile, I was like, we're going to have to like paint gulls out of the movie with CG because they're just everywhere."
So why bother at all? The adage in cinema still holds true that animals and kids are the most difficult elements to work around. Aside from the authenticity that a goat brings to a New England family on a farm and seagulls lend to a lighthouse, Eggers believes there's an added layer of uneasiness when animals are incorporated into horrors and thrillers. He's not necessarily eager to make it his calling card, but, in both The Witch and The Lighthouse, the effect is palpable.
"If you're a part of this urban intelligentsia, you're not around animals all the time the way people were in the past. So animals become a part of the folklore," Eggers says. "The folklore and the mythology comes out of the characters—but there are also the animals."