Today, Facebook is launching a new messaging app for Instagram users called Threads.
The Instagram companion app, available on iOS and Android, gives users a way to send image-based messages quickly and privately to a small inner circle of their Instagram friends.
It uses the same friend list as Instagram's existing Close Friends feature, which allows you to share Instagram Stories content with a just close circle of friends rather than everyone who follows you. It's almost like Facebook has given the Close Friends feature and Instagram DMs—two of the best parts of Instagram—their own stand-alone app.
Threads is Facebook's latest attempt to become more messaging focused. It appears to be a direct result of CEO Mark Zuckerberg's pronouncement in March that Facebook will become a "privacy-focused" company with a spotlight on private communication and small-group messaging. If Facebook was meant to provide the world with a digital town square, then Facebook's messaging products, like Facebook Groups, Messenger, and now Threads, are designed to create a vibe similar to your living room. However, Threads messages are not encrypted, Facebook says.
To be clear, Facebook's so-called "privacy" push does not mean Facebook is moving away from its privacy-intrusive advertising business model. It does mean that it doesn't intend to collect any additional kinds of information from Thread messages for the purpose of ad targeting. Facebook also says it has no current plans to display ads within Threads.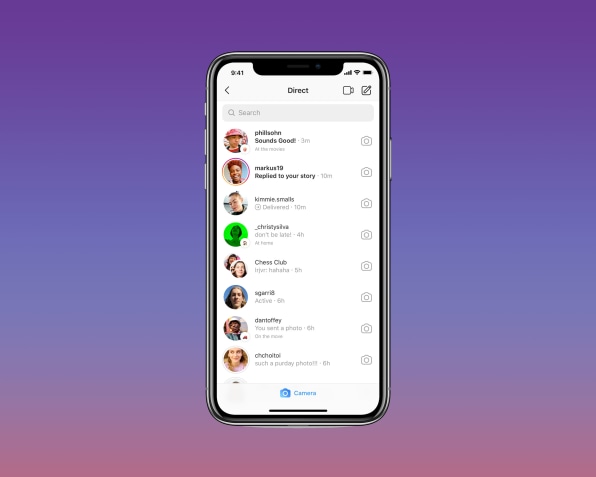 Within Threads, users can tap on images of their friends to immediately open the camera and send images or video in just a couple of clicks.
"[F]or your smaller circle of friends, we saw the need to stay more connected throughout the day, so you can communicate what you're doing and how you're feeling through photos and videos," says Instagram's head of product, Robby Stein, in a blog post today.
In Threads, you can also choose to allow the app to give you an "Auto Status," which appears beneath your image on your friend's Threads app. These quick labels can express your general  location or current activity, like "at a cafe" or "on the move." To create these auto-generated labels, Facebook collects data on location, movement, battery level, and network connection from your phone (if you decide to opt in). Facebook claims that it will not use the data it collects from users' phones for the "Auto Status" feature for ad targeting.
Messaging within the Instagram app isn't going away. When you download Threads, messages you send and receive on Instagram will still exist in the Instagram Direct messaging tool, but your messages with Close Friends will also be available in Threads. Messages you send from Threads to your non-Thread using friends simply go to their Direct inboxes within Instagram, Facebook says.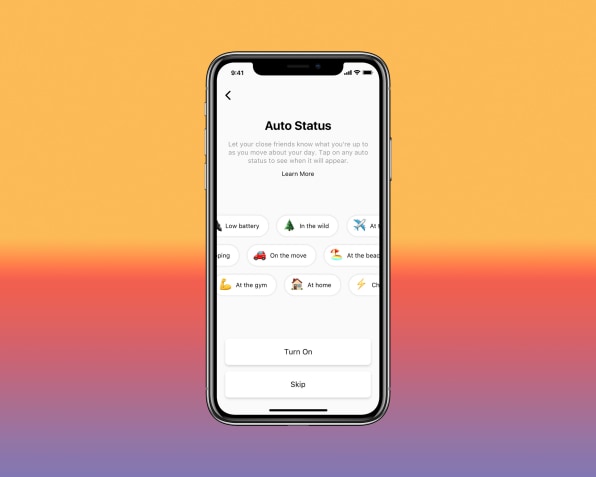 Threads's small group, image-focused approach is reminiscent of messaging in Snapchat, which many use to keep in frequent touch with a small group of close friends. It seems designed to encourage more authentic sharing than Instagram Stories, which can often be just as polished and performative as Instagram posts.
Threads may also provide a brief respite from the overwhelming number of ads on Instagram, which could be enough to convince people to try it out, especially since it won't require much setup—and your many friends who use Instagram will already be easy to contact.
It remains to be seen whether Instagram users will flock to Threads en masse, but for the network's power-users, this dedicated space for messaging may be a welcome addition.