The freelancer's reputation is one of constant hustling, underpayment, and a short life span. It's just a glorified waiting room for when you're in between full-time, salaried jobs, right?
According to the sixth annual "Freelancing in America" survey, released on October 3 by the Freelancers Union (which has 450,000 members) and Upwork, a digital platform for freelancers and their employers, for every freelancer who sees their work situation as temporary, there's another who sees it as a long-term career path.
As more people opt for full-time freelance—28% did this year, as opposed to the 17% who did in 2014—it's worth looking at their share of the U.S. economy. Freelance income currently makes up almost 5% of the country's GDP, or close to $1 trillion. That's a greater share than those of industries like construction and transportation. (Freelancers on Upwork make up about 0.1% of that total market, says the company's CEO, Stephane Kasriel.)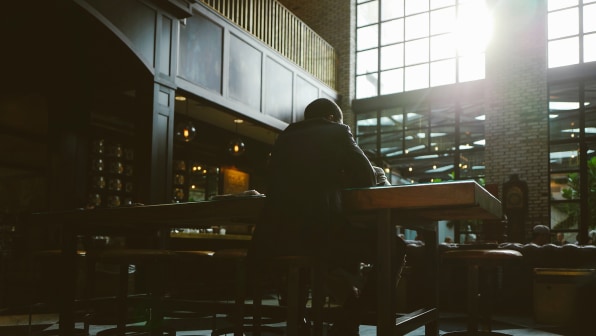 In the U.S. this year, 57 million people worked as freelancers, up from around 53 million in 2014, the first year this study was conducted. That's about 35% of the U.S workforce.
"Because that number has been pretty consistent for [the past three] years now, we wanted to dig a little bit deeper," says Kasriel. "We found that 46% say they can't take a full-time [traditional] job because of personal reasons." They have health issues, sick or aging family members, or young children to care for at home. About one in five freelancers wouldn't be able to work non-freelance jobs due to health issues, according to the survey, but the flexibility of freelancing lets them still earn a regular income.
Technological improvements make this option more feasible—77% of freelancers in the study said technology helped get them contract assignments. The internet also helps people who can't work nine-to-five office jobs do their work from home.
On top of that, freelancers are earning more than they used to. Per hour on average, they make more money than 70% of all types of U.S. professionals. The current median rate for skilled freelancers is $28 an hour—and "skilled services"—like programming, business consulting, and marketing—make up 45% of freelance work, versus gig work like dog walking or Lyft driving.
This year, 60% of freelancers started working that way by choice as opposed to by necessity (say, due to an unexpected layoff). The number of people who see freelancing as a long-term career option jumped from 18.5 million to 28.5 million between 2014 and 2019. Because of the country's currently low unemployment rate, posits Kasriel, it's "harder for companies to find talent in the U.S., meaning talented individuals have more choice." Since it's easier to get a full-time job, those pursuing freelance careers are likely doing it purposefully, he says.
Of course, not all generations freelance equally. In general, the rule is the younger an adult is, the more likely they are to freelance. While just 29% of baby boomers freelanced, 31% of Gen X did, as did 40% of millennials. Among Gen Z professionals, 53% did contract work.
There's still room for improvement in the freelance game. Just because a freelancer is a master of their particular skill, doesn't mean they have any business training—and being a freelancer is akin to running your own business, whether you choose to officially incorporate or not. A full 89% of freelancers say they would have preferred for their education to have prepared them better for the freelance life, with 81% saying they could use more training in areas like networking and how to grow a freelance-based business.
"Freelancers are spending literally 50% of their time doing the prospecting, marketing, and administrative work that they need to grow their solo businesses," says Caitlin Pearce, executive director of the Freelancer's Union.
Pearce also points out that freelancers are 18 percentage points more politically active than non-freelancers. "We're going to see more of a political constituency come together and talk about [freelancers'] issues," she says.
Politicians in some states, like Vermont and Utah, are already starting to pay attention to at least the economic power of freelancers and remote workers. Vermont, for instance, has seen its working population decline by about 16,000 since 2009. Last summer, the governor signed a bill to offer up to $10,000 for remote workers like freelancers to move there—ideally from larger cities like New York, where it's popular for young people to move and start their careers. The idea is for those people to bring money from their jobs headquartered elsewhere to local Vermont economies.
"There was so much demand in the first few weeks of opening that program," says Kasriel. "These are policy makers that understand the next generation in the workforce."
The Freelancing in America study surveyed 6,001 working adults in the country ages 18 and older between June 7 and July 3 this year. More than a third of those surveyed worked freelance, but Kasriel believes that percentage won't get much higher.
"A lot of jobs are better done by full-time employees," he says. "And there's a lot of people for whom freelancing is extremely scary—you have to be an entrepreneur."