Were Rudyard Kipling writing about Apple today, he might observe, "iPad is iPad and Mac is Mac and never the twain shall meet." Devices that can act as either a laptop or tablet—also known as 2-in-1s—got their start in 2012 when Microsoft announced the original Surface as its response to the success of the iPad. When based on Windows or Chrome OS, modern 2-in-1s are better at being laptops than they are tablets. When based on Android, it's the opposite.
In either case, Apple hasn't taken the bait. Instead, it's vowed to stay away from combining the iPad and Mac. Tim Cook once called the idea like combining a toaster and a refrigerator. And at its last WWDC developer confab, the company held fast to that separation, resolutely decrying the idea while doubling down on iPad independence with a new operating system designed specifically for it.
However, while Apple may never combine the Mac and iPad, each has followed a path toward the other. Today's biggest iPad Pro has a display larger than those of some Windows laptops. Apple now offers keyboard cases for all but its smallest iPad, the iPad Mini. The iPad's operating system continues to take on more Mac-like features such as a file system, support for USB-C, more flexibility in wrangling windows, and now even tentative mouse and cursor support. With the new Sideshow feature in MacOS Catalina, you can even use an iPad Pro as a secondary display for a Mac.
And in the strongest tie between the two devices, Apple's Project Catalyst handles much of the heavy lifting of converting iPad apps to Mac apps, which could eventually lead to the end of native Mac development. With Apple's iPad chips becoming as powerful as they have, it's no surprise that there has been widespread speculation that Apple will switch from the Intel processors in its current Macs to its own, much like Microsoft now supports Qualcomm processors in Windows laptops such as its own new Surface Pro X.
No iPad laptop for you
But there's one Mac domain that Apple had not let the iPad enter: it has not released a true laptop running iPadOS, using the clamshell design that has defined notebook PCs since the 1980s. The company may see this as the semantic distinction that would represent combining the two device types in a way it has actively avoided—the equivalent of releasing a toaster/refrigerator.
Apple has good reasons for keep the iPad untethered from a keyboard. An iPad laptop would highlight deficiencies in keyboard and mouse control (such as the lack of "right-click" context menus) that have built up from years of focusing on a pure touch ezperience. It would further carve into a declining tablet market and likely steal share from the Mac as well as carve into the market for Apple's high-margin keyboard cases (the Smart Keyboard Folio for the 12.9″ iPad Pro sells for $200). Microsoft may be able to get away with both a Surface Pro 2-in-1 and Surface Laptop, but that's in part because a naked Surface isn't as compelling as a naked iPad, so you give up less by using a Surface that's permanently attached to a keyboard.
But there would still be benefits to having a true iPad clamshell. Along with giving the company the ability to offer a comfier keyboard than its flat, fabric-covered Smart Keyboard Folio for the iPad Pro, it would offer better balance on the lap. The Smart Keyboard Folio provides more stability than the Smart Keyboard Case it replaced, but a tablet propped up on a thin keyboard still can't compete with the dependability and flexibility of a conventional laptop hinge.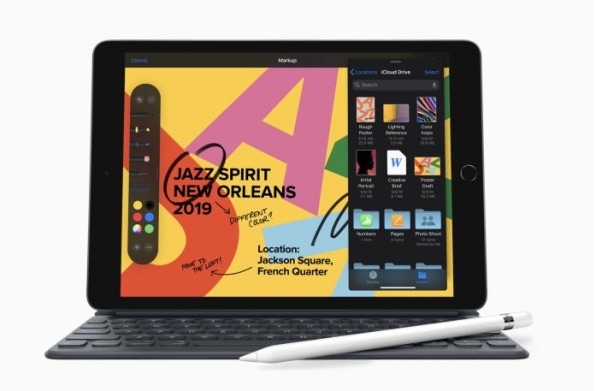 Apple isn't the only company to struggle with this design challenge. Microsoft has touted improvements in the Surface Pro's "lapability," a sore point for its earlier devices. But even off the lap, the Surface's kickstand can be a liability. The device can get off balance and fall if you carelessly push it over the rear edge of a narrow bar-like table such as those in many coffee shops or, less dangerously, an airline tray.
Lenovo's Yoga line and others Windows 2-in-1s use a swiveling hinge that provides more stability when you're using them in laptop orientation. But one of the main problems with such designs is that they become thick and unwieldy with the keyboard rotated behind the display. Lenovo has tried to address this with its Yoga Book line that dispenses with a physical keyboard in favor of one based on E Ink, for a comfortable tablet thickness and weight. That's a compromise that touch typists are unlikely to accept.
Apple could avoid such conundrums by creating an iPad with a detachable keyboard, akin to Microsoft's Surface Book. With iPadOS on board, such a machine would be better at serving as a tablet than the Surface Book, whose use of Windows gives it a bias toward keyboard and mouse input. But the Surface Book, which starts at $1049, is an expensive device aimed at power users. Apple is selling the 7th-generation iPad for only $299 to schools and playing up the use of AR that the iPad can offer in education settings. A reasonably priced, keyboard-equipped version could give Apple a cost-competitive, sturdy option as it does battle with Google's Chromebooks in the school market.
When Apple won't, others will
The closest experience to an iPad laptop today is from a company called Brydge. It got its start seven years ago—well before Apple sold an iPad keyboard case of its own—with a Kickstarter campaign for a Bluetooth iPad keyboard made from study materials. The iPad is held in place via friction exerted from small receptacles at either end of the hinge that have a rubbery interior. There's no support for Apple's Smart Connector, which would let the Brydge draw power from the iPad and eliminate the need for charging. (Brydge says that supporting the Smart Connector would be expensive and tend to limit your ability to angle the screen.)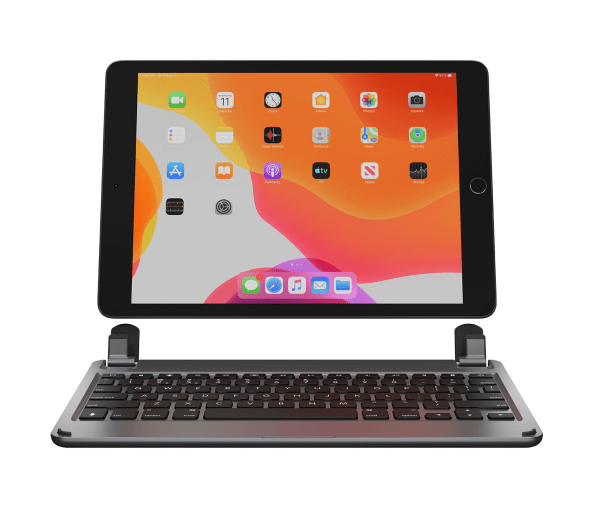 After finding success as an iPad add-on, Brydge has since expanded to other platforms. It now has a model for the Surface Pro, even though Microsoft's tablet has had an integrated stand and popular keyboard cover from Microsoft since the beginning. Brydge must also compete against Microsoft's more laptop-like alternatives in the just updated Surface Laptop and Surface Book. And Google thought Brydge's approach was valuable enough to bring it in as a third-party keyboard vendor for its Pixel Slate, although it wasn't enough to salvage Google's tablet efforts.
Using the Brydge Pro with an iPad Pro is such a MacBook-like experience that I've found myself reaching for a trackpad that wasn't there. When asked about adding such an input option to its iPad keyboards now that Apple supports cursors as an assistive device, Brydge co-CEO Nick Smith acknowledges that the company has seen a lot of interest in that but that "the overall experience isn't amazing when you compare it to a traditional pointer-based environment."
Others aren't waiting to release trackpad-equipped iPad keyboards, though. Recently, two Kickstarter campaigns have raised funds for iPad hinged keyboards with trackpads. The DoBox Pro is a thicker wedge that integrates a complement of ports on the back of the device. It thus relies on the USB-C connector on iPad Pros. The more Brydge-like Libra adds a magnetic back to the iPad Pro to even out the tablet/keyboard combination's profile and add a bit of customization.
The Libra, which supports a broader range of iPads than the DoBox Pro, has attracted about $160,000 with 35 days to go; that's nearly 10 times the amount of funding that the DoBox Pro had received. People who back either gadget, or who buy a Brydge, are determined to literally fit the tablet Apple calls the future of the PC into a form factor that has defined the PC for decades.