A 2013 British study from the Association of Accounting Technicians found that women on maternity leave begin to lose confidence in their ability to return to the working world just 11 months after giving birth (keep in mind the average maternity leave in the United Kingdom is one year). The report said: "Experts found millions of new moms cope admirably with the dramatic change in focus that comes with caring for a new arrival. But around the 11-month mark they are struck by a confidence crisis sparked by the feeling they are no longer capable of cutting it in the professional world. Fifty-seven percent say they no longer have the confidence or feel capable enough to re-join the industry and take up the same level of responsibility as before they had children."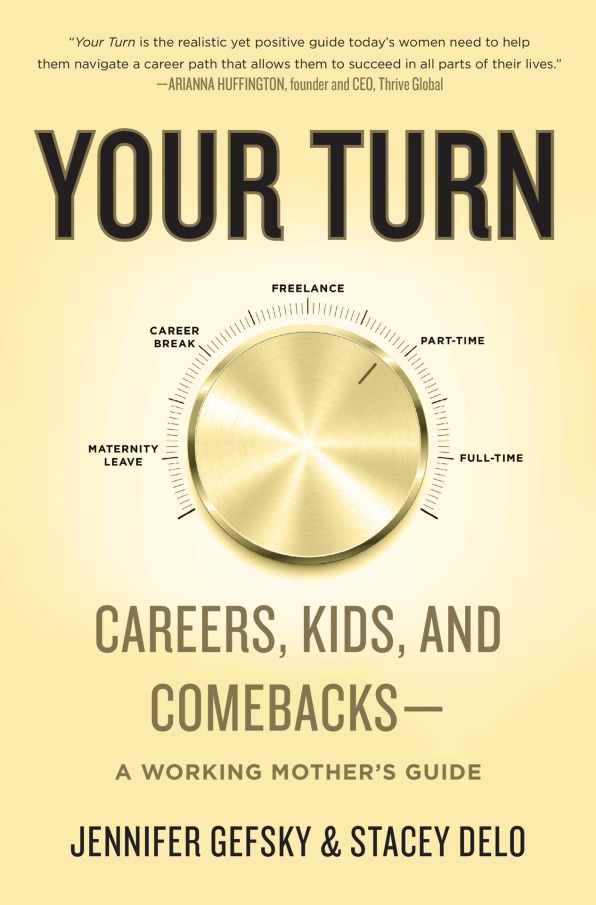 You may be confident in your decision to go back to work, but that doesn't mean you have confidence. Being scared of putting yourself out there and looking for a new job is completely normal. "When we are out of the workforce, our measures of success are different, and we don't receive performance reviews, bonuses, or raises that help remind us of our value," says Barri Waltcher, a certified professional résumé writer and the cofounder of Mind Your Own Business Moms.
Here are some tips for a quick confidence boost if you're gearing up to re-enter the workforce after a period of parental leave.
1. Go back and revisit your successes
Reflect on two or three times in your professional life when you accomplished something you are proud of. If you haven't already, start a get-back-to-work journal. Write the stories down, and notice the elements they have in common. Is it strong organizational skills? The ability to collaborate well with your coworkers? Interpersonal skills that create stickiness with clients?
These are your strengths. You brought those qualities to your work in the past, you use them in your everyday life, and you will continue to bring them to your career in the future. There are qualities you have when you start your career that will grow with you and help you navigate no matter what happens. Remembering your strengths will help the process of rebuilding your confidence.
2. If you have children, put yourself in their shoes
Imagine if your son or daughter came home from school with negative thoughts or a lack of self-confidence. What would you say to them? You would remind them of their strengths. You would encourage them to be positive. And you would expect them to keep trying, even if failure was a possibility.
Elana D'Arciprete's daughters were 2 and 10 when she separated from her husband. She quickly realized that she would not be able to support them on a teacher's salary alone. Elana said she could bartend or work at a hotel to earn extra income, but, instead, she decided to apply for a job at an insurance company, even though she had zero experience and no insurance license. "In my mind, there was little chance I would be considered. Still, something made me change the buttons on my only suit and wear hose and heels and show up for the interview. After a very brief meeting, I was offered the job, and I signed the contract that day. Still not sure what made me sign it, but so thankful I did," says Elana. Now, she's a managing general agent.
3. Take a risk
Risk taking builds courage. For some, it may be speaking in public; for others, it's applying for a job; and for others, it's launching a business. But the root of building confidence is to challenge yourself and take on whatever may be risky for you. While I (Jen) was figuring out my next steps, I started training to be a Flywheel cycling instructor. It was on my "bucket list" of things I wanted to do, and I thought it would be fun. What I didn't realize is that teaching 45-minute classes in front of 50 people multiple times a week was like public speaking boot camp. It was a totally unexpected bonus.
4. Tell a friend
There is a definite snowball effect to admitting that you're thinking of going back to work. Having an accountability partner to share your goals with can increase your chances of meeting those goals. It's this positive peer pressure that keeps you on track.
Just start doing things. Small steps, baby steps even, are essential to becoming confident—and confidence begets confidence. Good things happen when you are out and about. Nothing good happens when you're sitting at home in your pajamas feeling like you don't know what to do next.
Every day, try something new to get you pumped up to go back to work: Put together your killer interview outfit, ask a former colleague to coffee, ask a savvy friend for advice, or start writing articles to post on LinkedIn.
5. Don't question yourself
It's not until you re-enter the work world that you realize that everyone is fighting the same self-doubt fight. We remember being incredibly nervous for a meeting with Sallie Krawcheck's Ellevate. We had the typical self-deprecating thoughts, "Oh, they're so established. They know what they're doing. We're just this small startup trying to figure it out." But you know what? When we got there and sat down in a standard office chair in a typical conference room in a normal office building, we realized they're just a group of people working really hard and sitting in a room doing the same stuff that we are.
There is no shame in saying "I don't know" or that you still have plenty to learn, but just remember that you're not the only person who feels like that from time to time. You might not always be able to quiet that critical voice in your head, but you can at least be assured that whatever you're going through, someone else is experiencing it, too.