Disney has become the happiest place on the earth—for people who eat plant-based food.
Today, the company announced that it's going to have more than 400 plant-based menu items at Walt Disney World and Disneyland.
All of the major quick- and table-service restaurants will have more options for vegetarians, vegans, and other plant-based diet fans. Some are current recipes, while others will be new dishes.
"We're always looking for ways to bring more flavor, innovation, and creativity to the Disney dining experience–and guest feedback is first on the menu when we evolve our menus and develop new dishes. Our guests have embraced our plant-based offerings at our parks around the globe, inspiring us to expand our menu," read a corporate blog post.
The changes come to Walt Disney World next month (October 1 for quick-service and October 3 for table-service) and to Disneyland in the spring, according to the company.
To help diners find the food they seek, a new icon of a green leaf will be put beside menu items that are plant-based.
"These fun and flavorful options are made from plant-based ingredients, like vegetables, fruits, grains, nuts, seeds, and legumes—and are made without animal meat, dairy, eggs, or honey," the company said.
Eighteen percent of the overall U.S. population is trying to eat more plant-based foods, according to the market research firm NPD.
And plant-based meat, in particular, is having a moment. The last five months alone saw the Beyond Meat IPO, a stock market blockbuster, and the national launch of Burger King's Impossible Whopper, made from Impossible Foods' faux ground beef.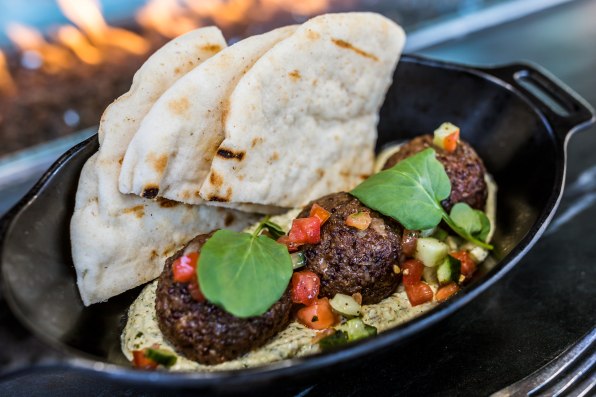 Disney dishes include:
Steamed Asian Dumplings from Le Cellier at Epcot (plant-based meat, bok choy, Chinese long beans, red peppers, and radish in an Asian broth)
Shiriki Noodle Salad from Jungle Navigation Co. LTD Skipper Canteen at Magic Kingdom Park (noodles, edamame beans, mushrooms, green mango, cucumber, and sweet chili sauce)
Felucian Garden Spread from Docking Bay 7 Food & Cargo at Star Wars: Galaxy's Edge in Disney's Hollywood Studios and Disneyland Park (plant-based kefta, herb hummus, tomato-cucumber relish, and pita)
Chili-Spiced Crispy Fried Tofu Bowl from Satu'li Canteen at Disney's Animal Kingdom (tofu, chili spice, vegetable slaw, boba balls, and a choice of base and sauce)
Plant-Based Cashew Cheesecake from California Grill at Disney's Contemporary Resort