There are few brands that evoke the Wild West of the old internet like Yahoo. The early portal to news, weather, sports, and everything else had an unmistakable brand in the late 1990s—it conveyed the idiosyncratic, optimistic promise of those early days of the web, complete with a hand-drawn, serifed logo that seemed to giggle like a kid wearing his father's old zoot suit, found buried in a closet.
Yahoo first updated that old logo in 2009, flattening it and going purple (remember? Yahoo used to be red). Then in 2013, under CEO Marissa Meyer, its quirky logo got a buttoned-up makeover. Now, for the third time in 10 years, Yahoo is rebranding again—this time, with design by Pentagram. The news comes alongside relatively new ownership under Verizon (which acquired Yahoo in 2016), and as the company has unveiled a series of redesigned versions of its key offerings, like its mail app, to woo consumers.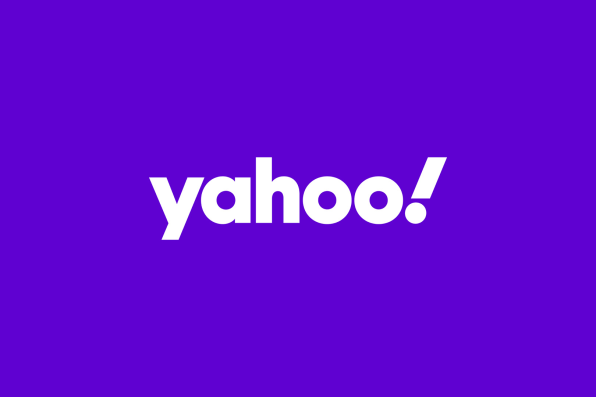 The new logo keeps the purple and the exclamation point, but it ditches any remnants of the company's many previous marks.
Instead, the Pentagram-designed identity is crisp and friendly, with thick and curvy letterforms. Its main surprise is its exclamation point, which is slanted like an italic. To be exact, that slanted angle sits at 22.5 degrees—and it recurs throughout the new branding. For instance, you'll see it mirrored in the downstroke of the "Y," an effect that's especially pronounced in a shortened logo consisting of just "Y!" It also occurs on Yahoo.com's page layouts; notably, 22.5 degrees is exactly 1/16th of a full circle, which makes it useful for radial animations across the platform, too.
Still, when I hop on the phone with Michael Bierut, the Pentagram partner who led the rebranding, I have to confess that I still have a soft spot for Yahoo's original logo—the quirky, red serifed word mark that got a purple facelift in 2009.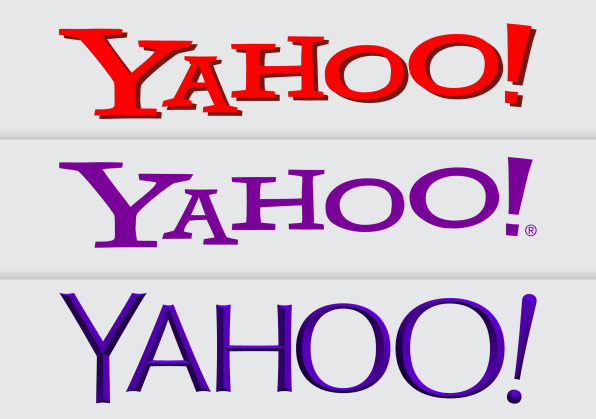 "We were very conscious of the '90s logo when we did this. A lot [of the project] was experimenting with different ways of going back to the future . . . That's something I don't hesitate to do when I think the opportunity, and raw material, is there," says Bierut. But after experimenting with resurrecting the old logo, Pentagram didn't see a strong argument for resurrecting that '90s-era gem. "All our attempts to go back and try to revise the original felt forced and artificial," he says. "We'd either go back and reinstate it as exactly as it was originally drawn, or do something new."
As Bierut explains, the original logo was right for its time. But it's not suited for a time like the present, when the novelty of the internet had worn out and most people see freely flowing information as a utility, rather than a novelty.
"It had a character that read as very cartoony in a way that I think expressed the rambunctious freedom of online access one day," he says. "Internet time, digital time, moves so fast, it's hard to say what people thought of Yahoo . . . [and] whether it would resonate with people younger than me who know nothing about this stuff."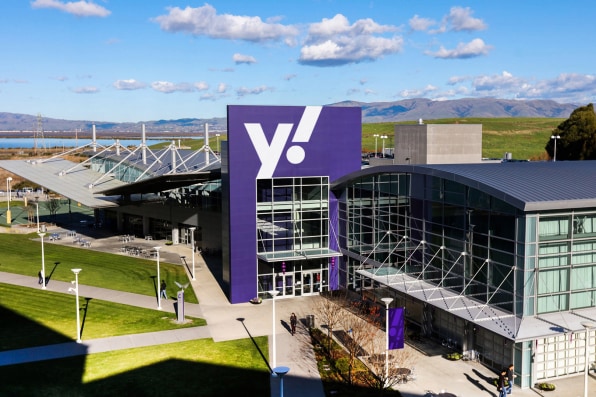 Aside from remaking the old logo, Pentagram also developed a broader rebranding of Yahoo, which is down hundreds of millions of dollars a year in advertising revenue (because who do you know who uses Yahoo anymore?) and which some argue may have been a bad acquisition on Verizon's part.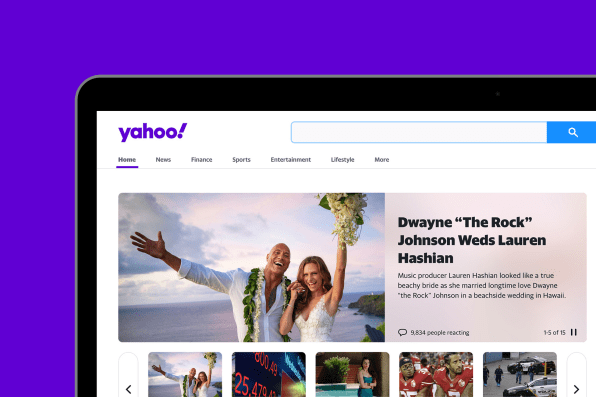 For the design team, the rebranding process meant identifying the strongest characteristics of the old Yahoo brand worth preserving. One early learning was that the name "Yahoo" actually had a strong brand presence all on its own.
"The word Yahoo itself is already so it's literally a transcription of a jubilant yodel. And we did something where we set it in the most boring typefaces we could think of," says Bierut. "You started to discover this belt-and-suspenders effect: If you have a funny, lively name, maybe you write it in nice clear letters . . . as you're pronouncing it in your head, it carries the joy you had before."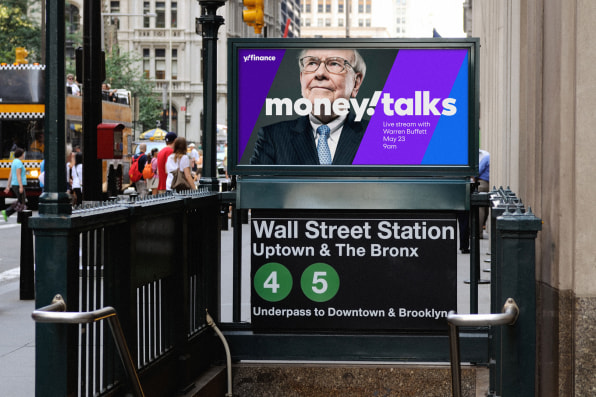 Pentagram chose a more lively typeface, Centra No. 2 extra bold, that gives the double-Os in "Yahoo" a friendly, borderline anthropomorphic character. But it's still formal enough to work on Yahoo's finance channels, which are a large part of its business.
The other strong, existing brand component that Pentagram preserved was the tilted exclamation point. All of the company's brand iterations have kept that punctuation, and most used it in a "Y!" logo that serves as shorthand for the full wordmark. Pentagram did the same thing, but pushed the tilt to a greater angle than ever before, giving it sharp, parallelogram corners. In a bit of geometric symmetry, the perfectly circular dot on the exclamation point is the same size as the internal counter (aka the donut hole) of the "A" and "Os" in the logo.
Even still, there's just something about the way the dot of the exclamation point lines up in the full logo that feels . . . two pixels too far left? When I ask about this, Bierut responds with a laugh. "We think it's in the right position," he says, before later adding, "I don't want to say this, but it's not a conventional typography." The challenge, as he explains it, was combining non-italic Roman lettering (the letters in "Yahoo") with a Cyrillic, italic character (the exclamation point). "You discover it's hard to make it quote unquote 'right' in a way," says Bierut, who ultimately believes the way the dot lands does add "a playful dangliness of the original logo that refused to be tamed away."
And to those of us who still remember the old internet, well, it's encouraging to see that a bit of its spirit still remains, if only in a bit of superfluous punctuation.