On September 20, 1989, Apple product chief Jean-Louis Gassée stood on a stage in Universal City, California, and unveiled a new computer, the Macintosh Portable. It was Apple's first battery-powered Mac, and the goal, Gassée declared, was to build a portable Mac that was every bit as powerful and usable as the familiar desktop models: "No subset of applications, no Mac Jr., no compromise."
As he promised, the Mac Portable was a really good Mac. Its most eye-grabbing feature was the screen. It measured 9.8″—larger than the screen on a classic desktop Mac—and was a monochrome active-matrix LCD, which made it highly legible by the standards of the time, even though it wasn't backlit. The computer used a lead-acid battery, which sounded like old technology even then but helped deliver marathon battery life: Apple claimed 10 hours on a charge vs. the two to three hours that was common at the time.
The machine had a complete set of ports and a full-sized, full-travel keyboard. You could put the built-in trackball on either side of the keyboard, making the Portable one of the only computers ever made that not only acknowledged the existence of left-handed people but catered to them. It even came with a fancy carrying case with a shoulder strap.
What the Mac Portable wasn't was all that . . . portable. In the evocative parlance of the time, it was a luggable, weighing in at 13.75 pounds without a hard drive and 15.75 pounds with one. The starting price—again, without a hard disk—was $5,800, or more than twice the $2,495 that the Mac had debuted at a half-decade earlier.
The idea that a Macintosh should be more than a desktop computer had existed from the start: Steve Jobs had given the engineering team the goal "Mac in a book by 1986" before the first Mac shipped in 1984. But even though Apple fans had been eagerly anticipating the Mac Portable's debut—word of its development had leaked all the way back in February of the previous year—it landed with a thud. It never sold well, got only minor upgrades, and was gone two years later. But it still served a useful purpose. By building a portable Mac that was so clearly the wrong machine for the times, Apple had given itself a handy checklist of mistakes not to make the next time. More about that in a bit.
Barely portable
Now, it's important to remember that the Macintosh Portable arrived in 1989. A yen for extreme mobility already existed: NEC had released a super-portable four-pound machine, the UltraLite, the previous year. But lots of allegedly portable computers were pricey behemoths. In December of that year, PC Magazine's Bill Howard wrote a cover story on luggable PCs that only covered machines that weighed at least 20 pounds. Many cost more than the Mac Portable. In other words, Apple was entering a category that already existed.
But almost everybody who saw fit to comment on the Mac Portable noted that it was bulky and expensive. Even Apple's chairman and CEO John Sculley admitted the obvious. "We have had people say, 'I wish it were lighter, I wish it were cheaper. How can I buy one?'" he said. Even if you give him credit for honesty—imagine those words coming out of the mouth of a 2019 tech CEO!—the defensiveness was not a promising sign.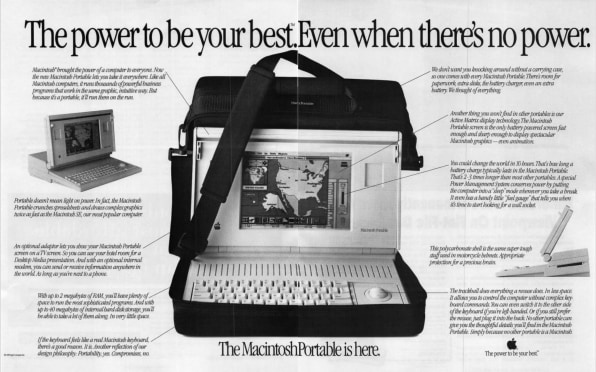 Reviews and other articles about the Mac Portable also grappled with its weight and price, though they generally came to a conclusion that was at least guardedly upbeat. "It certainly isn't a failure," wrote Macworld's Bruce F. Webster. "On the contrary, in terms of the design goal—a portable, battery-powered Macintosh—it's a smashing success." The Los Angeles Times's Larry Magid wrestled with whether the machine counted as a laptop at all, but said it was "a pleasure to use."
Apple's marketing message emphasized the fact that the Mac Portable was a Mac over its portability. A TV commercial set at an airport gate focused on the idea that Macs were easier to use than PCs that ran DOS, which it conveyed by having a befuddled French guy with a PC laptop seek help from a fellow traveler using a Mac Portable (which she propped on a table rather than her lap).
Both travelers admit that they know nothing about computers, which is yet another a reminder that 1989 was a long time ago. Apple was't just trying to convince people to buy a Mac Portable; it had to make the case for using a computer at all, and argue that a Mac was the best pick for newbies.
By spring 1990, there were signs that the Macintosh Portable had not captured the imagination of people who wanted to take a Mac with them. For one thing, Apple chopped its starting price to $5,499. For another, it started running ran ads that didn't exactly position the computer as a road warrior's dream. Instead, they suggested bringing it home on weekends or moving it around an office—scenarios in which the system's portly proportions weren't a dealbreaker.
A kinda-transportable Mac was not what users wanted. "People have been asking for a Mac . . . that they can use on the move," one Apple dealer told the San Francisco Chronicle. "It's just too heavy for that. I've sold very few of them and nobody ever asks for one." He was quoted in an article that said research firm Dataquest had estimated that Apple had sold an anemic 8,000 to 10,000 units of the system in the first quarter. A few months later, another research firm said Apple was selling only 1,000 Mac Portables a month.
In February 1991, Apple cut the Mac Portable's price yet again and gave it a backlit screen, making it usable in dim lighting environments. But the move was a stopgap, not a turnaround. The following October, the company discontinued the Portable—and replaced it with three new Mac laptops, the PowerBook 100, 140, and 170. They were announced in Las Vegas at COMDEX, then the computer industry's biggest shindig.
Rather than following the Mac Portable's no-compromises design mission, the PowerBooks erred on the side of giving you something usable that you'd happily take anywhere. "These notebook computers aren't perfect, and they won't replace a desktop Mac," wrote Macworld's Galen Gruman. "PowerBook users will have to get used to a murkier screen, mushier keys, a condensed keyboard, limited-life batteries, and a new kind of trackball. But each of the three PowerBooks weighs less than 6.8 pounds and fits easily inside a briefcase." With a starting price of $2,500—not bad at the time—they were also within reach of more people.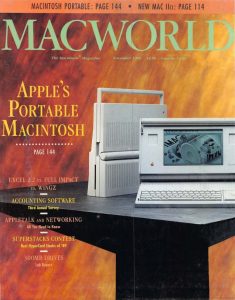 Everything about the PowerBooks hit a sweet spot that the Mac Portable had missed by several miles. Features like the trackball, which was centered underneath the keyboard with a comfy wrist-rest area to each side, were soon copied by makers of Windows laptops. The "What's on your PowerBook?" ad campaign sold the latoptops' benefits as effectively as any marketing Apple has ever done.
A year after the PowerBooks' debut, the New York Times's Peter H. Lewis reported that they had proved "phenomenally successful" for Apple. The company said it had sold 400,000 units in the first year, making them a $1 billion business.
Apple took canny advantage of the hit it had created, regularly rolling out new PowerBook models and often popularizing technologies—from trackpads to Wi-Fi—that later became standard equipment across the industry. In the late 1990s and early this century, the PowerBook did as much as any single machine to drive the shift from desktops to laptops as the world's default personal computer. And though Apple phased out the PowerBook brand in favor of "MacBook" starting in 2006, its record of success in portable computers is unbroken from 1991 to the present. (Okay, you can insert your own reference to current MacBook keyboard woes here.)
The Mac Portable wasn't a landmark in the first place, and the instant success of the PowerBook made it look even more like an unimportant misfire. I won't make the case that it's underappreciated. But it remains a fascinating case study—a computer that was exactly what it wanted to be, when the world was craving something else.