[Photo: courtesy NBC]
NASA's Oceans Melting Greenland mission is ongoing, and the co-host of the 3rd hour of Today Al Roker recently joined it in Kulusuk, Greenland, as part of a new reporting unit at NBC that will focus on telling the story of climate change. Roker, also the show's weather and feature anchor, says that Arctic regions serve as "the canary in the coal mine" for climate change, as readily visible changes there signify serious problems to come for the rest of the planet. Greenland's melting glaciers mean the eventual disappearance of habitable land in low-level areas ranging from Bangladesh to Florida. "The ripple effects [from Arctic] areas result around the globe, including the United States," Roker says.
This is the kind of research NBC's new Climate Unit will continue to focus on. The unit will debut its work on Sunday, September 15 with an on-the-ground reporting series titled "Climate in Crisis" that will run through Friday, September 20 across NBC News, MSNBC, Telemundo, and NBC News Digital Sunday. While Roker's trip to Greenland will highlight the many consequences of the country's glacier melt, Lester Holt's will travel to Alaska, his home as a child, to showcase what happens what a permafrost thaws does to cities.
Though NBC's Climate Unit launched this week, Roker has been advocating for its development for a while. About a month ago, the president of NBC News, Noah Oppenheim, agreed to get it up and running. "We think it's the most important issue affecting not just the country but the planet," he'd told Roker, who's now heading up the unit. With NBC's Weather Unit already in place, creating the Climate Unit was a matter of adding more resources, producers, and correspondents. The size of the unit will continue to increase, Roker says.
The new unit will focus on how climate change affects all different areas of society. "It's not just, 'Oh, there's more severe weather,'" says Roker. For example, he explains, "There are 3,500 military facilities we have in this country and around the globe. Half of them are going to be susceptible to climate change."
For Roker, this fact is among the most surprising he's learned in his climate change research so far. "Climate security is the number one threat for Homeland Security. You think of the obvious stuff," he says, "but it never dawned on me that that would be one of the sidebars."
The more "obvious stuff" can currently be seen most dramatically in the proverbial coal mine of Greenland, where NASA has been finding water at tropical temperatures right at the base of glaciers. "Their initial findings are that the rate of ice melt could be double what they expected in the next several years, if this continues," says Roker. "The effects that we were expecting to see in 50 or 60 years may be more like 20 or 30 years, or maybe even less. The rate at which things are picking up is very surprising to people, especially the scientists."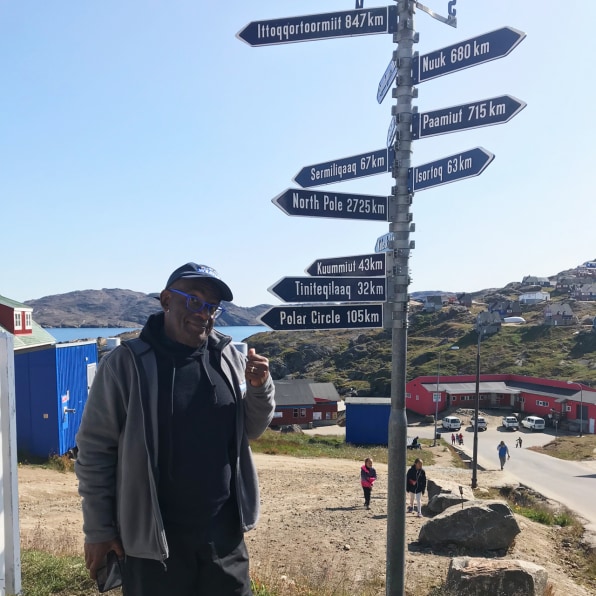 People in Greenland are certainly feeling it. "I see their way of life changing, especially the Inuit people, the native Greenlanders," says Roker. Seal hunting has grown more perilous, which limits income in communities where that's a key livelihood. The culture is eroding, too, as a result. "The traditional dogsled is going away because it's very expensive," Roker says.
Roker has been covering weather since the 1970s, and it was in the late 1990s, while on the Today Show, that he started noticing "extreme swings" in weather. Though ready to point out that not every weather event can be chalked up to a changing climate, the "mechanisms that are causing these extreme weather conditions"—from longer droughts to heavier rainfall and increasingly frequent category five storms—"are being created by climate change."
NBC's Climate Unit will let Roker expand his climate change coverage from simply reporting on these weather events to explaining how they're affecting everything from economics to health. The rest of this coming "Climate in Crisis" week will feature "Climate Forum 2020," in which presidential candidates will discuss climate issues for two days in a row with moderators Chris Hayes and Ali Velshi (live-streamed on NBC News Now and Telemundo on September 19 and 20), an "All in with Chris Hayes" MSNBC hour dedicated to climate change, and Telemundo's Vanessa Hauc leading segments on investigative environmental reporting. A number of additional NBC reporters will contribute "Climate in Crisis" segments throughout the week from all over the world, including Richard Engel from Iceland, Jacob Soboroff from Guatemala, and Anne Thompson from New Jersey.
"I am one of those people who likes to be optimistic," says Roker. He points out how a couple years ago, everyone was worried about the destruction of the ozone layer, which has already begun repairing itself. "Are we too late to do that with our climate?" he asks. "The problem is, you don't know until after you pass that point."