"This is a story about control," Janet Jackson breathlessly intones at the start of her 1986 hit "Control." It is by no means an accident that this is the first thing the audience hears in the new film Hustlers, which is out in theaters today. What music cue could better set the stage for a film about strippers scamming Wall Street guys after the 2008 financial crisis, a movie that illuminates how strip club power dynamics lurk in other areas of life?
"The women are in control in a strip club," says filmmaker Lorene Scafaria. "The men may think they are, but the women are in control. They don't do anything they don't want to do."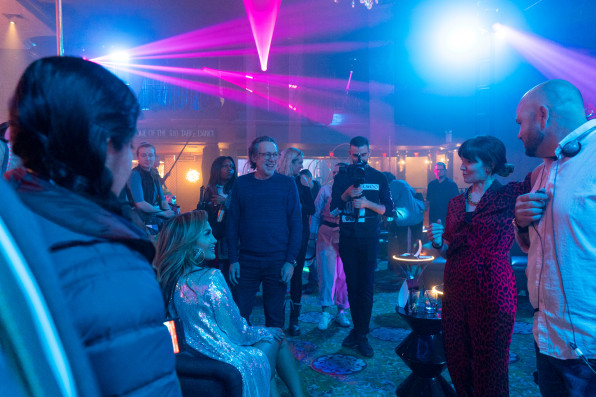 The Janet Jackson line is a helpful indicator about where the movie is headed, thematically, but Scafaria sends out signals in a barrage of other ways. The concept of control, and the mystery of who's controlling whom, vibrates on the screen in practically every scene. When the otter-slick Wall Street guys who frequent the film's main strip club lay eyes upon Jennifer Lopez's Ramona, walking regally through the club in a fur coat, radiating with stratospheric confidence, those men's eyes say, "I'm going to have you." When Ramona deigns to look upon these disgustingly rich hornballs, though, her eyes say, "I'm going to take your money. A lot of it."
And that's before she even starts robbing them.
The men are the least interesting characters in a strip club
Hustlers features a career-peak, knockout performance from Lopez as Ramona, the uncontested queen of the club, but the story centers around Constance Wu's character, Destiny, a relative ingenue. The movie, which is based on a 2015 article by Jessica Pressler, follows the friendship of these two women, as Ramona guides Destiny through the ins and outs of hustling—first, purely as a dancer, and then later, after the 2008 crash scuttles their prime clientele, as a scammer. Tensions inevitably rise, of course, as things spin out of (wait for it) control.
This is a rare movie for many reasons. It was written and directed by a woman and stars an almost entirely female cast. It features women committing crimes, but unlike recent predecessors Widows and The Kitchen, the characters aren't doing so at the direct or indirect behest of men. But perhaps what makes it even rarer is that it's a movie about strippers that takes their profession seriously and shows the world from their point of view.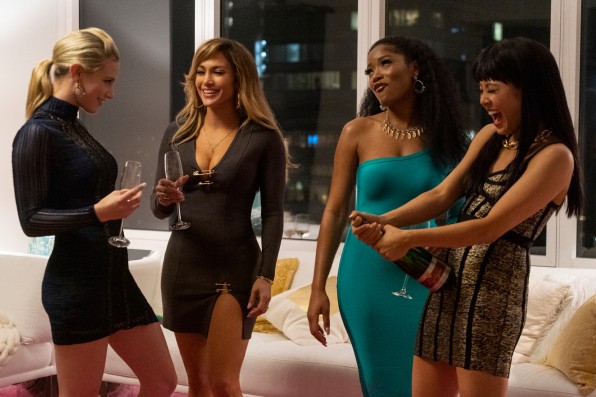 "There's a scene set in a strip club in almost every single movie and TV show ever, but so few are told from their perspective," Scafaria says. "It's such a world to explore, and I'm not sure it's even an exploration at all when you just follow the men that frequent the club. It really feels like a world that people may think they know, but haven't fully explored and maybe haven't really thought they wanted to because there's such a stigma on what these women do for a living."
Investing in strip club authenticity
Scafaria was already familiar with this world from having friends who danced their way through college, but once she began writing the script for Hustlers, she did a lot more research, interviewing more and more dancers and asking specifically about their experiences before and after the financial crisis. From these interviews—and from working with comfort-control stripper consultant Jacqueline Frances, aka Jacq the Stripper—she was able to find small details to incorporate into the film. Who knew, for instance, that high rollers at strip clubs tend to be exceedingly polite, using the word "please" a lot?
The research also helped inform her broader conception of how the whole profession works.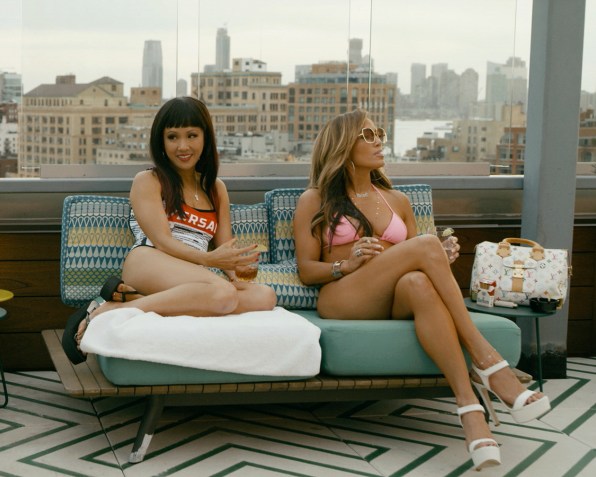 "I didn't really realize that strippers are like hairdressers at a salon, where they rent the chair and you have to bring in new clients," Scafaria says. "The club works in a similar way. The dancers actually pay to work there. There are house fees and they have to tip out a lot of people on top of that, so the difference between a good and bad night might not necessarily be that a nice guy came in or a creep came in, but more about how much money you actually went home with."
By zooming in on authenticity, Hustlers highlights how this is a job like any other. Even though we're watching a barely contained Lopez and Wu writhe around on stage at times, we also witness the daily grind of it all, which makes Hustlers feel like a workplace dramedy at times. The other dancers, played by costars Keke Palmer, Lili Reinhart, Cardi B, and Lizzo, demonstrate enough locker-room camaraderie and athleticism to cast a sports-movie sheen on the proceedings as well.
The whole world is basically a strip club
Scafaria doesn't sugarcoat it: This isn't the Magic Kingdom, and these people eventually do some very bad things. However, she manages to elevate the strip club and its inhabitants beyond their usual depiction into something fully compelling and three-dimensional. She makes it clear that there's a lot more happening in such places than just what you see on the surface. (Or even what you see in the champagne room.)
Some of it might even be relevant to what's happening beyond those neon-coated walls.
"The rules of the club are kind of the rules of the world," Scafaria says. "We're just valued for different things, men and women. It's a pretty broken system of values that certainly has existed for thousands of years before the events of this film occurred. The world keeps turning, but when women are valued for their beauty and their body, which might mean respect for motherhood, and men are valued for their money, which is respect for power, I think the trickle-down on both of those things just seeps into all facets of our culture."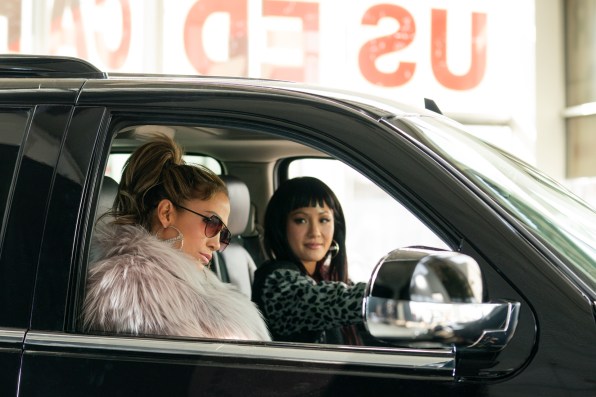 Hustlers may ultimately tell an irresistible heist story, but it also invites viewers to consider what's etched in our collective unconscious that led these men to work in financial markets in the first place, and perhaps to the market crash, and what led these women to become dancers, and eventually to this particular brand of robbery.
Pull at the same thread a little further and you might start to think about how that same value system affects how things work in Hollywood.
"It was so hard to get this movie made, and I would say half of that is probably due to the stigma that surrounds strippers and what they do for a living, but I would say the other half is probably what we expect of female characters," Scafaria says. "It's the same kind of pressure that we put on women in real life, that expectation of perfection and righteousness. In a way, it's harder to get movies made where women are doing bad things. It's harder to make Ocean's 8 than Ocean's 11."