Female founders are more encouraged by different potential presidential candidates than male founders are.
That's according to the Fast Company-Inc 2019 State of Women and Entrepreneurship Survey.
The women were asked, "Which three potential presidential candidates are you most encouraged by at this moment in time?" The options came from a list of 30 Democrats, Republicans, and Independents who'd declared their intention to run by June 2019.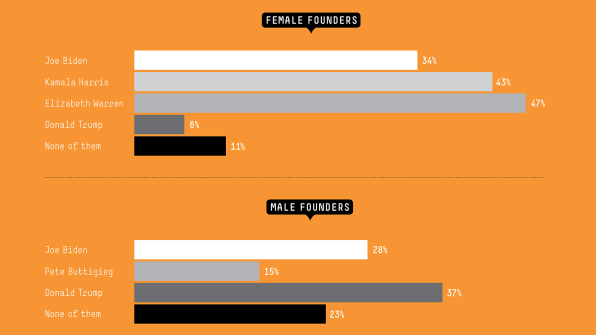 Forty-seven percent cited Senator Elizabeth Warren of Massachusetts; 43%, Senator Kamala Harris of California; and 34%, former Vice President Joe Biden. President Donald Trump got 6% and "none of them" was the answer for 11%.
Compare that to the answers male founders gave—37% Trump, 28% Biden, 23% "none of them," and 15%, Pete Buttigieg, the mayor of South Bend, Indiana.
However, the female founders also gave numerous explanations for why a candidate who's a woman might not make it far; the primary reason was that sexism is still prevalent among the electorate. Others cited a concern that there was no viable female candidate who can appeal to a broad enough cross-section of voters.
"I'd like to believe that people don't object to the concept of a female president," said Grace Chen, cofounder and chief product officer of Common Networks, a wireless 5G home internet provider. "But even when people can make that statement in earnest, our collective subconscious holds women to a different bar. I see it at work and I see it in politics."
Some of the poll participants said they'd consider running for political office themselves, now or in the future—28%, which is more than the 22% last year.
And that's good news, given that many respondents expressed their belief that the world needs strong women leaders right now. "My hope is we'll have a woman on the ticket," said Amanda Hite, cofounder and CEO of marketing agency Be The Change Revolutions. "I'm not sure if the country will elect a female president this round but we would be better off if we had last time."
The Fast Company-Inc 2019 State of Women and Entrepreneurship Survey was conducted in June and included 487 U.S.-based women.