In San Francisco, there's a new normal—or rather, a new abnormal. California's wildfire season is causing thick choking smoke to cover our city and turn our skies orange. Last year, fires sparked an air quality emergency and our air was rated the worst in the world.
That a major American city suffered a 14-day air quality emergency, due to a wildfire that started almost 200 miles away, is hard for any city official to stomach. It's even harder to accept that this is likely the Bay Area's new normal as California wildfires burn hotter, spread faster, and occur with greater frequency—all because of climate change.
This blanketing of smoke was previously unheard of in San Francisco. Now we must plan for it. And not only climate induced air quality emergencies but those due to rising seas and flooding as well. A recent U.S. Geological Survey study shows how vulnerable we are to our coastline disappearing under water.
This is serious. As long as we allow the planet to get hotter and fail to cut carbon emissions, San Francisco residents will continue to suffer bad air, using air purifiers and masks to get by, while worrying about what rising waters will do to their businesses, homes, and habitat.
Surely, we can do better. And clearly, we must. So, how do we cut carbon quickly?
One way we're tackling carbon in San Francisco is through our waste reduction efforts. Why? Because, globally, waste generation is increasing faster than any other environmental pollutant. In the U.S., Americans produce close to five pounds of waste per person per day. When that waste is disposed in landfills or incinerators, serious greenhouse gases are emitted. Cardboard, food scraps, soiled paper, and yard trimmings decomposing in landfills emit methane, a greenhouse gas that's 80 times more powerful than CO2 at trapping heat.
If we want to slow global warming, and the California fire seasons and San Francisco smoke seasons that come with it, we need to keep these greenhouse gas-emitting materials out of the landfill.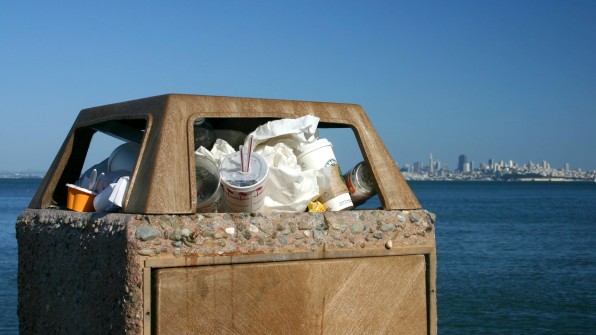 It sounds easy, but it's not. Way back in 2003, San Francisco set a vision to be a Zero Waste City. We were one of the first cities to set this bar. Anxiety-producing, yes, but also necessary. We found that goal-setting sends the message that you are serious about your goalpost. It sets a bar, establishes a norm, and articulates a vision. This bold goal gave our leaders the political will to adopt policies that enabled success.
Even with public support for this zero waste agenda, we still had to make it easy for people to adopt. So, we created a simple, color-coded bin collection system: green for composting, blue for recycling, and black for whatever is left that must go to landfill. We also had to make it convenient to recycle and compost at home and at work. We created a straightforward system, including a simple-to-navigate website, translated into three languages. The investment in outreach and infrastructure paid off. In 2009, when San Francisco became the first city in the U.S. to make composting and recycling mandatory, it was a seamless transition for our residents.
Little did we understand that our investment in those green bins would provide us one of the best opportunities to reduce waste-related emissions. We obviously wanted to keep the organics out of the landfill, given their methane emissions. But it's not just the "keeping out" that was critical. The transformation of food waste into compost allowed us to create a valuable product to serve local farmers. We now sell our compost to improve soil fertility and water holding capacity, which reduces the need for artificial fertilizers, pesticides, and irrigation.
Given the groundwork, where are we in 2019?
Well, we need more compost. Since we launched citywide curbside composting for residents and businesses, our service partner, Recology, has produced over a million tons of nutrient-rich compost. Most of our compost is used in Northern California's vineyards and fruit and nut orchards to grow cover crops that enrich soil. But it does much more than that. After collaborating with local ranchers and scientists from the University of California we learned that a single application of just ¼ inch of our compost can transform the soil system so that it's capable of storing about one ton of carbon per acre per year.
And this is where the big carbon cutting opportunity lies. If every city in California launched food composting programs, we could have enough compost to pull millions more tons of carbon out of the atmosphere every year. If composting scaled nationally, this could be game changing for soil health, carbon sequestration, and the creation of new green economies. And if we go global, University of California scientists determined that using compost along with other agricultural practices, like carbon farming, could pull enough carbon out of the atmosphere to significantly reduce global temperatures.
Imagine that. If we could cut that much carbon and significantly reduce temperatures, we could reduce the ferocity and frequency of California wildfires and save our residents from more air quality emergencies. That's an opportunity not worth wasting. But it's only possible if we stop wasting waste.
---
Debbie Raphael is the director of the Department of the Environment, City of San Francisco
San Francisco is a member of the Carbon Neutral Cities Alliance, a collaboration of leading global cities cutting greenhouse gas emissions by 80-100% by 2050 or sooner. This is a seven-part series featuring bold actions by cities to accelerate progress toward carbon neutrality, based on CNCA's Game Changers Report.