As drag's star rises in the mainstream, the parameters around the art form are rapidly dissolving.
The definition of drag is straightforward: men wearing women's clothes (or vice versa) for the sake of entertainment.
However, the revolution around gender identity and expression have put that definition through a prism to show the expanding possibilities of drag.
But to understand where drag is headed, it's important first to understand where it came from. Simon Doonan, Barneys' legendary window dresser and current creative ambassador, took on the monumental task of documenting the history of drag in his latest book Drag: The Complete Story.
"I had just done a book about soccer players, and the publisher [Laurence King Publishing] said to me, there isn't a book on the history of drag going all the way back to ancient Rome all the way up to now," Doonan says. "This one was a delight because it involved an immense amount of research, but it was all fun research. Who doesn't like watching YouTube videos of drag queens jumping about?"
Although Doonan has his own history with drag, having known and worked with legends in the space including Pepper LaBeija, Avis Pendavis, and Susanne Bartsch, one might wonder why a conclusive history of drag (so far) wasn't penned by RuPaul Charles, who's widely credited as pushing the art form into the mainstream with his Emmy winning show RuPaul's Drag Race.
"Someone like RuPaul is so busy that he would probably have to work with a couple of people. I have the time to do it," Doonan says. "[Writing a book] requires a grinding, daily, massive allocation of time and focus that not everyone has. I'm not particularly smart. I'm not. What I am is diligent, and I have got a lot of drive."
Doonan divides the past and present landscape of drag into nine categories: glamour, art, butch, black, historical, comedy, poster, movie, and radical. Each chapter illustrates how drag queens and kings in those spaces or times periods have helped shape drag in some meaningful way—or, in the case of black drag queens, how they've shaped the LGBTQ community at large in a meaningful way.
"Our culture owes everything to the black drag queen. Everything," Doonan says. "[Paris is Burning director] Jenny Livingston said something very interesting [about the ballroom scene gay and trans black artists pioneered.] She said, I went into a world where people knew exactly how to be themselves. And I thought, what an incredible statement. You've got nothing, so you've got nothing to lose."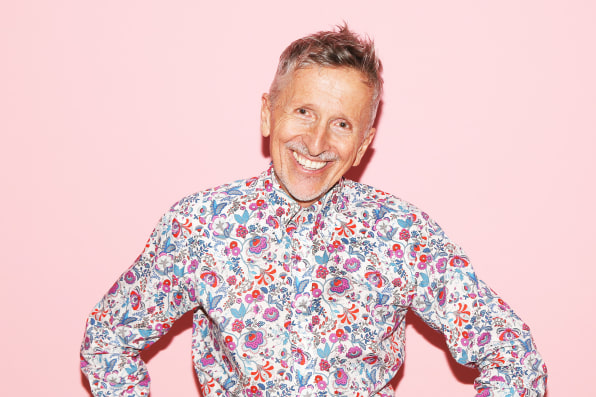 "The impact of the black drag queen—I see it everywhere," Doonan continues. "When I was a kid, the drag queens in England were very like savage, very sort of common English, working class prostitutes. They're not anymore. They're all reading and snapping. The global lingua franca of drag is black drag."
Subsets like "black drag" or what queens like Bianca Del Rio are doing in comedy or Sasha Velour in art are fairly easy to package. But who within those categories are allowed to do drag is becoming blurry. When most people think of drag, it's a cisgender gay man dressing in women's clothes and makeup. However, what happens when a cisgender woman wants to do drag?
"There was this rigid firewall in drag. If somebody had transitioned and you call them a drag queen, [cisgender queens] would get upset. Now they don't care," Doonan says. "There are straight women identifying as drag queens, there's little children identifying as drag queens. In the past two years, there's been this flowering of identity, and as I'm writing this book, I'm thinking, sheesh, this makes it so much easier. People are redefining themselves in ever more nuanced ways. That makes it an easier topic."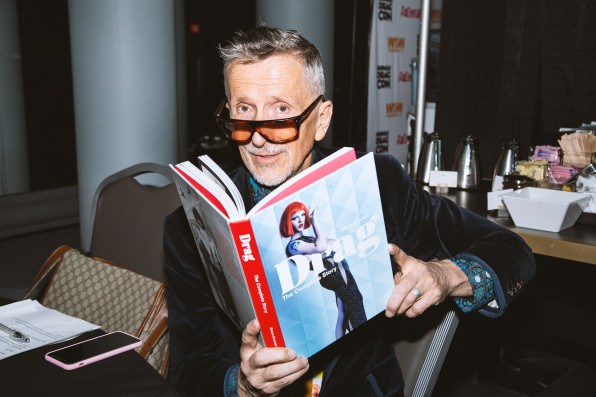 Doonan understands that drag is rapidly evolving, which made getting its history down in a clear, well-researched tome of the utmost importance. Drag has redefined and remixed what we think of gender, and it'll continue to shape culture.
"Back in the '90s, people used to say drag will fizzle out. Now, 20 years later, drag has never been more explosive and creative and all-consuming than it is now," Doonan says. "Between RuPaul's Drag Race and Saturday Night Live, where all the women are dressing up as men, everywhere you look, people are using drag to make a point—sometimes political, sometimes not."