For the musician, who just joined the company's board—his first, and only, company board membership—it's the next step in two decades of work outside of his music career. "My story with Zipline actually started 20 years ago," he says, turning to Zipline's CEO, Keller Rinaudo. "How old were you 20 years ago, Keller?"
"I would have been 12," Rinaudo says.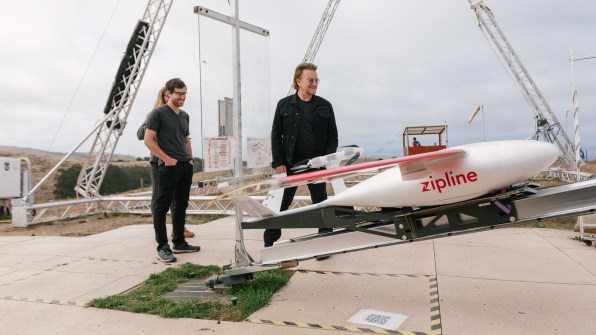 "So Keller's 12. And I was in Malawi, in Lilongwe, and I was watching people be diagnosed HIV positive and then being told that there was no treatment for that." The drugs that they needed existed, but they couldn't get them. "I can still visualize the look in the eyes of those people in that queue as they were told that there was no treatment for their disease or that they couldn't access these antiretroviral therapies," Bono says. "And the strange thing about it was this unusual look—there was no anger, there was no rage, there was this strange sort of acquiescence. And I remember feeling nauseous. Then I remember my own anger. And I used it: I let that anger motivate me."
"It was a moment I then saw repeated all through the continent and around the world," he says. "And I pledged my life to this idea: the concept that where you live should not decide whether you live."
As an activist, a few years later, he cofounded One, an organization that advocates for the Sustainable Development Goals and pressures global governments to fight preventable disease and extreme poverty, successfully lobbying for new government policies and programs that have helped save tens of millions of lives. He also cofounded Product Red in 2006, which partners with brands to raise funds to fight AIDS, raising more than $600 million to date. In 2016, he cofounded The Rise Fund, a $2 billion impact investing fund that looks for companies creating what the fund calls "complete returns"—measurable positive social and environmental change along with financial returns. This May, The Rise Fund became one of Zipline's investors, helping fund the company's expansion as it works to solve the problem of getting medical supplies to remote and underfunded health centers.
"They're making distance disappear," Bono says. "And they put people at the center of their commercial model, which I think is also something we think about a lot in The Rise Fund—that commerce should serve people and not the other way around." In Rwanda, the drones fly autonomously from centralized delivery centers to clinics that need blood for emergency transfusions or other medical supplies that couldn't be delivered in time on roads. (A drone delivery can take as little as 15 minutes, fast enough, for example, to save a mother at risk of dying as she gives birth.) In Ghana, the company is currently building out what will be the world's largest drone delivery network, serving 2,000 clinics and 12 million people, with as many as 600 flights a day. It will soon announce expansion in other countries.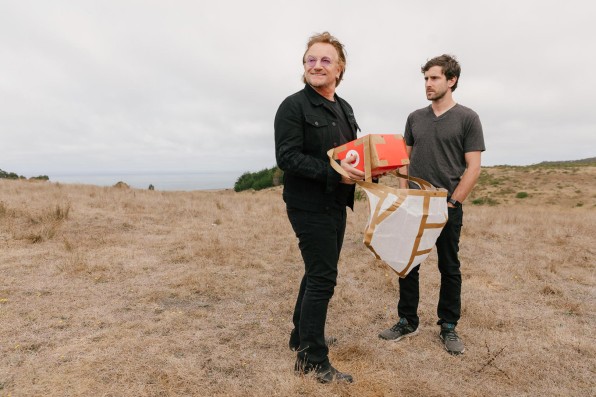 "The technology is improving really fast, and we're delivering a lot more medical products," says Rinaudo. "But the cool thing is the opportunity to build the first logistics system that serves all humans equally. I think that we live in a world where we think that capitalism and particularly technology serves the richest 1% of people on the planet and then trickles its way down to everybody else. I think this is a really cool paradigm shift in terms of actually having technology serve the people on the planet who need the help the most, and the problems that are most pressing, for us as humanity, which is that 5.5 million people die every year due to lack of access to basic medical products. And the idea that we can solve that not through charity, but through smart capitalism, that they are real business models." (Zipline's business model is to contract with the public health systems in the countries where it works. In the U.S., where it plans to expand, it will contract with private health facilities.)
Activists, Bono says, don't normally become investors, but he's interested in supporting what works. He downplays his role as a board member ("I don't think they need me to represent them," he says. "I might be trouble at the Christmas party"). But the startup says that the musician's influence will help them convince governments to adopt the technology more quickly. "Building a logistics system that serves all humans equally is going to require a lot of people to change the way that they behave," Rinaudo says. "And it's going to require people to believe in the vision. It's not like we can just go and fix it—it always has to be in partnership with governments. The reason we were really excited to have Bono join was that we're basically going to be working together to try to bend the arc of justice and help the planet transition in small ways toward systems that serve people equally. Basically, stop making excuses about why we can't serve these families."
"This great line by this great leader that I have always held to be true—which is 'the moral arc of the universe is long, but it bends towards justice,'—I no longer believe that to be true," Bono says. "It does not bend towards justice, it has to be bent towards justice. It has to be pushed and pulled. If you're a scientist, if you're an entrepreneur, if you're a singer in a band, everybody's got to find their place in that."