Back in 2016, Marcus Wainwright, CEO of retailer Rag & Bone, pulled the plug on his company's presence at traditional fashion shows, namely the industry staple New York Fashion Week.
Spurred by the outcome of the most recent presidential election, Wainwright felt a sense of lawlessness in the air (for better or worse), telling Fast Company in 2017: "It just confirmed to me that there are no rules. Why not break the mold? Why not try something original and see what happens? You can't just accept the status quo because someone else has told you that's how it should work."
Wainwright has since pushed Rag & Bone in new directions, from experimental short films to a dinner-party experience featuring AI as the guest of honor. For Wainwright, it's been a worthwhile experiment in rethinking Rag & Bone's identity within the fashion industry and how people perceive fashion as a whole.
And he brought what he's learned back to the runway for the brand's first New York Fashion Week show in three years.
"There was an element of nervousness, like he's coming back with his tail between his legs," Wainwright says. "But the remit was to not come back with what we were doing."
What Wainwright and his team brought to the runway last Friday was an extension of what Rag & Bone has explored in past campaigns: exalting personalized style (the models style themselves with the collection) through the seemingly impersonal lens of technology.
At the center of Rag & Bone's one-hour show was a robotic camera arm capturing the show from a traditional point of view as well as through point-cloud data, a visual representation of how the AI sees the world.
Rag & Bone's show employed a UR10 industrial robot arm, typically designed for factories and warehouses. However, when connected with Microsoft's Azure Kinect sensor, which could capture and track models' movements, it became a character in itself.
"There's this tension between the robot looking kind of playful and then looking pretty scary and surveillance-y—and that's the goal, in a way, is that we create those tensions," says Aaron Duffy, founder of communications and art company Special Guest and the robot director for the show. "When Marcus is talking about like how the collection is coming together, it's all based on these tensions between things like tradition and sport and tech."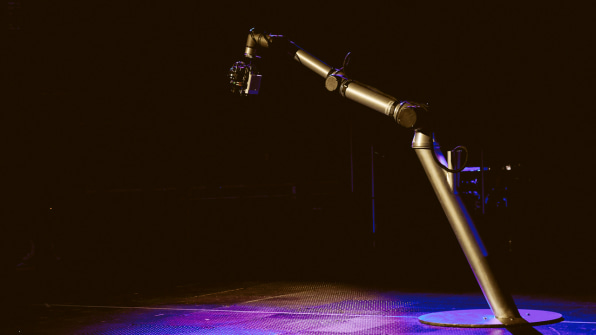 Isolating those tensions, as well as pushing the status quo to arrive at them in the first place, has become part of Wainwright's mission for Rag & Bone. When Wainwright and Duffy worked together on the A Last Supper film, which also used a point-cloud camera, Wainwright was interested in moving the apparatus around like a regular camera. However, Duffy didn't quite see the point since that's not how the camera is meant to be used.
"Normally, what you do is you capture the point cloud, that gets put into a 3D space, and then you can move the 3D camera around wherever you want," Duffy explains. "So I kind of dismissed it a little bit when he first said it."
When Wainwright brought it up again for the fashion show, Duffy relented, and, as it turned out, having that mobility became one of his favorite parts of the show.
"I think the goal here is that we try and get a perspective that a robot would have, like this otherworldly perspective, which has more to do with depth and volume and tracking in a way," Duffy says. "That that view can break us away from the traditional view that we're used to seeing. That is a nice way for someone to experience a fashion show, especially for a brand that's skeptical of fashion shows in the first place."
"Fashion week felt very disposable. It just felt the same, same, same—and that's why we stopped," Wainwright says. "We needed to take a good break to get perspective of how we perceive content. Rag & Bone is about the individual. It's about your own perspective on what fashion is. In this day and age, it's more acute than ever that there's a search for individuality in a small homogenized digital world."