As the Amazon continues to burn—more than 2.3 million acres in Brazil alone have burned so far this year—some companies are beginning to reconsider buying from suppliers in the area.
On Friday, H&M announced that it would stop buying leather from Brazil "until there are credible assurances . . . that the leather does not contribute to environmental harm in the Amazon." The week before, VF Corporation, the parent company of Timberland, Vans, and the North Face, made a similar decision. Mowi, one of the largest seafood companies in the world, said that it was considering finding a new source for soy used in fish feed. KLP, Norway's largest pension fund, started pressuring the massive ag companies that it invests in to take action. Storebrand, another large Norwegian fund, said that it was ramping up its efforts to find out which companies in its portfolio are contributing to the problem, with a plan to eventually divest if those companies don't change.
Many companies have been tracking their supply chain in the Amazon for years, but they are more concerned now. VF Corporation, which already had a policy in place not to buy leather from cattle grazed in the Amazon, had seen a pattern of ranchers moving closer to the rain forest. "Over the last two and a half years, we've enhanced our focus on mapping and tracing the origins of all of our leather and the hides," says Sean Cady, the company's vice president of sustainability and responsible sourcing. "In Brazil, we've used mapping software, we use a lot of data, to show where different tiers in our supply chain are physically located, and the path that different materials take from hide to finished leather. That deep diligence in Brazil, has allowed us over the last few years to really watch and monitor where the hides originated in our supply chain in Brazil."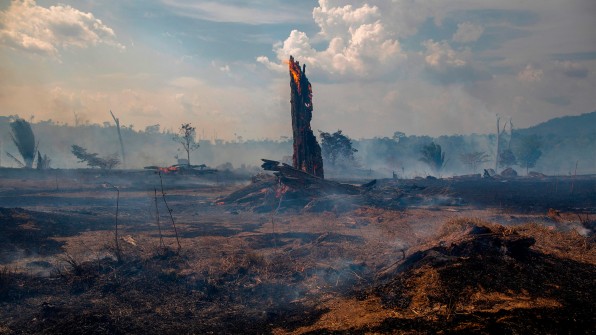 It's challenging data to track—the company buys from suppliers at one level, who buy from a second tier of suppliers, who buy from a third tier, and ranchers may be four steps removed. Over time, the company was finding it more difficult to get the paperwork it asked for to help it trace the origins of the leather. (Part of the process involved introducing itself to lower-level suppliers, who didn't know what VF was because it wasn't a direct customer.) As it started using other ways to track supply, it saw that pastures were moving in the direction of the forest's edge. The combination of the two problems—insufficient paperwork, and the move toward protected areas—led the company to decide to pull out of Brazil. "We're open to going back when we are able to collect the credible and robust, comprehensive information that would allow us to stand behind the manner in which our raw materials in our products were being manufactured," Cady says.
Environmental nonprofits say that it's the kind of decision that could help lead to change in Brazil, where the current president, Jair Bolsonaro, has made it clear that he thinks the Amazon should be open for business, and has rolled back protections for the forest, remaining defiant as the international community criticized the fires. "Clearly, Bolsonaro is not going to respond to political pressure," says Moira Birss, a campaign director at the nonprofit Amazon Watch, which published a report earlier this year detailing how businesses are driving deforestation in the area. "We really think that it is the economic pressures that are really going to kind of speak to him."
The companies that have made the boldest statements so far play relatively small roles in the area. VF Corporation, which sources materials from 50 countries, says that only around 5% of its leather came from Brazil. Only an estimated 1% of H&M's clothing uses leather, and most of that comes from Europe, not Brazil. Other companies have far more influence in the area, such as JBS, the largest meat company in the world. Cattle ranching is a major reason why the forest is shrinking. Typically, Birss says, large, valuable trees are cut down for timber, other trees and undergrowth are burned, and then the land is used as pasture for ranches. After a few years, the land may be sold to soy farmers.
When major food and agriculture companies decide to act, it can be effective, says Glenn Hurowitz, CEO of the nonprofit Mighty Earth. "When companies have tried to reduce deforestation, they've generally succeeded," he says. The nonprofit previously worked with many of the same companies that source from the Amazon to address palm oil plantations in Southeast Asia; deforestation from those plantations has shrunk from 400,000 hectares a year to 74,000 hectares a year, he says. "The simplest way to stop deforestation is to say that we're not going to buy from farmers that engage in deforestation. It worked in Southeast Asia." A soy moratorium in the Brazilian Amazon, a voluntary agreement that started in 2006 as food companies pledged to stop buying from suppliers using land that was recently deforested, was similarly successful, as production moved to land that was already degraded. The nonprofit estimates that globally, there are 1.6 billion acres of degraded land where agriculture can expand without deforestation. Farming can also be more productive on smaller amounts of land.
Still, the forest continues to be cleared for beef production and other reasons. "The challenges come about when companies say they aspire to protect the world's rain forest and then take little practical action to achieve it," Hurowitz says. "That is the situation that we find ourselves in and in the Amazon today."
In a statement, the food giant Mars said that it has developed action plans for several key raw materials linked to deforestation—beef, cocoa, palm oil, pulp and paper, and soy—and that it works with suppliers that "produce and buy raw materials from legal sources, do not source from recently deforested or degraded areas, and do not burn to clear the land." The company's targets for reducing emissions include the impact of agriculture and land use change; it also has a goal to freeze the land footprint of its value chain even as the company grows over time. The company is also supporting a new program from the nonprofit Conservation International to restore the areas damaged by the fires.
Nestlé—which sources palm oil, soy, meat, and cocoa from Brazil, and which pledged nine years ago to stop buying ingredients linked to deforestation—said that it was monitoring its suppliers and would "immediately cease sourcing from any supplier found to be linked to deforestation activity in the Amazon." Cargill, which noted its participation in the successful soy moratorium in the Amazon, said that it is training farmers in more sustainable practices and it's using Global Forest Watch Pro, a tool to monitor forests by satellite, and taking action when it finds illegal activity. Mighty Earth says that the company doesn't go far enough—especially in Bolsonaro's Brazil, where legal activity might still be environmentally destructive. The nonprofit also says that while Cargill has participated in the soy moratorium, it still buys from suppliers in other critical ecosystems in Brazil and from suppliers in the Bolivian part of the Amazon. It's also possible for a company to miss problems if it doesn't fully monitor all levels of the supply chain, says Birss.
"I think the tragedy of the crisis today is that the private sector has entirely shown the ability to stop deforestation," says Hurowitz. "And yet, in this case, has refused to take the simple steps that it has done elsewhere."
Nonprofits are hoping that the current attention on the Amazon will help lead businesses to do more. Consumer pressure can help, says Daniel Brindis, forest campaigns director with Greenpeace USA. "The fact is that these companies take this sort of feedback very seriously—they take the protection of the brand very seriously," he says. "So, when you see a company that's not paying attention to this, let them know."