You can't always trust what you see online. Earlier this year, tiny house guru John Kernohan learned this the hard way when he decided to buy a dome-shaped tiny home off Facebook's online marketplace. After looking at the company's website and seeing there were some phone numbers and emails on the customer service page, he decided to pull the trigger and typed in his credit card number—without looking for reviews or reaching out to the company to check how long it had been around, precautions he always encourages prospective tiny house buyers take.
Everything seemed fine at first: He received a confirmation email and a tracking number. But when the tiny house package arrived, it was suspiciously small, considering that it was supposed to contain an entire tiny house kit, including walls, windows, and an instruction manual to put it all together. Instead, all it had was a USB cable. Lucky for Kernohan, he was able to file a complaint with his credit card company, which refunded the money after seeing that the delivery only weighed two ounces.
"I didn't follow my counsel to people," he says. "I did everything you shouldn't do."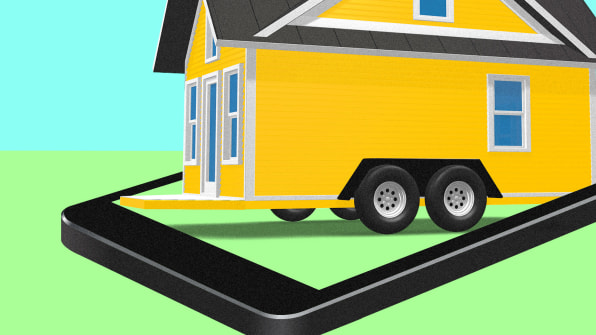 Stories like Kernohan's haven't stopped the proliferation of online stores that offer homes for order. Today, a quick search on Amazon or Google yields dozens of tiny home kits you can buy online, ranging from a quaint $36,800 solar-powered tiny house to a $64,650 home that's too big to even be considered tiny.
On Amazon alone, a search for "tiny house" within the Patio, Lawn, and Garden section of the site yields more than 3,000 results. These are typically kits that include walls and a roof, but often have no plumbing or electricity, making them little more than sheds; you'd have to do the rest yourself, or find a builder to do it for you.
Elsewhere on the internet, you can buy secondhand, fully functional tiny houses, like in the handful of active Facebook groups featuring tiny home listings, including one for a $75,000 183-square-foot tiny home located in British Columbia, or a $59,500 house with a loft that can fit on a 40-foot trailer—both of which appear to be finished homes. Other online marketplaces like tinyhouselistings.com and tinyhomesclassified.com provide yet another means for people looking to buy a tiny house online.
But Kernohan's experience illustrates the dangers of making large purchases online. The USB scam isn't the first one Kernohan has run into while acting as chairperson of the United Tiny House Association, which he runs out of his tiny home empire in rural Georgia, where he and his wife own a total of five tiny homes, including a yurt, a miniature firehouse, and a tiny school bus. Through the Association, they throw tiny house festivals where owners get together to party and learn from each other.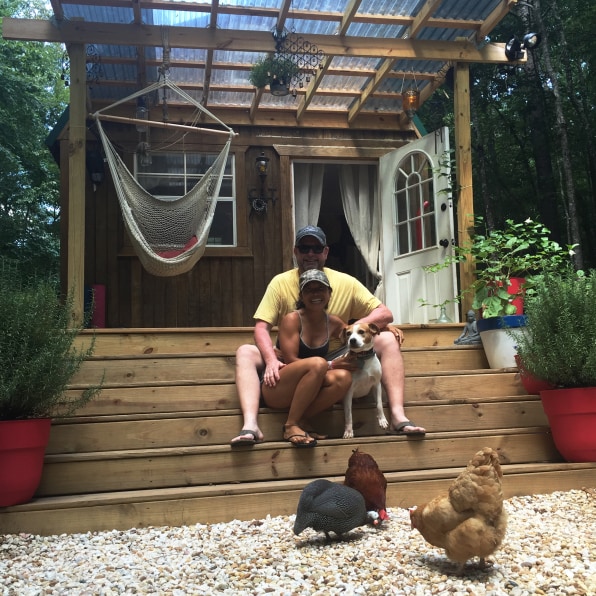 More than seven years ago, when he and his wife first moved into their first tiny home (which they built from scratch), they learned that someone was pretending to sell a tiny house online using images of their house. They contacted the online marketplace, which was brand-new and hadn't yet set up a vetting process to screen out scammers, and the post was taken down—luckily, nobody had yet fallen for it.
Despite his bad experience on Facebook earlier this year and with the scammers using images of his tiny home, Kernohan still endorses buying tiny homes online—as long as you're smart.
"People buy cars online, people buy boats and RVs online, why not buy a tiny house online?" he says. "It's a matter of due diligence and just taking the time to research it just like [you] would anything else."
There are a couple golden rules to navigating the tiny home market online. First step? Read the reviews. But you have to be discerning about what reviews you can trust, Kernohan says. Sometimes, people will buy tiny houses on Amazon thinking that they're going to get a full-sized house delivered to them in the mail that will snap together as easily as an Ikea bookshelf, and then they'll be able to move in. It's a rookie mistake: Most of these tiny house kits don't come with any wiring, plumbing, or insulation. These buyers, who typically didn't read the full description of what was included in their house kit, may leave horrible reviews—so ignore those. Other reviews that seem too positive (and are recent) indicate, to Kernohan, that they've been written by employees of the company trying to sell the house.
Instead, look for reviews from real purchasers who've "actually touched stuff and used it," Kernohan says.
He also recommends researching the company behind the tiny house, paying attention to how long it's been around, and asking the owners what business names it has operated under in the past. Then, you should run a search of all these previous business names to look for bad reviews.
"When you see five or six complaints in two years of $5,000 deposits being taken [and] houses not being delivered . . . do you want to take a chance buying it online from that individual?" he says.
If it's a tiny home on wheels, make sure to find the vehicle's VIN number—if there isn't one, that's a red flag, indicating that either it's stolen or previous owners had a hard time getting it registered with the DMV.
Ideally, you should go check out a tiny house yourself, in person, so you can see it with your own eyes and meet the current owner. Kernohan now goes out of his way to get that extra level of verification. For instance, he's currently working on restoring a tiny house that he will eventually donate to a family that lost their house to Hurricane Harvey in 2017. The tiny house originally came from Wisconsin, and before buying it Kernohan paid a fellow tiny house enthusiast who was going to be in the neighborhood to inspect it.
If you're shopping on Amazon, you definitely won't be able to tour the tiny house in person before it shows up at your door—which justifiably makes Kernohan very nervous, given the USB snafu. That's why even though Kernohan has never heard of any horror stories from people buying tiny houses off Amazon, he's still skeptical. After all, why purchase a shell of a house without any guarantees of quality?
"Buying a house off Amazon, I'm going to say is like getting a hair transplant 20 years ago," he says. "Twenty years ago, when I knew a couple guys who had that done, what were they thinking? That was some crazy weird stuff. Now I know a few guys who have hair transplants and you can't even tell. I think [with] buying a house off Amazon, let someone else hit the beach. Let them [do] that first and see what happens. There's no reason to be a hero."