While attending high school in Lancaster, Texas, Logan Boswell managed his own photography company, held a part-time job in retail, and interned for the school superintendent. The ambitious student was passionate about all three pursuits but didn't feel he possessed the skills to unite them into a feasible career path. And Boswell isn't alone. According to a 2018 McKinsey report, only 20% of today's workforce has the skills required for the majority of jobs that will be available in the next 5 to 10 years—and the demand for technological skills will rise by 55% by 2030.
Some of those in-demand skills are technical, says Kathy Meier-Hellstern, an assistant vice president of inventive science at AT&T. "To really succeed, people [will need to] know analytics: math, data science, statistics, and machine learning. They also must understand software and technology," Meier-Hellstern says. However, she adds, being fully prepared for the future economy will require more than enrolling in a coding boot camp. "If the smartest person in the world can't write, present, and communicate at an executive level, they won't be very impactful."
To acquire this mix of hard and soft skills—that same McKinsey study revealed that the demand for leadership and management skills will rise by 24%—employees and employers are considering non-traditional sources of training and education. At AT&T, for example, the company invests in "skills building," a blend of mentorship, education, and vocational training that is preparing a new generation of tech employees for the jobs of the future. Whether the programs are aimed at an ambitious high school student with no clear career path, a 5G surveyor who now needs to learn artificial intelligence, or a teenaged girl who could become an excellent coder if only given the opportunity, AT&T is turbo-charging their employability while also ensuring that it will stay competitive in the industry for years to come.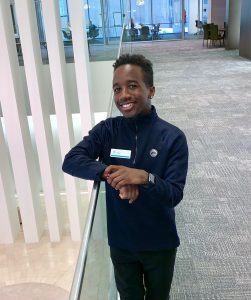 Boswell is an example of finding success through a non-traditional route. To avoid unwanted debt, he turned down his admission offer from UCLA in order to attend community college and enroll in Year Up, a Boston-based nonprofit organization that is specifically designed to help the estimated 5 million students, age 18 to 24, who, like Boswell, are highly motivated but not on stable career trajectories.
After Year Up students spend six months in the classroom, they're placed in internships with corporate collaboration including AT&T, which is currently working with the organization in seven cities and will host 200 interns annually by 2022.
With a sizeable contribution, AT&T also helped launch Year Up's campus in Dallas, where Boswell entered the program in 2018. In addition to learning technical skills, such as accounting and advanced Excel, he was coached on how to network and speak publicly, which Boswell found intimidating at first. However, when he gave his group presentation at the end of the program, he realized how far he'd come. "Our instructor told us that we were one of the strongest group of presenters that he's ever seen," Boswell says. "We interacted well with the audience [and didn't pace] back and forth like we were nervous, even though we were."
Each Friday, the program also hosted a guest speaker, one of whom helped Boswell realize that his love of retail could translate into the corporate world. "Not a lot of people like to deal with customers, but I love being in customer service," he says. "I have the power to make a difference in their life, which was a big thing for me because no matter what I'm doing, I want to be helping someone."
After interning with AT&T and graduating from Year Up, Boswell landed a full-time position at AT&T as a retail sales consultant. "Year Up helped me personally and professionally," Boswell says. "And my internship with AT&T really got me in tune with how to become a better leader."
TRAINING TOMORROW'S WORKFORCE
At AT&T, Boswell will continue to enjoy opportunities to advance his skills through the company's in-house technical training, mentorships, and nanodegree programs, online courses that cost roughly $200 a month and are meant to be completed within a year.
According to Meier-Hellstern, these offerings are not only ideal for employees who want to tackle new projects, but they're also necessary for AT&T to stay competitive in the global market. "When I started at the company, the concept of the internet wasn't there," she says. "Today I do machine learning and automation for intelligent IP networks and 5G. That's just an indicator of how much my career has changed and how much the industry has transformed."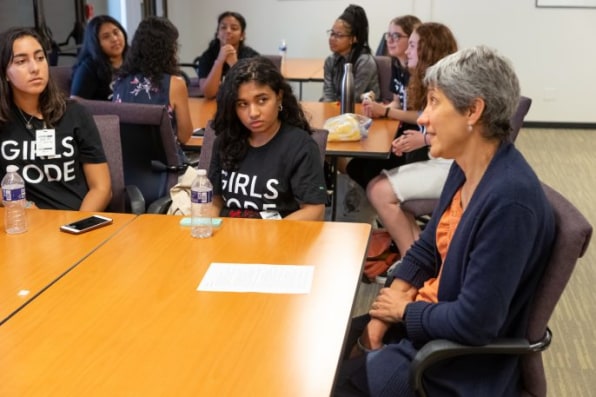 These programs help employees at every level of the company keep pace with the change in the industry. Take AT&T's expansion of its cellular network, for example. Meier-Hellstern points to the rules that must be followed for implementing 5G equipment. For instance, what once required on-site surveying could now be accomplished with computers.
"We can run a program to say, 'Give me all the poles that are, say, more than 12 feet high, aren't historic, and don't have any transformers on them,' " she says, adding that the employees who used to do that surveying in-person will now be retrained to include artificial intelligence in their repertoire. "There are still people involved doing that work," Meier-Hellstern says. "But they're able to get more done and at a higher skill level."
SHATTERING STEREOTYPES
With technology advancing so rapidly, Meier-Hellstern points out that all of AT&T's employees must be continuously updating their skills, but when it comes to hiring, she wants to see applicants with a firm technical foundation. To that end, AT&T collaborates with Girls Who Code, a nonprofit organization whose stated mission is to "close the gender gap in technology and to change the image of what a programmer looks like and does."
The group's target audience is girls like Tsipora Stone. Though her father is a computer programmer, Stone didn't consider pursuing tech until her mom suggested she apply to GWC when she was 17. She was nervous entering the program with no background in coding—until she met the instructors and other students. "When I got there, I realized they were actually providing me with this very warm and supportive network of women and girls," Stone says.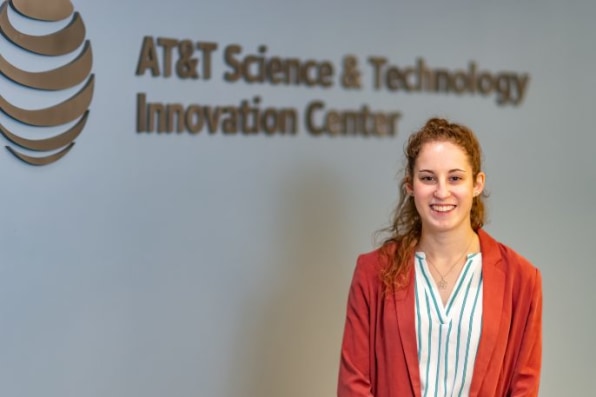 In the classroom, Stone and her peers were taught a new coding language every few weeks, which was crucial preparation for when she eventually majored in computer science at the University of Maryland. "A lot of the intro classes started out with that basic logic that I learned in Girls Who Code, which was important for me because if I hadn't had that background, I don't know if I would've been able to stick with it," she says.
GWC also stressed collaborative work, which encouraged Stone to join the Association for Women in Computing at Maryland. This group provided her with a network of contacts—many of whom she still keeps in touch with. And now that she's a software-engineering intern at AT&T, her mentorship continues. "Everyone at AT&T is always very willing to help and teach me, which is not something I take for granted," Stone says. "And even though it might take some time to understand, you can definitely still excel in the field as long as you're able to persevere. And that is very important—to [remember] to not let yourself give up."
Learn more about the various ways AT&T is working to empower the workforce of the future here.
This article was created for and commissioned by AT&T.