Bringing your own lunch to work doesn't just keep you from hemorrhaging money on Uber Eats and filling your body with the empty calories of day-old bagels and cookies. It's also a chance to avoid buying all those saran-wrapped sandwiches, salads encased in plastic domes, and plastic soup containers that may or may not be recyclable—and that often end up in landfill. The key is to limit your own waste as you pack up your food for the day.
The same goes for packing your kids' school lunches. A case study from Ohio shows how much of a difference waste-free lunches can make. During a one-day "Zero-Waste Challenge," all 287 students at Hilton Elementary School in Brecksville, Ohio, attempted to eat zero-waste lunches. The results: The entire student body created only 12 pounds of trash, compared with the school's usual average of 160 pounds of lunch waste.
Here are a few tips and tools that make packing a waste-free lunch for you and your family as convenient as downing a sleeve of pre-packaged Oreos.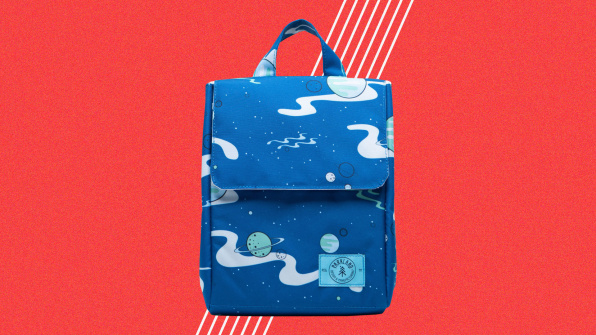 BOX IT UP
The first step to packing a waste-free lunch is finding a lunchbox that stores food safely and efficiently, and is actually fun to carry around. As we've reported before, recycled plastic lunch boxes from Parkland ($19.99) are more environmentally friendly than traditional polyester-and-plastic ones, but still come in fun patterns and designs (think polka dots and dinosaurs).
And for brown paper bag fans, Ecobags makes an Organic Cotton lunch bag ($8) that comes with a side-rope handle for carrying and a Velcro closure to keep your food from spilling out. Made offers a similar sack-style lunch tote ($22), made of a washable waxed canvas that's waterproof—good for wet commutes (or spills).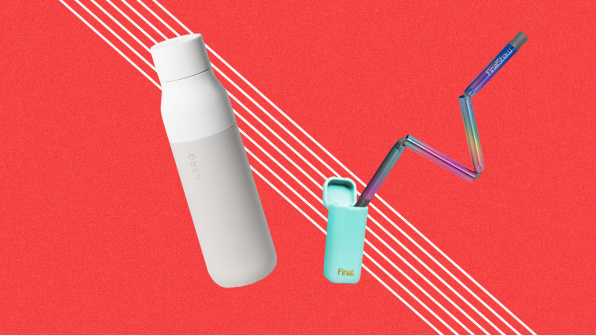 GUZZLE DOWN
Stay hydrated with a self-cleaning LARQ bottle ($95), which uses a UV-LED light to eliminate up to nearly all bio-contaminants from your water and the bottle you never think to clean. But you can keep classic Hydroflask ($30) or S'well ($35) bottles clean with a little help from nontoxic, all-natural, and biodegradable Bottle Bright tabs (starting at $8). Oh, and bonus points if you bring a reusable straw with you. This foldable metal one ($25) is ethically made and easy to leave in a backpack or bag to use whenever the sip-able occasion strikes.
For kids who like to give their water bottles a little squeeze, try the CamelBak Podium Chill ($14) series of insulated water bottles. The soft-sided bottles are BPA-free, leak-proof, easy to clean, and come in multiple colors.
CUT TO IT
Plastic forks (even the reusable kind) and disappointing sporks from campsites past have no place in a respectably packed lunch. Instead, opt for sustainable cutlery from Knork ($8, set of 6). Knork's colorful spoons and forks are made from sugar cane starch and bamboo, can be machine washed, and compost within two years of disposal. But nothing beats real metal cutlery. The spoon, fork, and knife in the Snow Peak Titanium cutlery set ($26) are ultra-light and fit into a slim canvas carrying case that's easy to slip into a lunchbox. Or you can pick up a stainless steel, 20-piece set ($20) from Target's year-old Made by Design line and have enough forks and knives for a family's-worth of packed lunches.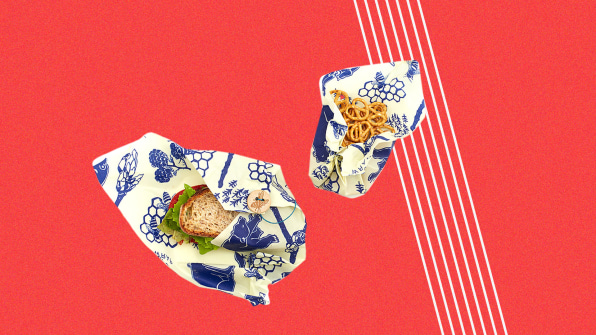 THAT'S A WRAP
Say it with us: No more Saran Wrap. Or tin foil. Or paper towels. These days it's easy to make waste-free swaps with things like the Bee's Wrap Lunch Pack ($21)—a three-piece collection of reusable sandwich-and snack-sized storage wraps that are made from waxed organic cotton. Stasher's resealable silicon plastic bags (from $11.99) don't come cheap, but they're worth the investment. And considering that the average person uses 2,200 paper napkins a year, cutting back on trash is easy by switching to organic cotton napkins from Coyuchi ($38, set of 4). They can also be used to clean up messes, wrap up leftovers, and dry hands after washing.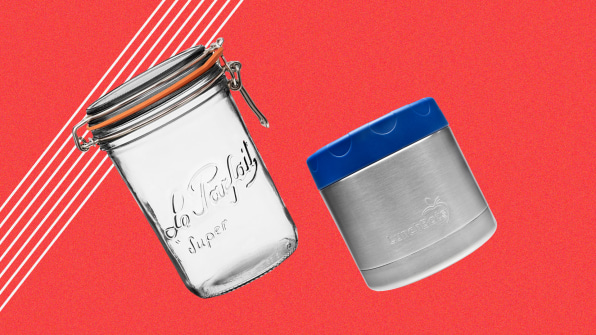 CARRY ON
LunchBots lunch containers are the classic option for creating perfectly portioned on-the-go meals, Bento box-style. The brand is known for making meal containers that are leak-proof and machine washable, and allow you to create substantial meals, thanks to the compartmentalized design. But if you want to keep your mac n' cheese and matzo ball soup hot until the lunch bell rings, try the 16-ounce wide mouth thermos ($35) from LunchBots: Its shape (wide-mouthed and bowl-like) makes thermos-dining less awkward. For those who prefer shake salads (you know who you are), the extra-large, one liter Le Parfait "Super" jars ($23) are a great take-anywhere option. The lid is attached by a metal hinge, so you'll never lose it—and unlike Mason jars, Le Parfait jars have no BPA linings.
Fast Company may receive revenue for some links to products on our site.