"The future is electric." That's the mantra, at least, from a wide variety of actors, be they environmental organizations or car companies. But in Seattle we'd like to go further and say that the "present is electric." Why? Because it can be and must be.
The present can be electric because Seattle has abundant, carbon-free electricity, thanks to city-owned hydropower. We can easily reduce transport-related emissions if we can get people driving cleaner cars and trucks. And since electric vehicles now cost less to own and operate, the onus is on us to get the infrastructure right so that owning an electric vehicle is a more attractive option than driving a dirty fossil fuel emitter. In short, we need to make EV "fueling" as seamless as fueling a fossil fuel vehicle.
The present must be electric because we need to stop emitting dirty fossil fuels. We know that. Fossil fuels are killing our communities, our health, and our planet. In Seattle, 62% of our local pollution comes from cars and trucks. That's a lot. We, like a lot of other big cities, need to reduce that traffic footprint ASAP, before climate change does more damage to our city. A recent study by the Center for Climate Integrity showed that rising sea levels could cost our city more than $23 billion by 2040.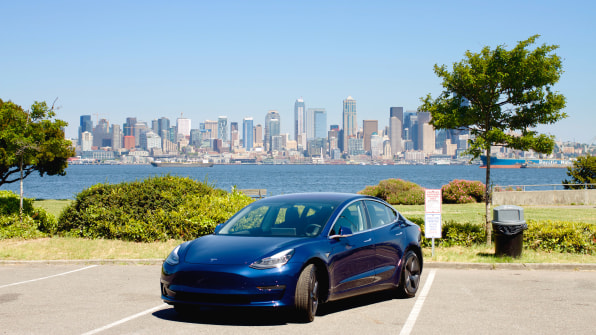 We have to do things differently.
As we electrify Seattle's transportation system, there are a few fronts we're prioritizing so that EV charging is increasingly convenient, ubiquitous, and equitable for everyone. Here are the steps we need to take going forward.
First, we need to make it convenient. Most EV charging happens at home. So, if you live in a single-family home, adding an EV plug—similar to a dryer plug—can be a relatively cheap and straightforward process. But if you live in an apartment or condo it quickly gets more complicated due to costs, capacity, or permissions required.
That's why we're bringing power to the people (and their parking garages). That means that at the time of construction, when it's the easiest and cheapest time to do so, we need to ensure that the necessary wiring and outlets for EV charging are installed in parking areas. And that's where EV-friendly codes can help (like this one that requires all new buildings to include off-street parking with EV-ready charging infrastructure). If it's not convenient, people won't make the switch.
Second, we need to make it ubiquitous. Increasing access to home charging is only one piece of the puzzle. For homes with no off-street parking, or older residential buildings that don't have enough resources to support charging, then public charging is essential. Public charging bridges the gap by providing nonresidential charging options and adds value like enabling longer-distance travel or extended range while out running errands.
In Seattle, our goal is to install 20 publicly accessible, direct-current fast chargers by the end of this year. These are chargers that can charge an EV in 30 to 40 minutes. We are also working with the private sector to allow privately owned charging stations to be installed in business districts and other well-traveled parts of the city. Seeing more charging stations in public will build confidence for people making the switch to EVs and will help with the mainstreaming of them too.
Third, we need to make it equitable and cost-effective. We know that frontline communities in Seattle are disproportionately impacted by the effects of climate change. We see it every day with increasingly poor air quality and poor health. If we can get more Seattle residents driving EVs, thus eliminating the tailpipe and its greenhouse gas emissions, we'll have healthier residents. It's that simple.
But it's not just health benefits for vulnerable populations. EVs also bring economic benefits to communities through a decrease in transportation costs, given that electricity is significantly cheaper than fossil fuels in the Pacific Northwest. That's why we have to double down on EV charging in all areas of the city and across all housing types. Everyone stands to benefit if our rollout is truly city-wide.
In meeting the needs of all drivers—whether they are carpooling to work, running family errands, delivering packages, or driving for ride-hailing companies—our job as city leaders is to make the EV transition an easy one. That means we need to push the vehicle market, enable private infrastructure investment, and make sure all communities have equitable access to EVs and the infrastructure that fuels them. This isn't a maybe—this a must. And this isn't the future—this is now.
---
Jessica Finn Coven is the director of the office of sustainability and environment for the City of Seattle.
Seattle is a member of the Carbon Neutral Cities Alliance, a collaboration of leading global cities cutting greenhouse gas emissions by 80-100% by 2050 or sooner. This is a 7-part series featuring bold actions by cities to accelerate progress toward carbon neutrality, based on CNCA's Game Changers Report.