Last year, nearly 29 million "mishandled" bags didn't show up at the correct baggage claim carousel, according to air transport IT provider Sita, which monitors global baggage handling. And passengers left waiting for those bags spent an average of 36 hours wondering when they'd be reunited with their luggage. But let's be honest, you don't have 36 hours to waste. That's why many frequent flyers and business travelers opt for a carry-on-only travel regimen. In fact, the most common piece of travel advice we get from company founders and CEOs? "Carry-on only."
Or in the words of Shake Shack CEO Randy Garutti: "Never check a bag. Ever. For any reason. Nothing good happens."
Sure, that works for overnight trips—but what about weeklong, or even monthlong travel commitments? Where there's an overhead cabin space, there's a way. "No matter how long I will be gone, I will only carry-on," Lynne Biggar, chief marketing and communications officer for Visa, says.
We tapped our network of CEOs, founders, and business owners who have been around the world a time or two to get their best advice, smartest tips, and most trusted travel products so that you'll never have to check your luggage again.
Pack lighter and tighter
You've probably heard that rolling up your clothes helps to maximize space in your carry-on. But what about wrinkles? You don't have to sacrifice folding your button-downs to keep them crisp; you just have to change your measurements. "To fit more in your bag, fold your clothes clean and tight to the size of your suitcase, not the size of your usual fold," Bethany C. Meyers, founder and CEO of be.come fitness, says. "The more you can fold your clothes to meet the edges of your bag, the more you'll fit!"
And to really keep the wrinkles away, take a hint from brand consultant Ana Andjelic. "I am probably the only one who is doing this, but I wrap my clothes in tissue paper when packing," she says. "It keeps them from wrinkling and getting all bunched up even if I am flying for 14 hours to Japan." Plastic dry-cleaner bags work equally well and are a great way to reuse the single-use wrapping.
Get off on the right foot(wear)
For in-flight comfort, startup investor and adviser Fran Hauser swears by Allbirds merino wool runners. "These truly are the world's most comfortable shoes and make running through the airport a breeze," she says.
But if you want to pack light, make sure you wear a pair to the airport that can do double duty at meetings, lunches, and other appointments on the road. (Doesn't matter what size you wear, shoes take up valuable suitcase space.) "[I recommend] easy slide-on/slide-off shoes like Rothy's," says Suzie Welsh, founder and CEO of Binto, a personalized vitamin supplement company focused on women's health. Bonus: Rothy's stylishly versatile recycled-plastic flats are machine washable.
Pick a color
Packing light means looking for items in your closet that naturally work together. "I pick a color theme when packing clothes," Iva Pawling, CEO of fashion brand Richer Poorer, says. "If everything can match, I don't have to plan outfits, and I need fewer pairs of shoes."
BYO bottles
No, you don't have to choose between using hotel shampoo or your new bottle of Prose. "I get creative about the way I pack toiletries," says Hauser. "For example, I use a contact lens case (with two compartments) to store facial cleanser and moisturizer. This takes up much less space than two big bottles, and one case can get you through a few days."
8Greens founder James Russell recommends Muji containers for making your own mini-toiletries. "I decant [toiletries] into any of the amazing selection of containers sold by Muji. Buy any larger bulky ones—like deodorant and moisturizer—upon arrival."
Find the bag that's right for you
Regardless of how savvy you are about color schemes and shoe selection, the most crucial component of being a successful carry-on traveler is having the right suitcase, along with an under-the-seat handbag that can carry more. Here are our experts' favorites: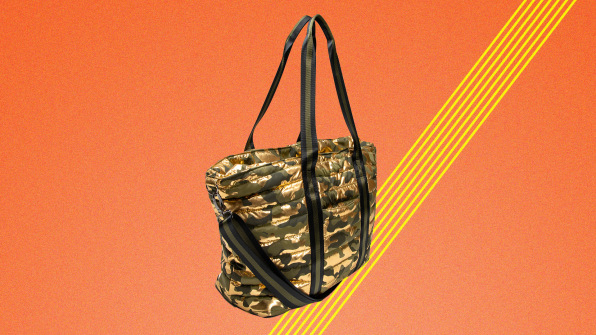 Think Rolyn Wingman Bag
"I'm obsessed with this fashion brand," Hauser says. "Their tagline is 'creators of cool for life on the fly,' and my favorite is the wingman bag." $188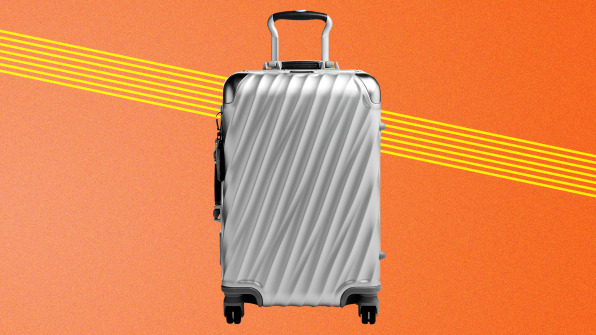 Tumi International Carry-On
"I love [my] Tumi luggage," Shopbrain CEO Jamie Cunningham says. "It's sturdy, well-designed, and perfectly sized. I've been hauling my beat-up Tumi carry-on for nearly a decade, and it's never let me down." $995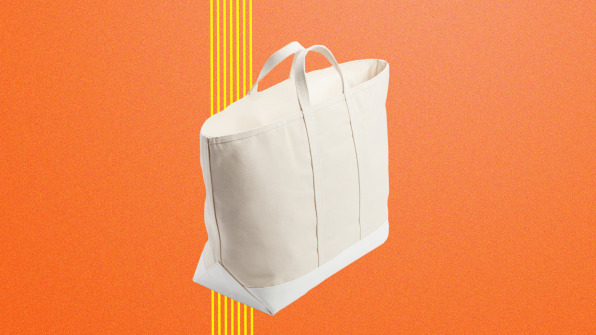 Best Made Co. Coated Canvas Tote
"I tend to struggle with wanting to bring a midsized handbag that I'll want during my trip, but that won't fit my laptop—and won't fit into my suitcase," says Neha Gandhi, COO of Girlboss. "The novel solution is this oversized cloth tote that's soft, shapeless, and floppy. I fit my handbag, laptop, notebook, and other essentials in there, and don't get flagged for carrying too large a personal item. Plus, it doubles as a gym bag during most trips." $148
Rimowa Cabin
"I spent years avoiding the four-wheel carry-on until I got one recently," says Russell. "The Rimowa is strong, light, and looks better the more beaten it gets, which will certainly happen. My 5- and 8-year-old sons have covered mine in stickers—which has stopped me from taking myself too seriously when I'm in 'traveler businessman mode' in my head." $1,150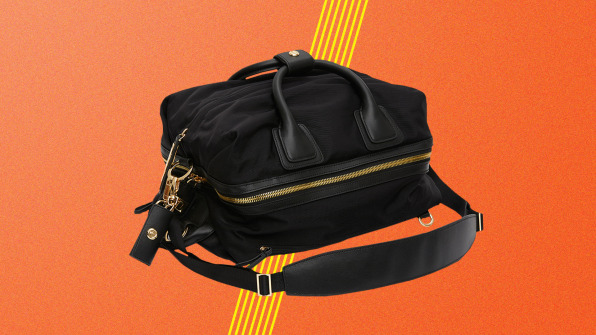 Caraa Studio Bag
"I always travel with a backpack that appears small but can fit a lot, like the Caraa Studio Bag," Meyers says. "Then I make sure I'm highly organized within the bag itself. If flying, you want to be sure you can slide your laptop out with ease." $395
Fast Company may receive revenue for some links to products on our site.