Picture this: On your way home from work, you stop at a restaurant to pick up dinner. As you reach for your wallet, you have to make a fast decision: Should you pull out cash or slide your debit card across the counter? Or maybe you don't even have to take out your wallet, because you paid when you ordered through the restaurant's app on your smartphone.
Today's Canadian consumers can choose from an ever-larger menu of payment options when making purchases. It's easier to pay merchants and service providers, and transactions are more secure than ever thanks to innovations such as mobile wallets and blockchain-enabled networks. As innovations continue to reshape the financial services industry, consumers increasingly expect new technology to help them transact wherever and whenever they want, and bring new services into the digital realm.
Canadians are generally positive about financial technology—in fact, a majority of them support the idea of banks and financial institutions being innovative, according to a 2019 survey by Interac Corp., a payments and digital-information exchange headquartered in Toronto. Still, they also see a downside. Only 27% of Canadians believe that technology is making their personal information safer, and 82% say there are negative consequences in letting companies access their personal or financial data online.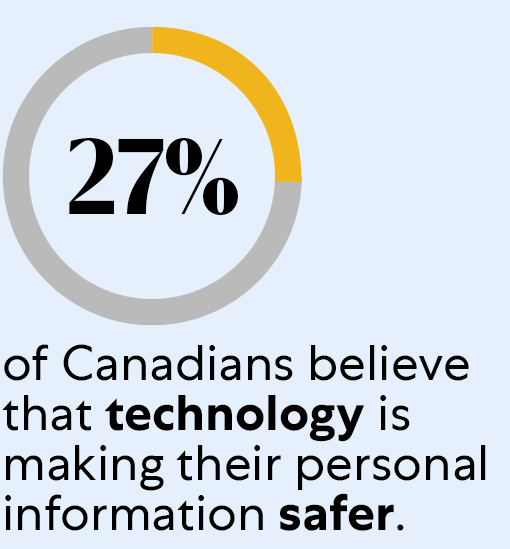 "People want to have all of the benefits of technology and innovation, but they don't want to lose control over their data," says Debbie Gamble, chief officer, innovation labs and new ventures at Interac.
THE PUSH AND PULL OF INNOVATION
Canadians have moved quickly towards new payment methods over traditional ones, such as cash or cheques. Take "contactless" transactions, in which a customer taps a card or a mobile device at a point-of-sale terminal to make a payment. According to Payments Canada, in 2012, Canadian consumers tallied $9.6 billion in contactless transactions. By 2017, that figure had risen to more than $100 billion. "Canadians embrace technology quite well," Gamble says. "In recent years we've seen rapid adoption of new digital payment methods as people seek out more seamless and convenient ways to transact and manage their money."
But the more we use technology—from ride-sharing apps to financial apps—the more personal data we make available to companies, and consumers are getting more conscious of the amount of data they're sharing. "With the explosive growth of technology, everything is being digitized," Gamble says. "And we're becoming aware that more of our digital self is being used in different ways by different companies."
So who owns and controls that data? Is it the companies whose users accept the terms and conditions for using their apps, or is it the consumer? That's an important question, but a difficult one to answer. One problem: Consumers don't know enough about what personal data is being gathered and how it's being used, often because the terms and conditions presented can be inscrutable. This leads to a gap in trust. Research indicates that consumers want to limit the amount of information they share, yet, while only 36% of people say they give consent for companies to use their identity data online, 66% of them are generally willing to accept cookies, and 77% agree to the terms and conditions.
"Consumers have a role to play here, but the process needs to be changed," Gamble says. "It needs to be about simplicity and transparency. Consumers collectively need to have a better understanding of how data is being used."
THE BUILDING BLOCKS OF TRUST
Companies can help close the trust gap by being more transparent. That process starts with making their terms and conditions more user friendly. After all, Gamble says, trust happens when both parties not only live up to the promise of the relationship, but also fully understand that promise.
Companies also can look for opportunities to build trust into more areas of their relationships with consumers. The identification process is one such opportunity. Consumers today prove who they are in so many different ways in the digital world—each of us has dozens of logins and passwords that we use for different apps and sites. Some link directly to our social-media accounts; some authenticate who we are by sending codes to our phones. But these methods of authentication aren't robust enough when critical, high-value data such as personal financial information is part of the equation.
To build strong relationships with consumers, companies need to confirm that an individual is who they claim to be by authenticating a trusted attribute—for example, a passport, a birth certificate, or even biometrics such as fingerprints or facial recognition. Less secure methods of authentication put consumers and companies at more risk of fraud. "If you're not basing the relationship on the most trusted information, you have a challenge," Gamble says.
Companies also need to consider how they bring new products to market. Gamble notes that before rolling out products that use the newest tech, companies need to question whether the product is in their customers' best interest. Is it relevant to their lives? Does it meet a new demand or make their lives better in some way? "New products have got to be about delivering new capabilities," Gamble says. "They need to focus on bringing something new to users, whether it's a richer experience or just a better way of doing things."
The more that financial-services companies factor the need to build trust into their technology decisions, the easier it will be to close that gap and realize innovation's potential. "It all comes down to companies making sure that they maintain trust through every touch point with their customers," Gamble says.
---
This article was created for and commissioned by Interac.