The Museum of Ice Cream, which opened its first pop-up experience in New York City three years ago, is announcing today that it is returning to the city with a permanent installation this fall.
"Our community asked for it," says Maryellis Bunn, cocreator and CEO of the Museum of Ice Cream. "They wanted a place where they can go to, not once, but to continue to come and visit us. When we have these pop-up models, we're not able to hold space for our community. So to be able to give them a place, not just programmatically but also to have it be a place that's theirs, is so important to us." The new New York flagship location will be in Manhattan's Soho neighborhood.
Since Museum of Ice Cream first launched, its creators have been steadily carving a more permanent place for themselves in the world of experiential retail. Under its parent company Figure8, which raised a $40 million series A round of funding last week, the Museum of Ice Cream brand has extended to a retail collection at Target, a makeup collaboration with Sephora, and, yes, actual ice cream. But most importantly, the Museum of Ice Cream moved away from its pop-up format in lieu of flagship locations, first in San Francisco and now in New York City.
Through interviews and focus groups, the company has collected a sizable amount of both quantitive and qualitative data from its 1.5 million visitors to aid in how and where it should build out its brand.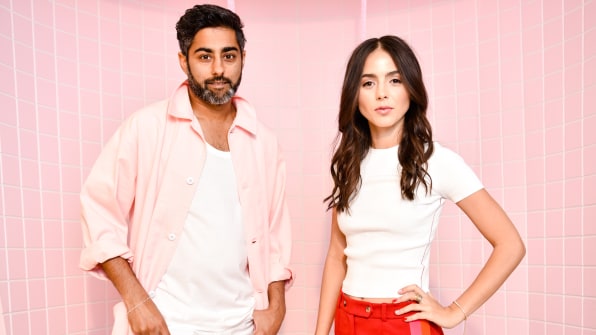 "Our ambition has always been to create spaces that can connect humans to humans and humans to architecture. Our journey to get there has been to create, understand, and then re-create," Bunn says. "We create spaces, we understand what's going on, and we get tons and tons of visitor feedback."
"So the goal has always been [to create flagship locations]," Bunn continues, "but we needed to be at the place where we had the right information and the right breadth of data to really create the products that we wanted to create but that the world needed."
Museum of Ice Cream NYC will span nearly 25,000 square feet across three floors with 13 new installations, including the MTA inspired "Celestial Subway," a giant beehive, and the museum's largest sprinkle pool to date, all of which is designed and produced in-house.
"Being able to build out from a cold, dark shell and literally design every square inch of the experience truly is a dream from a creative perspective," Bunn says. "We can deliver for the first time a state-of-the-art experience, because we're able to create every square inch. In a pop-up environment, you can't really do that."
Not that visitors seemed to be complaining before. When the first Museum of Ice Cream installment debuted in NYC, bubblegum pink portraits inside the museum's playhouse-like installations flooded Instagram feeds, including those of Beyoncé's and Kim Kardashian West's. NYC's pop-up location had a waiting list 200,000 people deep. Los Angeles sold out with enough people in line to sell tickets for another year. Those kind of numbers (and that much social clout) hasn't gone unnoticed. The Museum of Ice Cream was recently valued at $200 million after its recent funding and has reportedly pulled in more than $10 million in revenue since its initial launch.
In addition to its flagship locations, Bunn says the company is developing a new division within Figure8 that focuses on helping brands create experiences in addition to what they create for themselves. The first concept and partnership will be announced in the second quarter of 2020.
"What we're really creating is the first-of-its-kind development group, and we'll be able to develop experience-first properties around the world," she says. "It's taking a fully new approach to the development cycle and thinking about the conceptual and emotional layers of what we're creating."
The Museum of Ice Cream is charting a unique course in how to build a sustainable business off the back of a pop-up experience. For Bunn, the competition isn't necessarily the deluge of pop-up experiences that are dotting cities worldwide—it's a wider fight in the battle for attention (and connection) IRL.
"When I think about competitive landscape, I think about Netflix and Instagram, because it's about who are the players that are captivating your time," Bunn says. "It really is like, how can we create something that is both so enticing and so fulfilling in the real world that it wants to get people out and exploring and interacting with the space and interacting with other people."