Considering the theological implications of its title, Kirsten Dunst took some inspiration for her starring role in Showtime's On Becoming a God in Central Florida from an unlikely source.
"I watched a lot of Honey Boo Boo," Dunst says during our interview.
Excuse me? To prepare for her role as Disney-adjacent mother Krystal Stubbs, who is making her way through the plastic world of multilevel marketing scams in the '80s, the show's star and executive producer studied a reality TV tot pageant princess?
Yes. She certainly did.
"It was the accent, the not-caring, the kind of, like, letting it all hang out there," Dunst says. "Not worrying about politeness or poise or that kind of thing. And being more aggressive. I wanted to give Krystal that kind of vibe."
Fair enough. This is the kind of unconventional approach a star takes when she's been making major movies since she was younger than Honey Boo Boo at her first pageant. And it's hard to argue with the results. To describe the plot of On Becoming a God, which premiers on August 25, in too much detail would spoil some of the first episode's surprises. All that potential viewers need know is that it follows Dunst's character as she navigates the Amway-like pyramid scheme, Founders American Merchandise (a/k/a FAM), in a sunbaked, pastel-heavy setting strewn with water parks, gators, and palm trees. Whatever Dunst's inspiration for the role, she plays Krystal with such naturalistic charm, pluck, and boldness that it's hard to resist rooting for her.
Although it's coming out at a moment when America is rabidly obsessed with scammers like Anna Delvey, Elizabeth Holmes, and the Fyre Festival crew, On Becoming a God wasn't rushed into production to meet market demand. Instead, creators Robert Funke and Matt Lutsky developed the show three years ago. They were at AMC at first, then the show was slated to be a YouTube original before finally landing at Showtime. Throughout the journey, Dunst remained committed, having fallen hard for the script.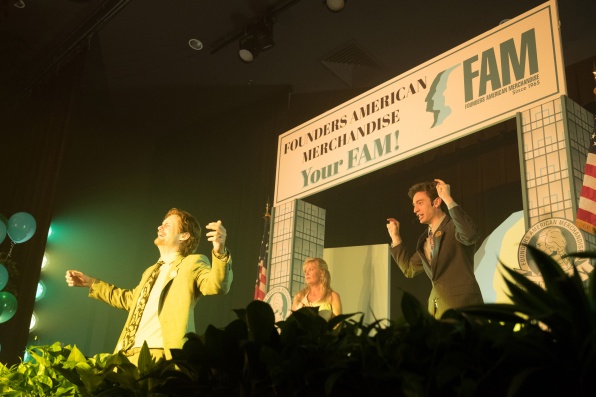 "It was a world that I hadn't seen on television, and I just felt like I wanted to see this show," she says. "I thought the character, wherever she was going to go, it was going to be quite the ride for me as well."
By now, Dunst knows to trust her instincts when it comes to choosing roles to play. She also has an equally strong sense for which roles and archetypes to turn down automatically when they come up for consideration.
"When it's mostly focused on the men, and the women are accessories to their storyline? No, I'm not doing that," Dunst says. "I'm not really interested in crying in every scene, all that melodrama. In those kinds of movies, your lines and everything are just as a function for the men's roles."
Her character in On Becoming a God, Krystal Stubbs, is not anybody's accessory. She is thrust by circumstances into accessing her inner scammer and seems alternately elated and bummed out by how successful she turns out to be at it.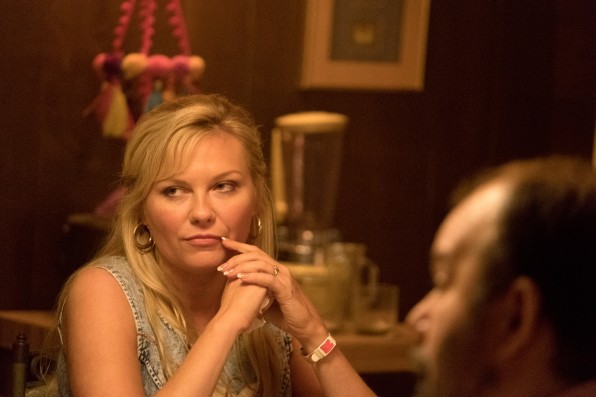 As research for the role, Dunst watched documentaries about MLMs and other kinds of scams. She soaked in the Herbalife documentary Betting on Zero, along with the Tony Robbins behind-the-scenes doc I Am Not Your Guru. Watching these films helped her understand the destructive impact pyramid schemes have on communities and families, along with the cultish mania surrounding them. As executive producer, though, Dunst had more responsibilities than just preparing for her own role.
"I wanted to be involved as much as I could," she says.
Dunst weighed in on decisions such as choosing a costume designer and music supervisor, along with casting costar Theodore Pelegrin in a major role after a strong audition with him. Another major behind-the-scenes contribution was her insistence that Krystal's baby be more than a mere accessory when it was convenient for the plot—something that the script didn't always do.
"I hate when movies establish a baby and don't use it, and I'm like, 'Where the hell's the baby?'" Dunst says. "I said to the guys, like, 'Use the baby. The baby's a character.' It's basically Krystal's entire drive in what she's doing. She's making sure her baby survives. It can be with a babysitter or we see a baby monitor or whatever, but the baby has to be accounted for."
It's the kind of commitment to craft and authenticity that will likely earn Dunst's new show a sizable following—perhaps even a cult-like one.