Skyscrapers are typically places for people to live and work. But what if they could also help save the world?
That's the idea behind the design journal eVolo's annual skyscraper competition, which solicits concepts for the tall buildings of the future. For 2019's competition, designers and architects presented an array of visions that reposition skyscrapers as salves for society's most pressing problems: climate change, mass human migration, and even data storage. Here are six of the wackiest ideas. They may not be realistic, but they present a bold vision for how skyscrapers could be redesigned to do more for the communities that surround them.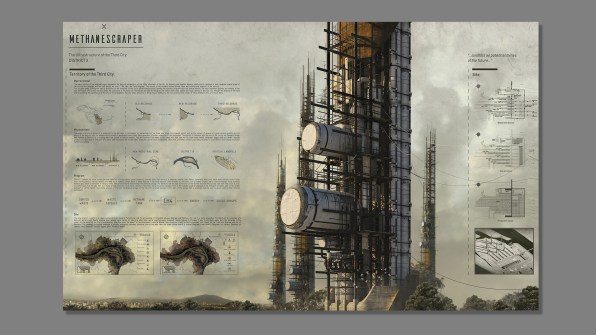 A vertical landfill
What if you built a skyscraper out of waste? A concept from Serbian designer Marko Dragicevic—the winner of the competition—postulates what a landfill might look like if it were vertical. The idea includes a set of towers that are slowly constructed over time using waste from an adjacent city. It would work like this: First, all the waste is sorted into recycling and nonrecycling, and then food waste is combined with wood and put inside modular waste capsules, which are then used as building blocks for the tower. Each of these modules also attaches to a methane tank, so that when the food waste rots, the methane can be captured and transformed into energy.
The vertical landfill aims to reduce the amount of land that's needed for waste and to eliminate any seepage of toxic gases or chemicals into the air or the groundwater—though it doesn't have an answer for nonorganic waste that's not designed to biodegrade over time.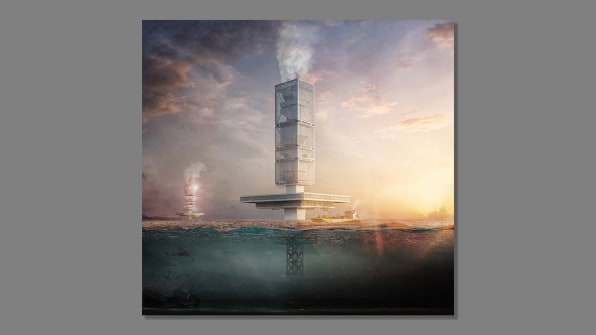 A floating water filtration and recycling plant
This skyscraper concept was designed to be deployed right in the middle of trash vortexes like the Great Pacific Garbage Patch, a hulking mass of trash twice the size of the state of Texas that's floating out in the Pacific Ocean (the Indian and Atlantic oceans also have their own monstrous trash vortexes). Designed by Honglin Li of the United States, it's a waste treatment plant for the ocean, which uses seawater to pump polluted, garbage-filled water up to the top of the skyscraper. From there, gravity pulls the water down through filtration systems, separating out the waste while cleaning the water.
Over time, the building accumulates a store of trash and recyclable materials that could potentially be transformed into energy—otherwise, a ship would have to come pick them up (and maybe take them to the vertical landfill?).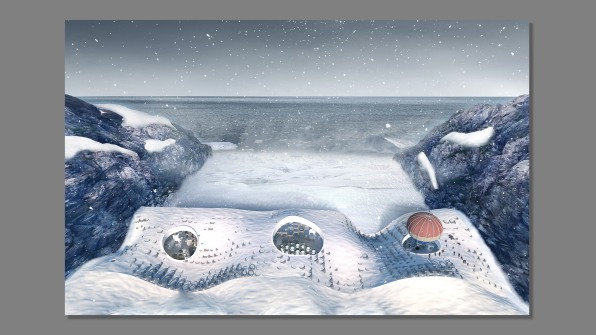 A dam to prevent glaciers from melting
Just as futuristic skyscrapers could deal with humanity's giant waste problem, they could also provide a way to limit other damage people are doing to the planet. One concept that won an honorable mention in the competition proposes a dam for a Greenland glacier. The dam is composed of modular, hollow structures called "ice balls" that are made of aluminum alloy. The group of designers from South Korea who came up with the concept hypothesizes that packing ice into these hollow circular structures and then creating a barrier at the edge of a glacier could provide extra structure and tensile strength to keep the glacier from melting. Meltwater from the glacier could also be refrozen around the modular ice balls to add more strength to the dam.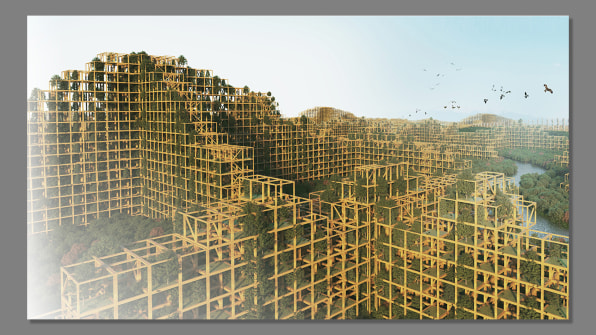 A skyscraper that's really a home for trees
Skyscrapers are for people. But one concept envisions a wooden skyscraper that provides a new home for trees, animals, and birds. It's based on the idea that forests have multiple layers, but expands it to the logical conclusion: a many-story building that houses an entire forest, with leaves and droppings from the different layers providing fertilizer for the layers below. Each tree is planted inside a fabric swing that's secured to a wooden frame on all four sides and contains enough soil for the tree's roots. The structure ensures the trees are staggered so they get enough sun and rain.
"As the tree grows, falling seeds and leaves will take root in the suspended soil, creating mini-forest floors that eventually populate, intertwine and cover the entire structure," write Dattner Architects, the New York-based firm that submitted the concept. "This new skyline works with nature rather than against it."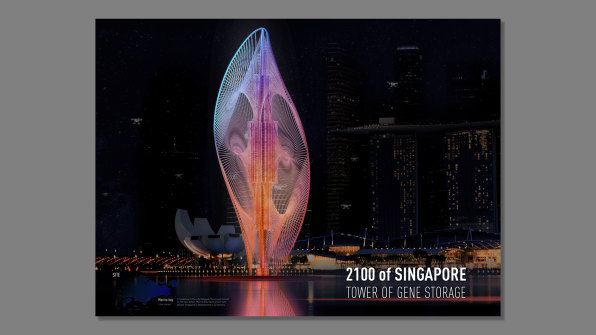 A DNA data storage tower
Today, the largest server farms around the world take up millions of square feet each. Their footprint will only increase as people use even more data. Why not turn data storage into a skyscraper? Hsieh Tsung-Ying and Huang Hsuan-Ting of Taiwan imagine a structure that uses an emerging form of data storage: DNA. Formed of intertwined fiber optic cables that form a twisting, leaf-like building, the structure changes color based on how much data is being uploaded.
The duo designed the building for Singapore in the year 2100. The organic shape was inspired by "Home Trees" in the movie Avatar, giant trees where the film's alien characters live—and also references the artificial Supertrees that are already a tourist attraction in Singapore.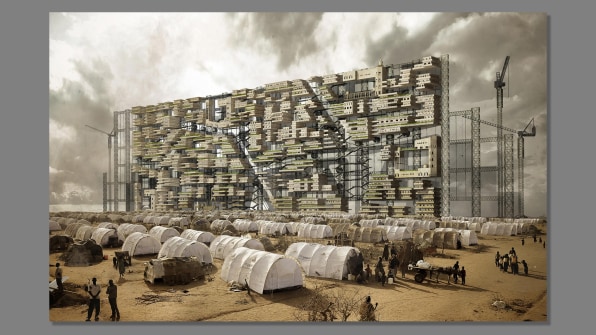 A refugee skyscraper that sits along borders
Climate change, war, and poverty are prompting people to migrate from their home countries at unprecedented rates. Where will they go, especially as countries like the United States clamp down on their borders? A group of designers proposes building skyscrapers along country borders to house and provide opportunities for refugees and migrants.
"In this skyscraper, people can follow their previous habitats in stable societies and get adequate education, training and jobs," the group of designers, who hail from China, write. The complex problems that have precipitated global migration will, of course, require more than a cleverly designed skyscraper. But it's a provocative approach to a problem that isn't going away any time soon.