"There's a lyric of Beyoncé's that I think about a lot," says Moj Mahdara, Beautycon CEO and cofounder: "'I woke up like this.' I noticed a distinct change in mood, culture, the 'Gram, and the attitude across the board when those five words came out. It was an anthem. It literally unlocked permission for everyone, when they wake up, to say 'I'm flawless. I'm good as I am.'"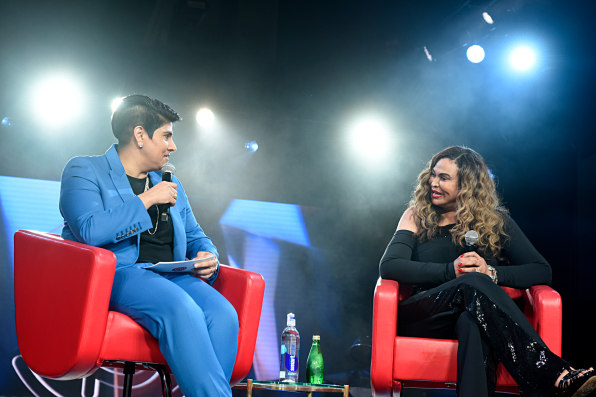 Touting the power and confidence of natural beauty may seem counterintuitive for the woman who has run a massive convention for the makeup and beauty industry for the last five years. But this comment, said on stage with Tina Knowles Lawson (mother of Beyoncé), speaks to the direction and evolution that Mahdara sees BeautyCon taking.
In a talk with Romanian-American eyebrow mogul Anastasia Soare, Mahdara addresses the struggle of starting a business as an immigrant and what it means to be self-made, while in conversation with recording artist French Montana, Mahdara reveals that the rapper requested to appear at Beautycon to share the importance of the women who raised him and work with him. With Indian actress and producer Priyanka Chopra, Mahdara explores the controversial nature of beauty pageants and why women should support other women.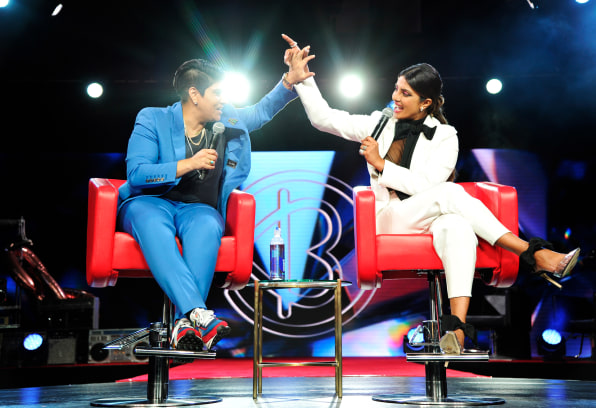 These are just some of the topics Mahdara introduces to over 32,000 guests throughout the two-day event last weekend at the Los Angeles Convention Center, where 157 brands showcase products at decked-out booths in the vast, windowless South Exhibit Hall. Since 2014, Mahdara and her team have hosted cosmetics and skincare companies that inspire guests to wait in line for free products they can stuff in tote bags. In the past five years, the swag has gotten better, and experiences beyond acquiring makeup have emerged.
More than makeup samples
"When brands first started coming here, they were only giving away sample sizes," Mahdara explains. "It turned into selfie moments, then it turned into giving away full sizes, then it turned into people purchasing products. Now it's a community moment where everyone's coming to meet up with friends and family. You can spend a full day here. There's so much to do and learn and touch."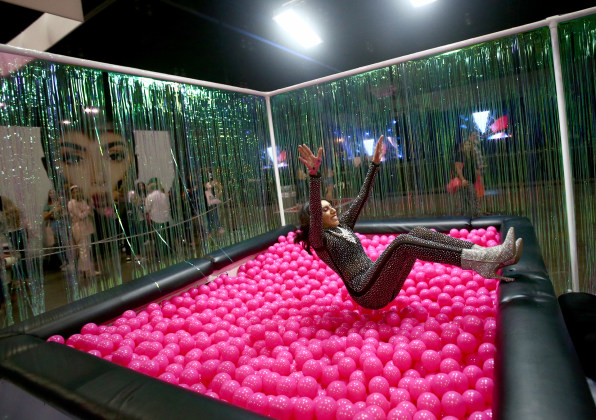 Yes, there are Instagrammable ball pits and cotton candy, but the space also boasts three smaller stages for discussions and demos, each with a designated theme and sponsor. The #ialso stage, decorated with minimalist wooden chairs and copious potted plants as if it were a millennial's living room, is a nod to Beautycon's latest initiative that aims to provide opportunities and resources to young entrepreneurs. Here, guests listen to founders and CEOs for advice about starting a company.
"When I started this business, I felt pretty educated in the realm of investments and contracts and lawyers. Through this journey, I've learned there is so much I don't know. And if I don't know, I would imagine everyone else doesn't know," Mahdara says as she presents the initiative. She notes that men pass trade secrets down through generations, and it's time that women and people of color do the same.
Mahdara knows it's not enough to just talk about supporting new businesses with diverse founders. At BeautyconPOP, the company's newly launched retail venture and e-commerce site, indie products are on offer. "We're here to generate revenue and business partnerships with people who are new to beauty, the outliers," says Mahdara.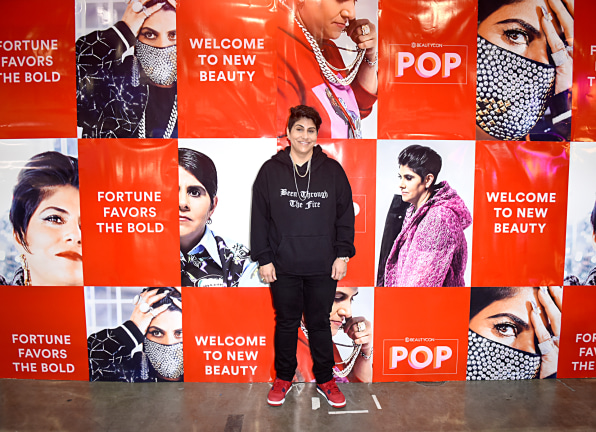 When you walk through the glass doors of the exhibit hall, the BeautyconPOP concept store stands starkly in front of you. The exterior of the cube is covered in a smattering of photos of Mahdara serving fierce looks and concert-like posters that advertise the brands inside the shop like they're bands at Coachella, a specific vision Mahdara described to her graphic designers.
Inside is a technicolor store oozing with elements of street culture. Mahdara, a self-proclaimed sneakerhead and Japanophile who sports both red Air Jordans and primary-colored Sacai x Nike trainers in the same day, was inspired by Dover Street Market, Comme des Garçons, and Virgil Abloh. The shop has corners dedicated to Crayon Case, a line created for amateur makeup users, Beauty Bakerie, a boundary-breaking brand from a young entrepreneur, and Juicy Couture, which Mahdara is helping to relaunch to a Gen Z audience. The wall named Moj Mart sells products from small companies hand selected by Mahdara and her team after sampling and examining the brands' messaging, owners, and investors.
"BeautyconPOP is essentially a ginormous bodega that's an experiential beauty store. Think about a bodega or nail salon, those are the kinds of community centers we love, especially because there's a kind of working class factor. You know the people who work at your bodega, you're in the mix. We wanted to bring that feeling to beauty," Mahdara explains.
Another wall, outfitted in red and labeled The Vault, highlights limited products from prestige brands like Bobbi Brown, Milk, and Estée Lauder. Jane Hertzmark Hudis, group president of The Estée Lauder Companies, is one of Mahdara's special guests. Mahdara takes time from her tight day-of-show schedule to tour Hudis through the festival.
"Moj has pioneered one of the most dynamic, inclusive, modern beauty platforms, bringing together a diverse array of highly motivated beauty fans, influencers, and celebrities to experience beauty in a completely new way that is honest, live, real, and fun," Hudis reflects.
Inclusivity is a key factor in Beautycon's formula. Mahdara, a Persian-American and a member of the LGBTQ+ community, has made a point to welcome all people from day one. Mahdara continues to up the ante by putting her team through GLAAD pronoun training and making sure that it's not only those of all races, genders, and sexual orientations who feel at home and represented on stage, but also people of all religions, abilities, and ages.
The Jane Club, a chic, members-only workspace that offers on-site childcare like a Soho House for moms, is set up in a calm room above the exhibit hall so that Beautycon guests can have free childcare and children's programming during the festival. As caretakers sing and dance with toddlers in a circle, Mahdara beams. "This is a dream come true," she says.
Mahdara, who doesn't wear makeup herself, remains both relaxed yet full of energy throughout the day. Surrounded by the pink, sparkly world that seems to be the opposite of her royal blue pantsuit and diamond chains style, she is incredibly at ease. It's not really about the cosmetics anyway.