In the press release announcing a merger between CBS and Viacom, one statistic looms large: Programming from the two companies makes up 22% of TV viewership in the United States, larger than any other media conglomerate.
To CBS and Viacom—which were one company before, until they split in 2005—this figure emphasizes how a combined entity can better compete with legacy media companies such as Disney and new-media challengers such as Netflix. Together, they control content from the CBS broadcast network, the CBS Sports Network, Comedy Central, MTV, Nickelodeon, and other outlets.
But for cord-cutters who still want to watch traditional cable channels, the merger will inevitably make TV more expensive. If CBS and Viacom combine, they'll gain more leverage against live TV bundlers such as Sling TV and YouTube TV, and the result will be more homogenous packages at higher prices.
We've been here before
We already have one clear case study of what happens when two major media companies merge in the age of cord-cutting. In March 2018, Discovery Communications (now Discovery, Inc.) completed its acquisition of Scripps Networks, whose channels (including HGTV, Food Network, and Travel Channel) are some of the most popular on cable.
Before the merger, only two out of six live TV streaming services—DirecTV Now and PlayStation Vue—offered Discovery channels. FuboTV, Hulu, and Sling TV only offered channels from Scripps, and YouTube TV didn't have channels from either company.
Because of these lineup differences, cord-cutters had more control over their TV spending. If you wanted to subscribe to HGTV, you didn't have to pay for a bundle that also included a half-dozen Discovery channels you'd never watch. You could also avoid both network groups entirely with YouTube TV, which focused more on news, sports, and broadcast channels.
After the acquisition, however, nearly every live TV service has made deals with Discovery, putting the network's channels into their base packages. (The exception was AT&T, which pulled all Discovery-owned channels from its DirecTV Now lineup in March.) Incidentally, prices have gone up:
Sling TV raised the price of its Blue package by $5 per month in July 2018, then added Discovery channels four months later.
Hulu with Live TV raised prices by $5 per month in February, three months after adding Discovery channels to its lineup.
YouTube TV added Discovery channels in April and simultaneously raised prices by $10 per month.
FuboTV raised prices by $10 per month in March, then added Discovery channels three months later.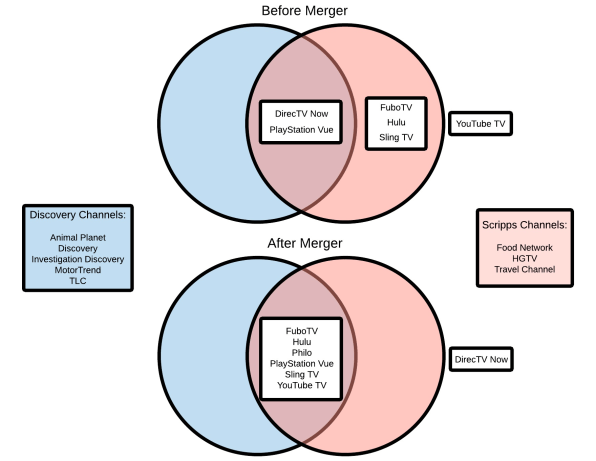 Granted, Discovery might not have been the only contributor to those price hikes. Some live TV services have also added other channels over the past year or two, and they've also been expanding local channel coverage in more markets. Some live TV providers may have even wanted to add Discovery channels to their lineups over time anyway.
But as practically all the coverage of the acquisition noted at the time, the deal was clearly a play for negotiating leverage, which Discovery clearly got. And because live TV streaming services already operate at slim or negative profit margins, there's little room for them to pack in more channels without raising prices.
Blowing up your bundle
Surveying the live TV streaming services today, the distribution of CBS and Viacom channels looks similar to that of Discovery and Scripps a couple of years ago. DirecTV Now and FuboTV have deals with both companies, but YouTube TV, Hulu with Live TV, and PlayStation Vue aren't working with Viacom. In fact, PlayStation Vue dropped Viacom channels from its lineup in late 2016 to keep prices down.
Meanwhile, Sling TV doesn't include CBS channels because it doesn't want to pay for the network's local affiliate stations. It can get away with this because CBS doesn't offer any other major entertainment channels that cord-cutters might want, and anyone with decent antenna reception can still get their local CBS station for free.
Assuming the CBS-Viacom merger goes through, we can predict how the next round of negotiations will go: If Sling wants to keep offering Viacom channels, it might have to agree on carrying CBS stations, thereby wiping out its proposition for cheaper live TV service. And while other streaming packages have avoided carrying Viacom channels, they might have a harder time doing so in the future without sacrificing local CBS coverage. Given the choice between losing popular channels and raising prices, we've generally seen live TV streaming services choose the latter.
Beyond the bundle
The silver lining here is that CBS and Viacom have other reasons to merge beyond just squeezing pay TV subscribers for more money. According to both companies, the merger will help them move faster on direct-to-consumer streaming services to take on the likes of Disney+ and Netflix.
Viacom, for instance, acquired free ad-supported streamer Pluto TV in March, and has since been pumping up the service with classic shows from MTV, Comedy Central, BET, Nickelodeon, and other channels. (It's not unusual to open the app and find a Beavis and Butthead marathon in full swing.)
CBS's $6 per month All Access service also has its own library of classic shows, and it offers live streaming news for free through its CBSN and CBS Sports HQ apps. CBSN is already available through Pluto TV, so maybe the merged entity will find ways to cross-pollinate each service with CBS and Viacom content. Perhaps we'll even see a way to access both services without advertisements, or a bundle that also includes Showtime, which CBS owns.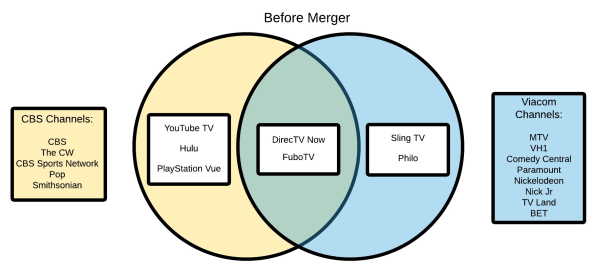 For a certain kind of cord-cutter—specifically, one that doesn't need a pay TV bundle for news and sports—these moves might actually be beneficial. Pluto TV is already a better service than it was six months ago, and CBS All Access would really benefit from the kind of back catalog that Viacom can provide. Having more and better a la carte options is ultimately good for cord-cutters.
But as CBS and Viacom pursue that goal, they're also going to make channel bundles more expensive through their combined bargaining power. The live TV streaming services that aren't yet working with both companies—and the cord-cutters who've chosen those services for their reasonable pricing, and who aren't looking for an endless channel lineup—stand to get hit the hardest.
For more cord-cutting news, tips, and insights, check out Jared's Cord Cutter Weekly newsletter.