President Trump's oldest son, Donald Trump Jr., plans to travel to Indonesia next week to celebrate the upcoming launch of Trump-branded luxury resorts in West Java and Bali. The visit comes amid increased trade tensions between the countries, with Indonesian officials worried about potential U.S. tariffs on the country's products—and a renewed focus on potential conflicts of interest inherent in the development deal. The most recent issue raising concerns among ethics experts is the fact that the daughter of the Trump Organization's billionaire business partner is being considered by Indonesia's president for a Cabinet-level position.
Trump Jr., who is an executive vice president of the Trump Organization and has played a key role in fundraising for his father's reelection campaign, is expected to attend a prelaunch press conference on August 13 for Trump Residences Indonesia, according to Indonesian news reports. (A Trump Organization rep tells Fast Company that Trump Jr. will visit the country sometime this month "for a series of private & invite-only events regarding the prelaunch of our upcoming properties.") He will reportedly meet with officials from the developer of the properties, MNC Land, a giant Indonesian conglomerate run by billionaire Hary Tanoesoedibjo, who attended President Trump's inauguration. The politics of the deal are unambiguous in Indonesia—when he recently announced Trump Jr.'s visit to reporters, Tanoesoedibjo made sure to emphasize "When the son of US President Donald Trump comes, we will pre-launch the project in Lido and Bali."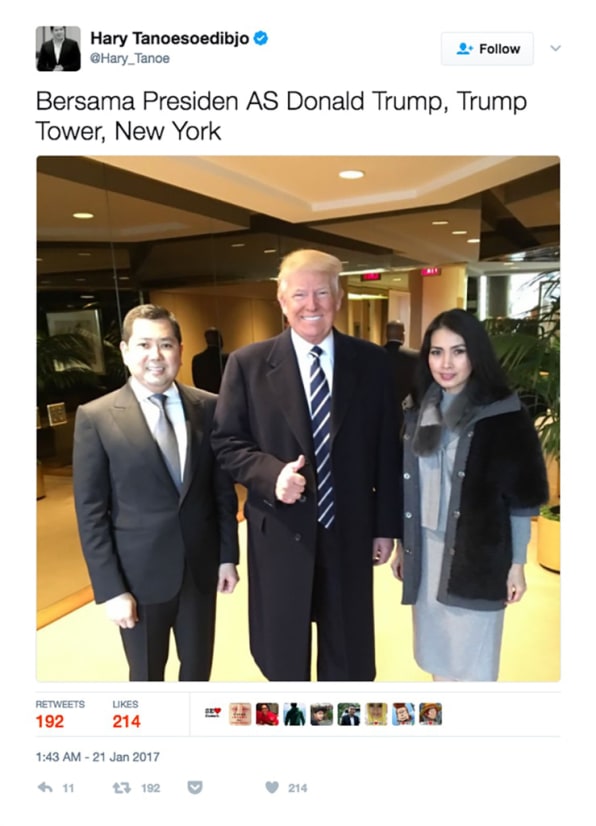 The resorts, along with Trump-branded properties in India and the Philippines, are a bright spot in the Trump real estate empire, which has overall taken a hit from Trump's life in politics. Partners at three Trump-branded hotels in Toronto, Panama, and downtown New York City have ripped the president's name off their buildings; condos at Trump properties in Chicago sit empty; and an 11-room villa in Saint Martin remains unsold after being on the market for almost two years. Last October, Forbes estimated that the empire was down about $30 million since Trump took office.
Yet the Indonesian developments have also attracted their share of controversy, raising questions about conflicts of interest for the president, who famously refused to divest from his business empire and pledged that the company would make no new foreign deals while he's in office. Trump put his holdings in a blind trust run by Don Jr., son Eric, and first daughter Ivanka, though the president can withdraw money whenever he wants and revoke the trust at any time. The Trump Organization licensed the president's name to the Indonesian resorts and will manage them. In 2016, Trump was paid between $2 million and $10 million for his role in the Indonesian resorts. Despite some construction delays, the West Java development has earned Trump $256,249 since he took office. Once the resorts are completed (Tanoesoedibjo says they'll both be done by 2020) and condo sales begin, those royalties and management fees are expected to steeply increase.
"It is impossible to tell where the Trump Organization ends and the Trump administration begins," Representative Gerry Connolly, a Democrat from Virginia and a member of the House Oversight Committee, told Politico last month. "This is why the founders included the emoluments clause in the Constitution expressly forbidding a president from profiting in and from his office."
Some of the financing for the Indonesian projects comes from foreign government-owned entities. When Trump visited South Korea last month, reporters raised questions about a $120 million contract that Trump partner MNC Land signed with a construction company partly owned by the South Korean government, with financing by KEB Bank and IBK Securities, a Korean state-owned bank. That followed reports last year that the Chinese government is extending a $500 million loan to a state-owned construction company building a theme park adjoining the Trump resort in Lido, Indonesia.
Both deals raised concerns that foreign governments could buy influence with the Trump administration—though that certainly doesn't seem to be the case with China, with which Trump is locked in a bitter trade war. And last May, a rep for MNC Land told Fast Company that reports of a loan agreement were "false" and emphasized that the theme park section of the project "has no relationship" to the Trump Organization.
In addition, the daughter of Trump's business partner is being considered by Indonesian president Joko Widodo for a cabinet-level position in his government. Just this week, Angela Tanoesoedibjo's name was submitted to the president by the Indonesian Unity Party, a political party chaired by her father, who has credited Trump with his own political aspirations. When asked about her qualifications, a party leader told reporters that Angela is a millennial and that her generation needs to be better represented in the government. Soon after meeting Widodo, she posted pictures on Instagram. The rumors of her possible appointment were enough to briefly raise the stock price of MNC Corporation in June, according to local publications cited by Citizens for Responsibility and Ethics in Washington (CREW).
In addition, the close relationship between Trump and Tanoesoedibjo made headlines again earlier this summer, when it was reported that the Indonesian billionaire was behind a mysterious entity that paid $13.5 million for Trump's villa in Beverly Hills.
When Tanoesoedibjo was asked how often he meets with Trump, he told Tempo magazine, "I don't count, but often enough. After all, it's a big project whose vision and strategy requires continuous coordination. The three [Trump] kids go back and forth to Jakarta, Lido and Bali. But to meet with Donald, I must fly to New York."
The conflicts of interest have taken on increased importance in light of the Trump administration's tough talk over its $13.2 billion trade deficit with Indonesia. The country's trade minister, Enggartiasto Lukita, met with U.S. trade representative Robert Lighthizer and Commerce Secretary Wilbur Ross last year, but he reportedly wasn't able to dissuade the administration from reviewing thousands of Indonesian products that currently qualify for preferred trade status.
Concerned that the White House could impose tariffs on the nation, Indonesian diplomats and government officials have started considering the option of being "more aggressive in approaching Trump's business organization or his own family members," reports the Jakarta Post.
Those diplomats compared the situation to that under notorious former Indonesian dictator Suharto, in which foreign governments and businessmen used corrupt tactics to buy influence with the Indonesian government. "By approaching one of his six children or cronies, many problems could be easily resolved. The same rule now 'applies' to the White House," says the Jakarta Post. "Now you need to meet with the children and son-in-law of President Donald Trump," one diplomat told the paper.
Spokespersons for the White House and the Indonesian government did not return requests for comment.
Luxury villas overlooking an ancient Hindu temple
The Trump resort in Lido, located in the mountains just south of the country's capital of Jakarta, will feature a golf club with an 18-hole course designed by golf great Ernie Els and luxury residences (258 villas and mansions as well as 180 condos).
Construction on the resort in Bali, dubbed "World's Paradise," began in 2017, soon after Trump's inauguration. It features Trump International Resort, which includes 150 pool suites with villas, a golf club with an 18-hole course designed by Phil Michelson, a beach club, and exclusive residences (144 units of superluxury villas and 224 condominium units).
The Bali resort has already stirred up controversy since it will sit on a clifftop occupied by one of the country's most important temples, Tanah Lot, a Hindu pilgrimage temple built in the 16th century. In addition, environmentalists have expressed concern about the development's impact on Bali's rice terraces and subak irrigation system; rampant development on the island in recent years has caused saltwater to leak into groundwater and damaged local farms.
Last December, local news outlets reported that a $495,000 payment for resort-related building permits to a regional government agency was delayed for nine months due to a disagreement. The money will help the region, which has been struggling with a deficit, avoid a "financial crisis," according to a local official. When questioned about the payment, the official later told Fast Company a different story—that there was no delay in payment and "Trump is good, always good." A Trump Organization spokesperson emphasized that the payment was made by the developer, MNC Land. And an MNC representative denied that the payment had been delayed, stating that it had been "paid in full by MNC in December 2018."
The development deals are just one of an astounding 1,400 conflicts of interest involving the Trump Organization tallied by CREW. Earlier this year the group issued a report, "Presidential Profiteering," which determined that it was an "ethical catastrophe." Among the other conflicts related to Indonesia that are cited in the report is the government building a toll road to shorten the drive from the airport in Bali to the Trump resort.
One of the contractors helping develop the main toll road to the resort, PT Nusa Raya Cipta, was reportedly implicated in a corruption case when it was revealed during the trial of two tax officials that they had accepted $150,000 in bribes from the company's financial director. The contractor was among the Indonesian companies listed by the nonprofit Indonesia Corruption Watch as deserving of investigation by the country's anticorruption authorities.
"This is yet another entanglement between the Trump businesses and a foreign government," CREW director Noah Bookbinder told Fast Company earlier this year. "Every time the President's businesses engage in a transaction with a foreign government, it creates the risk that the President's global decision-making is going to be influenced by his business and financial interests."