Since 2011, Samsung's Galaxy Note smartphones have had two signature features: a really big screen and the S Pen stylus. Beyond them, the line has always been about pulling out all the stops for users who see their phones as pocket-sized machines for creativity and productivity—and are willing to pay a price that's at the high end even among premium phones. Over time, the Note has grown ever bigger, more powerful, and pricier.
This year, Samsung is trying something new. At an event in New York City—bespoiled, like so many such launches, by leaks—it's announcing two new Galaxy Note models. The Galaxy Note10, whose name marks it as the successor to last year's Galaxy Note9, actually has a slightly smaller screen: 6.3″ vs. the Note9's 6.4″, with lower resolution. At $950, it's also 50 bucks cheaper.
But Samsung hasn't given up on the Note line's traditional emphasis on upping its technological ante each year. It's just created a new model—the Galaxy Note 10+—that feels like the real successor to the Note9. The ginormous Note 10+ has the biggest-ever Galaxy Note display at 6.8″, a few extra features (including a fancier rear camera system, more RAM, and a memory-card slot), and a starting price of $1,100, $100 more than last year's Note9. The Note10+ will also be available in a 5G model, initially a Verizon exclusive.
The do-everything spirit of the Galaxy Note remains intact. It's just that the new Note10 caters to people who might find the Note10+ a tad too large for their hands, or too expensive for their budget. Both models will be available for preorder (in multiple "Aura" colors) starting on August 8, and available in stores on August 23.
From S10 to Note10
As you would expect, the two new Note models pick up on some of the features, technologies, and design flourishes from Samsung's latest Galaxy S10 models, which debuted in February. (They followed a similar strategy of stratification, with S10e, S10, and S10+ models at three price points.) Most strikingly, the Note10 and 10+ both have the Super AMOLED displays that Samsung calls Infinity-O, which stretch from edge to edge on the sides and nearly so on the top and bottom. They are made possible in part because the phones have fingerprint sensors embedded in the screens (a feature rumored to be coming to future iPhones). This new design makes the phones reasonably hand-friendly given their big screens—even the 6.8″ Note10+ is only slightly wider than last year's 6.4″ Note9, but it's also a skosh thinner.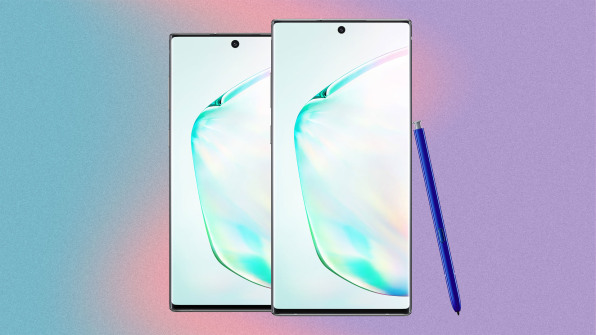 Rather than accommodating their front cameras with an iPhone X-style notch, the Galaxy S10 models had a "hole punch" island near the screen's upper right-hand corner. With the Galaxy Note10 phones, Samsung shrank the punch to a small circle and centered it along the top for a meaningfully more elegant look. This required a bit of technological sacrifice: The Note10 and 10+'s front-facing cameras have smaller maximum apertures than the S10 models and lack the S10 and S10+'s background-blurring RGB camera.
Both new Notes offer the Wireless PowerShare feature introduced in the Galaxy S10 phones, allowing you to charge Qi-compatible devices (such as the Galaxy Watch, Galaxy Buds, or even an iPhone) by touching them to the back of the Note. The Galaxy Note10+ also has the fastest charging of any Note model to date; Samsung says it can run for a full day on a 30-minute charge. (You will need to provide your own 45W charger to accomplish that.)
After mocking Apple for ditching the 3.5-mm headphone jack with the iPhone X—and sticking with that jack even in this year's Galaxy S10 models—Samsung has decided that the headphone jack is dispensable after all. The new Note models eliminate it and come with USB-C earbuds in the box. They also skip the dedicated button for Samsung's clunky, redundant Bixby AI assistant, though you can summon it by holding down the power button. (The Samsung executives who briefed me about the new Notes did not mention Bixby, suggesting that the company's zest for competing with Siri and the Google Assistant may be flagging.)
Samsung has streamlined the S Pen a bit, removing a seam from the previous design for a comfier feel. As with last year's Note9, the Note10, and the Note10+, the new S Pen is not only a stylus but a tiny remote control you can use for tasks such as taking photos or flipping through slide shows. Samsung has given the S Pen sensors that let you perform feats such as controlling the music player by waving the stylus like a miniature baton. It's also beefed up the phone's handwriting recognition, allowing you to jot notes and then bring them into Microsoft Word as editable text. Then there's AR Doodle, which lets you draw shapes on top of video—say a hat for a friend—which move in 3D space.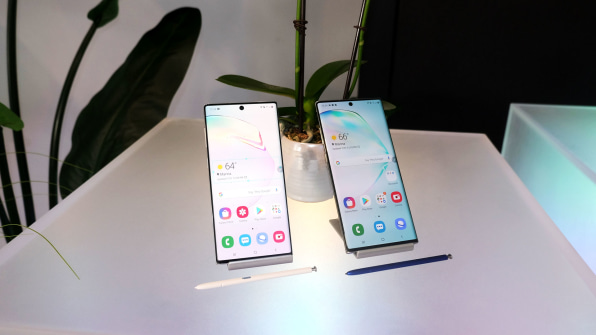 Like other recent Samsung phones and tablets, the Note10 and Note10+ work with DeX, a Samsung technology that lets you connect them to a large screen and then use them in a PC-like mode with floating windows and support for an external keyboard and mouse. New this time around is the option to hook your phone up to a Windows or Mac laptop via USB-C cable and then use the DeX interface inside Windows or macOS—an option that might be handy for jobs such as dragging photos back and forth between phone and computer.
Videographers and gamers continue to be core constituents for the Note line. The new models introduce a background-blurring feature that works with video capture as well as still imagery and can reduce unwanted background noise. They also have the thinnest version yet of the vapor cooling system that's designed to boost the performance of high-end games.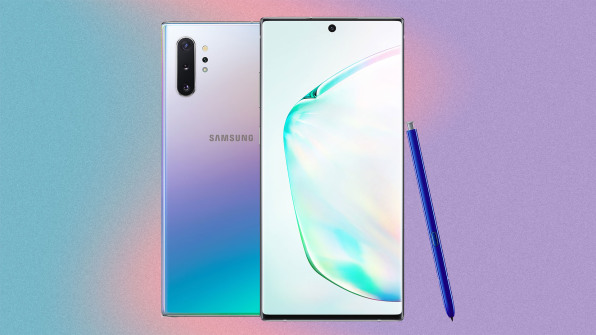 Once upon a time, the fact that Samsung offered both Galaxy S and Galaxy Note phones gave it twin flagships. Galaxy S models competed directly with other premium Android smartphones and the iPhone, while the Galaxy Note aspired to carve off its own ultrapremium space in the market. Over time, as Galaxy S models have gotten larger and posher, the two lines have bumped up against each other more. Now Samsung will have a total of eight Galaxy S and Note versions—counting the 5G models—and the overlap will be greater than ever. That will require consumers to puzzle out which model is best for them, a decision that involves screen sizes, price tags, and whether the Note's S Pen looks like a killer feature or a needless frippery.
Samsung has a history of being willing to revise its menu of models rather than stick with one predictable lineup—variants such as the slightly sexier Galaxy Edge models have come and gone over the years. At some point in the not-terribly-distant future, 5G will be a standard feature, eliminating the need for special 5G versions. Whether the world needs quite so many other Galaxys at quite so many price points remains to be seen. But having spent some brief hands-on time with both the Note10 and Note10+, I would choose the more compact 10 over its seam-straining sibling—which means that I'm glad that Samsung rethought the traditional Note trajectory for this year's phones.