Watch out, Peloton—Equinox is coming for your crown.
On Wednesday, Equinox Group announced its entry into on-demand fitness streaming. The new digital venture will include two separate pieces of hardware and personalized content representing its portfolio of brands, including SoulCycle, Equinox, and Precision Run.
Slated for launch this fall, the platform will pair with a new stationary bike identical to the one found in SoulCycle studios—with the addition of an attached screen. Equinox will also sell its proprietary Woodway treadmill, which can already be found at Precision Run studios.
The new digital venture (which has not yet been named) will include all the brands' signature workouts—led by top instructors—in one network. It is not meant to replace the live studio experience, rather to serve as an addition for dedicated members who want an at-home offering.
The new digital venture puts Equinox in direct competition with Peloton, which also boasts both treadmill and stationary bikes along with a broad range of fitness content. Last year, Peloton opened a new production studio dedicated to yoga and meditation in New York City. The streaming giant is now valued at more than $4 billion.
Peloton stands out in the $14 billion home fitness equipment market, but it's becoming an increasingly crowded space: Startups such as Mirror (personal training, yoga), Crew (rowing), and Tonal (weight lifting) all attempt to do what Peloton did for the indoor bike. While approximately 16% of the U.S. population holds a gym membership card, a recent survey found that 54% of Americans who work out at least once a month are interested in buying an at-home fitness system.
Over the last few years, Equinox members increasingly demanded more ways to interact with the brand on their own schedule. Around 86% of them would like to spend more time with the brand than they get to, according to a recent survey of SoulCycle riders.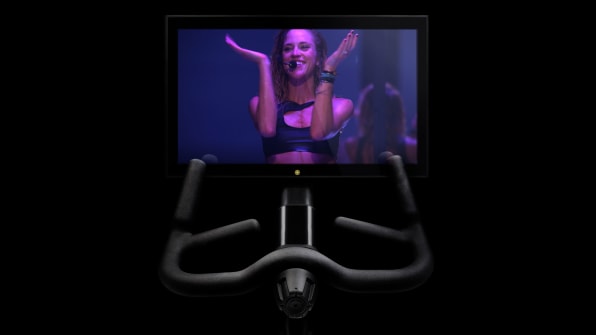 "Our members like to be in a physical space, they love to be in our clubs," Jason LaRose, CEO of Equinox Media, tells Fast Company. "Digital becomes an 'and' answer for them and not an 'or' answer. . . . It's really the intersection of digital and physical that makes this a very different concept to begin with."
The platform will integrate live and recorded original video and audio content from Equinox brands spanning 300 physical locations and 6,000 instructors. In addition, members can access exclusive classes from Project by Equinox, the studio dedicated to experimental workouts and innovative instructors. The "fitness incubator" runs the modality spectrum, ranging from HIIT to yoga, even martial arts.
"There's always emerging fitness content out there, and it's important that we have a space to curate it," says LaRose of amplifying Project's up-and-coming workouts. "We'll continue to give a platform to that same approach so we can develop more emerging content and follow our members along with the things that they feel are really compelling."
LaRose notes that the platform will ultimately include more modalities and potentially new brands, though no further details were provided. Equinox has not yet finalized the prices for the equipment or the streaming service.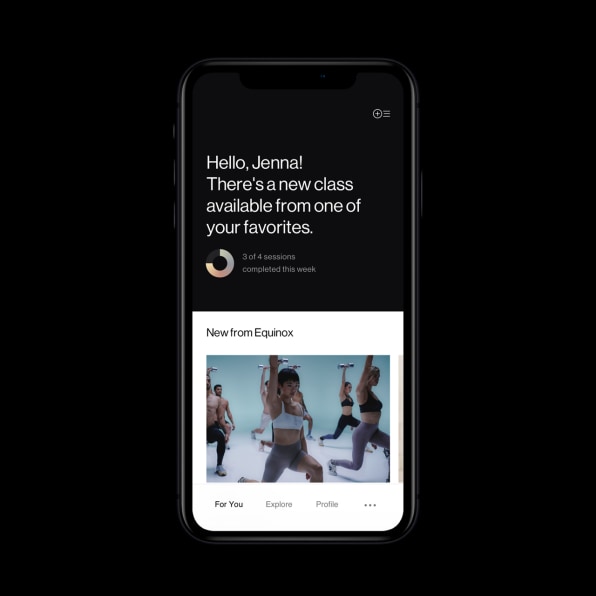 A digital gathering
SoulCycle built a strong following with its experiential, community-driven classes that mimic the feel and pulsing energy of nightclubs. (The brand has often been dubbed "church" or a "cult" for fitness enthusiasts). More recently, the brand introduced live music to classes. The ability to recreate that experience in the comfort of one's own living room offers a few challenges.
To that end, LaRose says content will be shot as an immersive experience, as though you're inside the class, "capturing the energy and excitement of what it's like to ride in the dark with 59 of your friends." In addition, the platform intends to license the top hits played in studios. ("Every instructor is really part DJ," notes LaRose.)
As for recreating the sense of community, Equinox will add a few features to facilitate user connections, but it did not offer any specifics. Established competitors such as Peloton and Obé created a sense of communal gathering by way of approachable talent, social media integration, peer-to-peer challenges, and good old-fashioned gamification.
"Community is a big part of the overall experience, and that has to bleed into an at-home experience and not just be confined to the studios," stresses LaRose.
Over the last year, Equinox has aggressively expanded and diversified its portfolio. Earlier this summer, an Equinox Hotel opened its doors in New York. In January, the company announced its foray into the treadmill studio market with Precision Run. That came just a few months after Equinox launched luxury travel retreats and a talent agency for fitness influencers.
Equinox possesses an advantage in terms of expertise and scale. The company is layering on top of its trusted brands and reputable instructors, not starting from scratch like many newcomers—not to mention leveraging its nationwide physical presence.
As LaRose notes, SoulCycle boasts 13 years of brand building, and Equinox just shy of 30. "These are established businesses who have great relationships with the best manufacturers in the world," he says. "A lot of thought has gone into years and years of perfecting what that equipment ought to look like inside of our clubs. . . . It's really about bringing that into the home in a way that can be as immersive as possible."
The platform starts with an invitation-only launch in the fall, with the at-home equipment available for purchase by the winter. A more public rollout is set for early 2020.