Today, deforestation is a leading contributor to global warming, a harrowing reminder that we need trees to survive. But when plants are cultivated in their natural habitat, they absorb harmful carbon dioxide from the atmosphere, thus offsetting the damaging effects of climate change. Roberto Burle Marx, Brazilian landscape architect, painter, and ecologist, realized this decades ago. His modernist gardens, known the world over for their dynamic textures and vibrant hues, demonstrated Burle Marx's natural artistic sensibility and his deep reverence for the tropical plants native to his home country. Now, an entire horticultural exhibit celebrating Burle Marx's legacy, Brazilian Modern: The Living Art of Roberto Burle Marx, is on view at the New York Botanical Garden through September.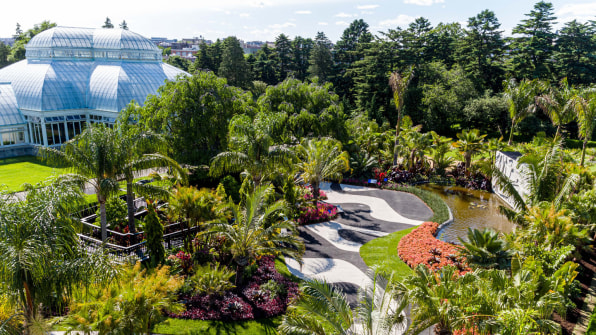 This is the first exhibition in the New York Botanical Garden's history to feature an entire outdoor garden. For the occasion, the space enlisted Raymond Jungles, a Miami-based landscape architect and one of Burle Marx's students, to design the landscape. Undulating pavements, towering palm trees, and various bodies of water all punctuate the public urban garden—an obvious homage to the details that Burle Marx was known for. But beyond his reputation as an avant-garde landscape designer, Burle Marx was also celebrated for his artistic practice. Several of his paintings, drawings, and textiles are on display in the New York Botanical Garden's art gallery, too.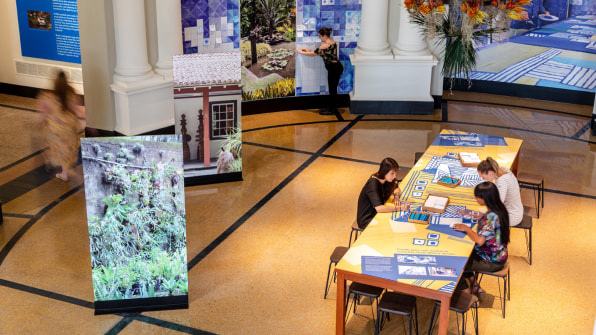 "Burle Marx was an artist whose interest in nature permeates all of the art forms he cultivated," says Edward Sullivan of New York University, who curated the art exhibition. "Color, light, and texture were paramount whether in painting, tapestry design, prints, or gardens. The organic forms of all the universal elements—air, water, fire—are noted throughout." Burle Marx often used color to seamlessly transition between his design of two-dimensional and three-dimensional spaces. Shades of green dominate Burle Marx's canvases, making the influence that Brazil's verdant tropical landscape had on him plain.
Ultimately, the modernist design principles he held remained consistent—whether he was painting or designing gardens. Says Sullivan: "For Burle Marx, fine art and living art were one and the same thing. When he conceived a garden, chances were very high that it would contain sculptural features, flowing water, variegated patterns and colors of grasses and flowers, and a rich sense of texturing."
Though the artist-designer-preservationist died in 1994, his eye for bold patterns and passion for preservation can still be seen today. The beachfront walkways of Copacabana and the gardens at UNESCO's Paris headquarters are only a small slice of an artistic career that spanned medium and space.