Imagine you're a Microsoft employee who has chosen to give some of your salary to MSPAC, the company's voluntary, opt-in fund that makes political donations designed to support legislation that helps advance the company's business interests. How would you feel if you found that your donations were going to politicians who have advanced policies and legislation that contradict Microsoft's official positions on immigration, climate change, LGBTQ rights, and other issues—positions that might have been what drew you to work at Microsoft in the first place?
Last week, facing pressure to reconcile the values Microsoft espouses to its employees and to the outside world and the politicians it was funding, the company temporarily suspended MSPAC. It announced a restructuring that includes creating new "employee advisory councils" to help steer donations when they resume in the fall.
While much of the pressure to end MSPAC was employee-led, some also came from a new campaign called Zero for Zeros, which began calling out—but also reaching out to—dozens of companies that have stellar reputations for internal LGBTQ polices, but also use their PACs to donate to a list of 19 U.S. Senators and 10 House members that the campaign deems "the worst of the worst" on LGBTQ issues (based on getting a zero rating from the Human Rights Campaign). And now the campaign has added 22 new companies to its list of corporate LGBTQ hypocrites, for a total of 49 firms.
"These are folks that aren't just zeros," says the campaign manager Lane Hudson. "They go beyond that, and they actively work against the LGBT community." That assessment is based on support for a list of legislation—like a proposed amendment declaring marriage is between a man and a woman—and legal cases, like the Colorado cake maker who refused service to a same-sex wedding couple.
"Microsoft was the first company we talked to," says Hudson. "The discussions that we had with them had an impact, and it's an impact that will last throughout their process of evaluating how they're going to run their PAC." (Microsoft would confirm to Fast Company only that it "had conversations with the group.")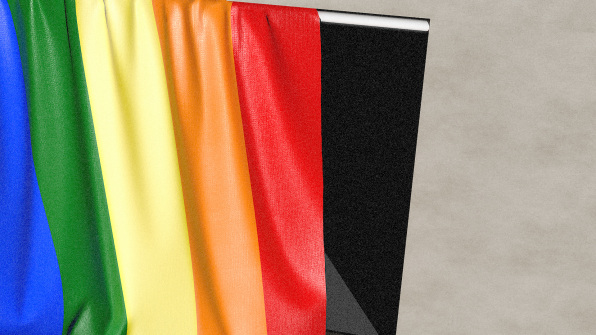 What qualifies as "worst"?
Hudson says that the selection process for the "worst" politicians started by looking at those who have gotten at least two consecutive zero ratings on the Congressional Scorecard put out by the pro-LGBTQ Human Rights Campaign (HRC). Zero for Zeros then checked the list against political contributions by companies that earned a 100 score on HRC's Corporate Equality Index.
"HRC has been incredibly effective at helping to lead corporate America to a place of equality using the corporate equality index," says Hudson, who clarifies that his campaign has no affiliation with HRC. (Zero for Zero is bankrolled by an anonymous group of "folks who fund a lot of other things within the movement," he says.)
"There isn't a one-size-fits-all way to consistently score companies on the scope and impact of their political donations," writes HRC national press secretary Sarah McBride in an email. "We do monitor employers' contributions to anti-LGBTQ ballot measures and organizations whose primary mission includes anti-LGBTQ advocacy."
Zero for Zeros cites specific support for a short list of policies as earning politicians their "zero" designation. They include supporting the Masterpiece Cakeshop Supreme Court decision, which held that a baker could refuse to make a cake for a same-sex wedding because it conflicts with his religious beliefs. Sponsorship on any of six pieces of failed legislation also earns a slot, such as the 2015 Marriage Protection Amendment, a proposed Constitutional amendment to define marriage "as consisting only of the union of a man and a woman."
Other examples include an amendment to the 2018 Defense Authorization Act, which would prohibit funding of gender-transition treatment for soldiers, and the Civil Rights Uniformity Act of 2017, to exclude someone's chosen gender identity in applying federal laws that prohibit discrimination based on sex.
If citing failed, expired legislation doesn't grab attention, Zero for Zeros also includes charged statements directly from politicians on its list, such as a quote from Wyoming Senator Mike Enzi: "I know a guy who wears a tutu and goes to bars on Friday night and is always surprised that he gets in fights. Well, he kind of asks for it." (Enzi later apologized for the remark.)
Not everyone on the all-Republican list would be easy for tech companies to disengage from. Among them are prominent names like Ted Cruz, Marco Rubio, Roy Blunt, and Mike Lee. Cruz, for instance, chairs the Senate Judiciary Subcommittee on the Constitution, where he has grilled companies like Google on the issue of monopoly power and "anti-conservative bias."
What comes next?
None of the 49 companies called out should be surprised, says Hudson. "I was very insistent that I want letters in the corporate office before we go public with anything," he says. "We actually do want to engage in good faith conversations with them to make sure that they understand why this is important."
Hudson says that Zero for Zeros is in discussion with "many" companies about how they can change their behavior and remove themselves from the list. Two he agreed to name, in addition to Microsoft, are Amazon and Facebook. (Amazon and Facebook declined to comment for this article.)
But more companies may find themselves on Zero for Zeros' radar, as well. Many companies have become increasingly vocal on political and values-based issues in the Trump era, such as Nike's partnership with Black Lives Matter activist Colin Kaepernick. That's won them admiration from some quarters but criticism from others who say companies need to focus on their core business interests before Congress.
Garrett Johnson, cofounder of the conservative-leaning tech policy organization Lincoln Network, says it's an impossible challenge to find a politician who agrees with a company on 100% of its issues. "Please tell me how often this happens on the left or right," he says. Some politicians are in positions to affect the company and can't be avoided even if the company finds many of their views repugnant.
Hudson counters that his campaign is being selective in the politicians it includes on its list. "I understand that companies have business interests that go before the Congress, and that they will tell you that they don't agree with every issue from every person that they contribute to," he says. "That's why we've made this request very narrowly focused. These are people who go beyond the pale in the things they say and do."